Inappropriate Medicaid Payments Cost N.Y., U.S. Millions
By admin aapc
In CMS
March 9, 2009
Comments Off

on Inappropriate Medicaid Payments Cost N.Y., U.S. Millions
The New York State Department of Health (DOH) made $28.4 million in Medicaid payments for people who were also enrolled in another state's Medicaid program at the same time, according to an audit released March 3 by state comptroller Thomas P. DiNapoli.
"DOH has to cut Medicaid waste and abuse, and it can start by tracking down and stopping payments for out-of-state residents," DiNapoli said in a press release available on the Office of New York State Comptroller's (OSC) Web site.

The audit showed the DOH paid about $14.1 million in Medicaid managed care premiums and about $14.3 million in fee-for-service (FFS) payments for people who were also enrolled in another state's Medicaid program from April 1, 2004 to May 31, 2008.
Local social service districts and, in New York City, the Human Resources Administration (HRA) are responsible for disenrolling individuals no longer eligible for benefits based on Public Assistance Reporting Information System (PARIS) reports compiled by the U.S. Department of Health and Human Services (HHS). Failure to act on these reports in a timely fashion can result in multiple states paying premiums, inflating the cost of Medicaid.
Local social service district investigations confirmed that $3 million of the $14.1 million was, in fact, premium overpayment for individuals who no longer resided in New York state and had Medicaid coverage in other states. As of March 31, 2008, the HRA had not completed its investigations of the remaining $11.1 million of potential overpayments of Medicaid managed care premiums.
The OSC recommends the department identify and recover the $14.1 million in premiums paid to plans during dual enrollment periods.
The approximate $14.3 million in FFS payments is not expected to be recovered, according to the audit, "because it appears providers furnished medical services to individuals who were still enrolled in the New York State program." However, an investigation into the claims and providers was recommended "to ensure attempts have not been made to defraud New York's Medicaid program by submitting claims for persons who are known to have left the state."
Not to single out New York entirely, this sort of thing apparently happens on a national level, too. In a recent Office of Inspector General (OIG) report, the Office found that the Centers for Medicare & Medicaid Services (CMS) paid an estimated $4.4 million in Medicare payments to Medicare Advantage organizations for coverage periods after enrollees had died. By law, the last allowable payment is for the month in which the enrollee died.
The OIG found that CMS made improper payments for 2,657 of the approximate 1.7 million deceased enrollees between Jan. 1, 2003 and April 30, 2007—that's an error rate of less than 1 percent.
CMS has already recovered $3.5 million of these improper payments. The OIG recommended CMS collect the remainder.
Latest posts by admin aapc
(see all)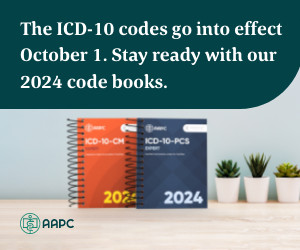 Comments are closed.