Demystify Cyclic Vomiting Syndrome
April 1, 2018
Comments Off

on Demystify Cyclic Vomiting Syndrome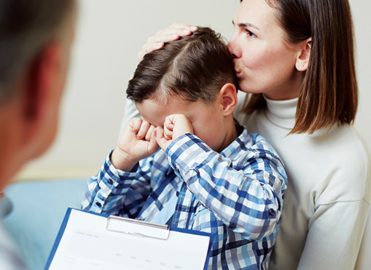 Learn from my experience with this rare and misdiagnosed disease.
By JoAnne Wolf, RHIT, CPC, CEMC, AAPC Fellow
When my son Jake was 2½ years old, he woke up around 4 a.m., vomiting. This vomiting was nothing that his father and I had ever experienced with our older daughter, Jenna. This vomiting was violent, and each bout lasted 5 to 10 minutes, with approximately 20 to 30 minutes between bouts. These bouts of vomiting went on for hours, with no end in sight. My husband, Jim, and I ended up taking Jake to the emergency department (ED) for intravenous (IV) hydration because he became so dehydrated in such a short time.
It wasn't until after several years of repeat trips to the Children's Hospital ED that we saw a pattern and similarities in each episode. Each event began in the early morning hours (between 2 a.m. and 6 a.m.), and lasted until Jake received IV hydration in the hospital. The bouts were all violent, frequent, and unending. Between bouts, Jake would become semi-conscious and often non-communicative. This was frightening. After several years, we realized that the intervals between episodes occurred predictably, every three months.
After one particularly bad episode, when Jake was 5 ½ years old, he was admitted from the ED to Children's Hospital in Minneapolis. During his stay, we received a consultation by a pediatric gastroenterologist. This was when we first heard the term "cyclic vomiting syndrome." I began researching this disorder. The symptoms Jake was experiencing matched almost exactly to what I was reading on the internet about cyclic vomiting syndrome (CVS). And like every good coder, I even checked to see if CVS had an ICD-9-CM code (there wasn't a code for CVS, back then).
What Is CVS? 
CVS is a rare disorder that affects primarily children. Its cause is unknown. There is no definitive test to confirm the diagnosis of CVS. Because it is so rare, patients are often misdiagnosed and may suffer for years without a definite diagnosis — as was the case for our son.
Disorders related to CVS include abdominal migraine and recurrent vomiting. The common treatment for CVS includes common migraine medications such as a Sumatriptan nasal spray (e.g., Imitrex).
Prior to the establishment of an ICD-10-CM code for CVS, clinicians would code for the symptoms (nausea, vomiting). This did not give an accurate picture of a patient suffering from CVS. But with the implementation of ICD-10-CM in 2015, a code for CVS now exists. The ICD-10-CM code for CVS is G43.A0 Cyclical vomiting, not intractable. There is also another code for intractable: G43.A1 Cyclical vomiting, intractable.
You can look up the disorder in the index under "vomiting" and "cyclical." You'd expect a code for a disorder that involves nausea and vomiting to be in Chapter 11: Diseases of the Digestive System; however, CVS is closely related to migraines, and classified with migraine codes in Chapter 6: Disorders of the Nervous System of the ICD-10-CM code book.
Many children outgrow CVS, but later develop migraines. We are fortunate that this was not the case for our son.
Education Is Key to Diagnosis
We are fortunate that we found an expert in this disease, B U.K. Li, MD, only one state away from Minnesota in Milwaukee, Wisconsin. We saw Li on an annual basis until Jake outgrew his disorder at around age 12. He was able to provide us with a detailed treatment plan, including the rescue migraine medications that often would help to avoid a trip to the ED. The treatment plan also included instructions to give to ED physicians treating Jake, as many were not aware of the disease or how to treat it. Although there is no cure and no known cause for CVS, perhaps by just spreading the word about this disorder, patients can be diagnosed and treated sooner.
For more information on Cyclic Vomiting Syndrome, go to: www.cvsaonline.org.
---
JoAnne Wolf, RHIT, CPC, CEMC, AAPC Fellow, is coding manager at Children's Health Network. She has been a member of the Minneapolis, Minn., local AAPC chapter since 1999 and is the 2018 member development officer. Wolf is passionate about pediatric coding and networking with as many of her coding colleagues as possible.
Latest posts by Guest Contributor
(see all)