Billing Fractures in the ED
In Coding
April 1, 2018
Comments Off

on Billing Fractures in the ED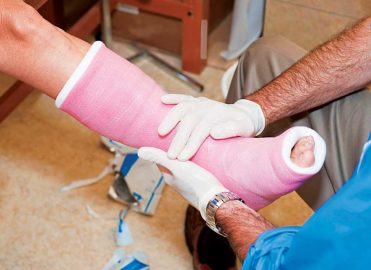 Look at what kind of fracture it is, then decide whether it's restorative or definitive care.
By Jeannie Dean, CPC, COC, CPMA, CEMA, CEDC, CPC-I
There is a common misconception that you cannot bill for fracture care in the emergency department (ED). In fact, emergency physicians regularly provide fracture care. To determine if fracture care can be billed in the ED, you must decide if the emergency physician is providing restorative care (manipulation) or definitive care (e.g., a splint or the same care an orthopedist would provide).
Restorative Care
Common fractures presented in the ED that require manipulation include:
Finger fractures
Toe fractures
Metacarpal fractures
Distal fibular fractures
Bimalleolar and trimalleolar ankle fractures
Distal radius fractures
It's important for physicians to provide a procedure note to ensure coders can bill appropriately for the procedure performed.
Example: A patient presents to the ED with wrist pain. An X-ray reveals a distal radius fracture. The physician reduces the fracture using manipulation (restorative care). In this situation, report the code for closed treatment of a distal radius fracture with manipulation (25605 Closed treatment of distal radial fracture (eg, Colles or Smith type) or epiphyseal separation, includes closed treatment of fracture of ulnar styloid, when performed; with manipulation).
Definitive Care
Common fractures for which an emergency physician performs definitive care in the ED are:
Finger fractures
Toe fractures
Clavicle fractures
One fracture code that is frequently — and mistakenly — not billed in the ED is 28510 Closed treatment of fracture, phalanx or phalanges, other than great toe; without manipulation, each. When a patient has a phalanx fracture, the physician almost always provides definitive care. The emergency physician:
Treats the patient's pain;
Reviews all medical documentation;
Explains the expected progression of symptoms, healing process, and potential for complications; and
Buddy tapes the injured toe together with the toe next to it.
The patient is then discharged home with or without a prescription for pain management.
In the example above, the emergency physician did not perform a type of manipulation but did provide the same treatment a "specialist" would have provided. This qualifies as definitive care, and should be reported using CPT® 28510 for each fractured phalanx treated.
When billing for definitive care, the normal time requested for follow-up is five to seven days. If the patient needs to be seen by a specialist in less than one week, the ED physician most likely provided palliative care, only — not definitive care.
E/M Documentation, Modifier Use
When a patient is seen for a fracture, a detailed exam is commonly required. The physician must check the extent of the injury, neurovascular status, and other injuries. Physicians should document these visits thoroughly. Fracture treatment evaluation and management (E/M) services typically start at a level IV. Because fracture care is considered a major procedure code (i.e., it has a 90-day global period), you must append modifier 57 Decision for surgery to the appropriate E/M procedure code reported at the same time as the fracture care.
When the emergency physician provides fracture care and the patient requires follow up by a specialist, append modifier 54 Surgical care, only to the CPT® code being billed. This modifier lets the payer know the preoperative and operative care were provided in the ED and the postoperative care will be handled elsewhere. When using modifier 54, the ED physician typically receives 70 percent of the revenue associated with the fracture care service.
---
Jeannie Dean, CPC, COC, CPMA, CEMA, CEDC, CPC-I, has more than 20 years' experience in health information management. She provides coding, compliance, physician documentation, and revenue cycle management services to specialty physician practice management organizations and private practices, and she speaks for MRI and other organizations. Dean is a member of the Memphis, Tenn., local chapter. She can be reached at jdean@medicalreimbursementinc.com.
Latest posts by Guest Contributor
(see all)
No Responses to "Billing Fractures in the ED"