Injectable Medication Authorizations: Tips for Success
April 1, 2018
Comments Off

on Injectable Medication Authorizations: Tips for Success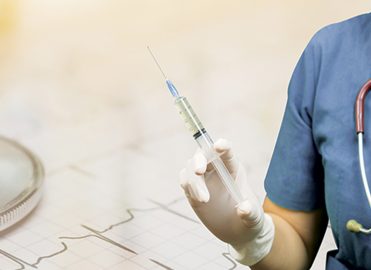 Make a point to learn drug coverage and payer requirements for billing.
It's essential not to confuse vaccine injections with injectable medications. Injectable medications, for example, are reported with HCPCS Level II codes and vaccines are reported with CPT® codes. But that's not all: In many instances, injectable medications require prior authorization — and the method for obtaining it isn't always straightforward.
Medical Benefit vs. Pharmacy Benefit
Before obtaining an authorization, it's important to understand the patient's plan and what it requires. For example, many payers offer two types of benefits to cover the injectable drug: medical and pharmacy.
The medical benefit is the portion of the plan in which drugs are covered under on the medical side, or what we like to call buy and bill. Buy and bill means the facility or provider has purchased the drug, and will bill the cost of the drug to the insurance company. The drug is administered from the provider or facility's inventory; is covered for Medicare patients under Part B; and is billed on a CMS-1500 form or UB04 form. Office visits, laboratory tests, and imaging are other services billed under the medical benefit.
The pharmacy benefit, or pharmacy drug benefit (PDB), is the portion of the plan that covers prescriptions filled by a pharmacy. The PDB also may use an outside pharmacy to send the injectable drug to the facility or provider's office for the service.
Payer Requirements
Most payers have medical, clinical, or pharmacy policies that outline exactly which drug requires an authorization or a list to reference. Don't confuse some pharmacy policies with formulary lists, as this is usually reserved for drugs covered under the PDB. The list of injectable medications is usually comprised of the drug name (brand and generic) and HCPCS Level II code. It's a good idea to familiarize yourself with the websites and where to find the information that you need (I usually save those web pages to my favorites, for easy access).
You don't need to memorize all the policies; the more you see the drugs being requested, the more you'll remember what is required. Payer policies follow the indications for drugs and what has been approved by the Food and Drug Administration. There are also local coverage determinations that will identify the same information. The policies usually include the covered diagnoses, the route (intravenous, intramuscular, and subcutaneous), dose, frequency, laboratory values, and possible drugs the patient has tried prior to starting this drug.
Note: This is not an all-inclusive list of what is included in a payer policy. For example, Entyvio® (used for Crohn's disease) requires a tuberculosis screening prior to infusion, while the injectable drug Procrit® (used for red blood cell stimulation) requires hemoglobin values to be less than 10 g/dL.
The key to successful injectable medication submissions is:
Understanding what the payer is requesting;
Understanding the use of the medication;
Submitting the appropriate supporting clinical information (via portal clinical questions or faxed); and
Communicating with your providers about what payers want to see documented.
Submitting Prior Authorization
The preferred method of submitting prior authorizations is to use the payer portals. Portals may be set up to accept different types of authorizations; be sure to select the correct option to prevent delays or having to resubmit. The portals may allow you to register for access, or you may have to gain access through your facility's administrator. Verify the process for your department.
Each payer portal may be organized differently, but they all require basic information. For patient demographics, you may need to enter the patient's date of birth, address, phone numbers, and subscriber identification numbers. Keep handy the information pertaining to the ordering provider (who is prescribing the medication) and the dispensing facility or provider (if given in an office). National Provider Identifier numbers, addresses, and phone numbers are required for submissions. Payers want to know who is requesting the drug and who is billing for it (dispensing provider/facility). For buy and bill, whoever is dispensing the medication is who bills for it. For example, your ordering provider may be Dr. John Smith, while the dispensing facility is your outpatient infusion center.
Because each portal is different, you may need to answer clinical questions, or upload or fax supporting documents (e.g., office visit notes, lab values, imaging, and treatment plan, etc.). If your payer doesn't have a portal, some payers have drug-specific forms, while others accept a faxed letter for authorization requests. If you send a letter, make sure it includes what the payer requires (e.g., ordering provider information, facility information, drug information, and what supporting documents are included). If your request is urgent, some payers allow you to initiate your prior authorization over the phone; make sure to have the relevant information readily available.
After your information is submitted, you may receive a pending case number or an automatic approval. Turnaround time can be up to 14 days. Some payers will take the entire 14 days to render a decision. Most payers do not allow for retro authorizations; therefore, it's important to request an authorization at least five to 10 days in advance of the appointment.
Tips to Reduce Delays and Denials
To reduce delays or denied authorizations, be sure to submit what the payer requires. If the payer requests lab values within four weeks, and you send lab values from six weeks ago, the authorization will be delayed or denied.
It's also helpful to communicate payer expectations with your providers. If the payer wants to know if the patient is responding to treatment before the next infusion or injection, educate your providers on what information the payers will look for in the documentation. Submitting the correct diagnosis is important, as well.
If the provider is using the drug for off-label use, it may delay the outcome or result in what is called a peer-to-peer discussion. A peer-to-peer discussion is between the provider and the payer's medical director/pharmacist to talk about why the treatment is being requested. Off-label use is when the provider uses the drug for a diagnosis that may not be included in the policy. In many instances, off-label use is supported by documented research that has not been included in payer policies, and that information should be sent.
---
Traci SuSong, MBA, CPC, is a reimbursement manager for the department of Pharmacy at Cleveland Clinic in Cleveland, Ohio. She has a Master of Business Administration in Health Care Management and over 17 years of professional and technical experience in multiple areas of revenue cycle including registration, scheduling, prior authorizations, billing and coding, and denials management. SuSong is the membership officer of the Cleveland, Ohio local chapter.
Latest posts by Guest Contributor
(see all)
No Responses to "Injectable Medication Authorizations: Tips for Success"