Perks of Presenting
April 1, 2018
Comments Off

on Perks of Presenting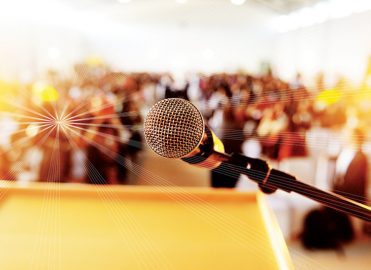 The rewards and benefits of sharing your expertise will outweigh your anxiety.
Research indicates that some people fear public speaking more than death. So prevalent is this fear that famed author Mark Twain once said, "There are two types of speakers: those who get nervous and those who are liars."
Overcoming that fear can be very rewarding, however. In addition to looking great on your résumé and LinkedIn profile, presenting gives you an opportunity to showcase your expertise and professionalism, which often leads to career growth. The preparation process also serves as a refreshing review and an insightful research period.
At AAPC, we recognize that presenting can be an intimidating prospect, and we truly value and appreciate all those who make the effort. Regardless of the venue you choose, if you present on a healthcare topic, you will be rewarded.
Local Chapters
Every AAPC-approved presentation is worth the same quantity of continuing education units (CEUs) for the speaker as it is for the attendees; however, presenters at local chapter meetings may earn double the CEUs by entering the event twice into their CEU Tracker. This extra incentive benefits the speaker, and it helps local chapter officers encourage speakers to present at their meetings.
To claim this double credit in the CEU Tracker, presenters enter the index number for attending the meeting, and then manually input the same meeting information as the speaker, effectively causing the Tracker to accept the event twice. Entering CEUs in manually can be accomplished by selecting "No" when the CEU Tracker asks if you have the index/catalog number.
Reach out to your local chapter's education officer if this kind of presentation opportunity interests you.
Webinars
AAPC handles these hour-long, interactive broadcasts so presenters can field attendees' questions during the live event. This added value also provides helpful understanding of where participants might need more information and what additional knowledge they're seeking – both extremely useful for the speaker to improve future presentations.
AAPC webinar presenters who meet their deadlines receive an honorarium of $1,000. If this kind of presentation opportunity interests you, apply at www.aapc.com/presenters.
Conferences
Our national and regional conference sessions feature 75-minute presentations on various revenue cycle management topics. Those who are selected to be speakers earn a free conference registration, so they can attend the rest of the event free of charge. We're looking for more speakers for our upcoming regional events in Washington, D.C., and Anaheim, California.
Send an email to conferences@aapc.com if this kind of presentation opportunity interests you.
Props to Our Customer Service Representatives
We appreciate feedback from members about their experiences with AAPC's customer service; we especially love receiving props! Here's what a few members said recently about their customer service experiences:
"[Jason was] very fast and gave me the answer I was looking for. Even though my company pays for my membership, I love the feature of having a payment plan."
We love this feature, as well! Just as a reminder: Membership can be renewed with a two- or three-month, nonrefundable payment plan by calling (800) 626-2633 any time before a cancellation notice is sent. The first payment is processed when you call and set up the plan; subsequent payments occur on the same day, on the following months.
We also recently launched financing options for our online training courses. AAPC U.S. customers who are enrolling in one of our online certification courses or training packages may select to pay with Affirm, a third-party financing company that offers 3-, 6-, or 12-month repayment options and a monthly payment plan at variable interest rates. Because this is a loan for course payment and some Social Security information is required to complete the process, these orders cannot be handled over the phone; they must be completed online.
"[Lisa was] very patient and willing to wait to make sure everything was ok. That's exactly how customer service should be! Well done!"
Our job is not done until your issue is resolved. We care about every call, every chat, every email. We're working on ways to make sure this level of service doesn't slow down our ability to answer your calls, chats, and emails in a timely fashion. As we make those improvements, know that if by chance you experience a delay (usually small, even in times of high call volume), it's really an indication of the level of care we want to offer you and every other member who contacts us.
To nominate an AAPC employee for excellent service you received, send an email to thanks@aapc.com.
Outside of AAPC
If you're preparing to present at an event hosted by another organization, advise them to apply for AAPC approval, so they can offer CEUs. If they are approved, you will receive the same quantity of CEUs as the attendees. Organizations can apply for AAPC approval at www.aapc.com/ceuvendors. Apply at least a month in advance for these types of events.
If you're preparing to present for your facility or as a free, in-service event, you can apply directly for CEU approval for both you and all attendees through the same web page: www.aapc.com/ceuvendors. The application fee is waived for these circumstances, and we still recommend applying roughly a month in advance.
Don't let anxiety keep you from presenting and reaping the rewards.
Latest posts by Dave Blackmer, MSC
(see all)