May MAYnia Coming Soon to a Local Chapter Near You!
April 1, 2018
Comments Off

on May MAYnia Coming Soon to a Local Chapter Near You!
Let your members know why they should spring to your May MAYnia meeting!
May MAYnia was created to give healthcare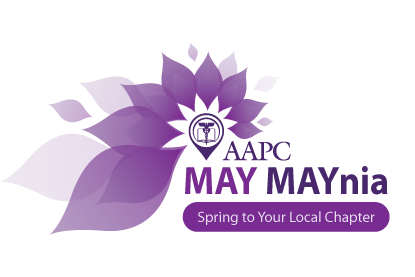 professionals an opportunity to discover what AAPC local chapters offer, where prospective members could experience the valuable education and networking found at chapter meetings.
May MAYnia has also become a membership drive by many chapters—an annual meeting focused on building chapter membership. As May MAYnia has evolved and become a celebration for our members, many chapters will take this yearly opportunity to:
Reach out and personally invite inactive members.
Send a special invitation to the surrounding healthcare institutions and invite current students.
Invite members or non-members at work or through other known connections, who are looking for something to enhance their healthcare careers.
Invite professionals from major healthcare organizations in the area. This gives them a chance to experience the advantages of having an AAPC local chapter in their community, where their employees can further their education and engage in valuable networking.
A strong diverse membership will provide new talent for speakers, professional connections and new leadership as officers. So, if your chapter is struggling with attendance and you need a boost, take this opportunity to spotlight your chapter and showcase your presence in the healthcare community! CELEBRATE with your members!
Latest posts by Linda Litster
(see all)