5 New HCPCS Q Codes Effective July 1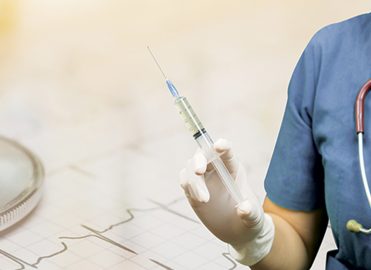 Get a jump on five new HCPCS Level II codes going into effect July 1. All are Q codes and they help patients with opioid addiction, knee pain, cystic fibrosis, and hemophilia.
Q9991         Injection, buprenorphine extended-release (Sublocade), less than or equal to 100 mg
Q9992         Injection, buprenorphine extended-release (Sublocade), greater than 100 mg  
Sublocade is a drug used for treatment of moderate to severe opioid use disorder in adult patients who have initiated transmucosal buprenorphine containing drugs. The new injectable drug, which was approved by the Food and Drug Administration (FDA) in December, requires the patient to have been on a stable dose of buprenorphine for at least seven days before transitioning to the injectable drug.
Type of service for both codes is 1, Medical Care, and Coverage is C, Carrier Judgment.
Q9993          Injection, triamcinolone acetonide, preservative-free, extended-release, microsphere formulation, 1 mg   
Triamciniolone is a synthetic corticosteroid and has been used to treat skin conditions; a less powerful version is sold as the nasal spray Nasacort. This version of the drug is for injection into osteoarthritic knees and it's marketed under the brand name ZILRETTA.
Type of service is Medical Care and Lump Sum Purchase of DME, Prosthetics, Orthotics. Special coverage instructions apply; check with the patient's payer.
Q9994         In-line cartridge containing digestive enzyme(s) for enteral feeding, each                                                                               
Relizorb breaks down fats in enteral tube formula prior to patient ingestion, improving pancreatic function and enhancing calorie absorption. This is particularly important for patients with cystic fibrosis, where better nutrition improves outcomes.
Type of service is Enteral/Parenteral Nutrients/Supplies and the cartridges are not reimbursable by Medicare.
Q9995            Injection, emicizumab-kxwh, 0.5 mg   
HEMLIMBRA is approved as a prophylactic medicine that reduces the frequency of bleeding episodes in adults and children with congenital factor VIII deficiency hemophilia A with factor VIII inhibitors. The drug is self-administered subcutaneously, weekly.
Type of service is Medical Care and Coverage is C, Carrier Judgment.
Latest posts by Brad Ericson
(see all)
No Responses to "5 New HCPCS Q Codes Effective July 1"