Winston-Salem, N.C., Radiates Positivity and Compassion
May 1, 2018
Comments Off

on Winston-Salem, N.C., Radiates Positivity and Compassion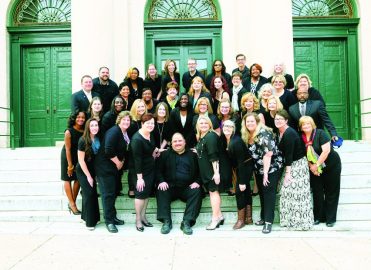 Their passion for the success of others is what makes them the 2017 Chapter of the Year.
The Chapter of the Year award is AAPC's most prestigious honor the Local Chapter Department bestows on a local chapter. For 2017, Winston-Salem, N.C., is the chosen chapter.
According to AAPC Officer Liaison of Local Chapters Linda Litster, "Their most recognized quality was their attitude of service to others that allowed them to shine so radiantly!" They went above and beyond to assist their chapter members, as well as members from surrounding chapters.
There are no egos in the chapter, only teamwork and servitude to help like-minded medical coding professionals and charitable organizations in their triad area. The 2017 President Amber Ayers, BS, CPC, said, "We are here to serve and to assist in any ways that we can, whether it be helping a coder with trouble areas in their coding skills to adjusting times and locations of meetings." This positive, humble attitude proved to be what was necessary to make the chapter rise to the top.
Surpassing Award Criteria
To be selected for the AAPC Chapter of the Year award, a chapter must exceed a point system, as well as pass questions the Local Chapters Department asks when reviewing applications. According to Litster and Marti Johnson, these are the questions:
How does the chapter get along as a whole?
Has Local Chapter Department received any complaints from members?
What do the officers offer in the way of education?
What are the little extra things they do to support their members and healthcare community?
Is there a feeling of comradery and support between the officers, AAPC, and the members?
Not only did Winston-Salem pass these questions with flying colors, "they went above and beyond what was expected!" said Litster. They followed guidelines and appropriate protocol, offered more exams and meetings than required, met all AAPC deadlines, and were a very charitable bunch.
They Just Keep Giving
Here's what Winston-Salem did to help educate and inform coding professionals in their area:
Offered 12 meetings and adjusted times and locations of meetings to ensure everyone had an opportunity to attend at least one meeting each quarter.
Held their 4th Annual Healthcare Symposium so members could have local, affordable CEUs.
Offered 13 local testing sites, so members had other location options other than the Winston-Salem chapter.
Offered four low-cost review classes for members, as well as notifying members of review classes at other locations.
Held seven exams, with a review class held prior to six of those exams.
Hosted a Job & Education Fair and reached out and invited chapters within North Carolina and other surrounding states to attend.
Hosted 2017 Local Officers Training.
Created and sent out a newsletter each month.
Participated in the Member Rewards Program.
The Winston-Salem chapter's charitable offerings included:
Built and donated supply kits for Hurricane Harvey victims. The kits contained cleaning, hygiene, and school supplies.
Participated in the Susan B. Komen Race for the Cure.
Adopted six kids from the Angel Tree by donating $500.
Collected and donated to Toys for Tots.
Donated $500 to Brenner Children's Hospital.
Raised money for the quarterly AAPCCA Hardship Scholarship fund, which covered costs for a member to attend their symposium for free.
Donated coding books to local community college for coding students.
Held food drives.
Ayers said, "We hosted a Healthcare Symposium with 135 attendees to raise money to do all of these things for the chapter and the community."
A Welcoming, Friendly Atmosphere
At every chapter meeting the Winston-Salem chapter recognizes new members and attendees by having them introduce themselves and tell the chapter anything about themselves they wish to share. Ayers said, "We also provide new members with a 'welcome gift,' and recognize them in our monthly chapter newsletter."
Everybody Is Offered Flexible Education
The Winston-Salem chapter provides plenty of education to accommodate all members — those who want to pass the exam, to find a coding job, or to earn continuing education units (CEUs) to maintain credentials. They have members from many different areas and employers, so they offer a wide variety of topics at each meeting.
2017 Education Officer Michelle Creech, CPC, CEMC, said, "We want to make sure all of our members have an opportunity to earn CEUs and network with their fellow members, so we rotate our meeting dates and times to help reach all of our members' availability." Their meeting rotation runs on a cycle of Thursday 3-5 p.m., Thursday 5:30-7:30 p.m., and Saturday 10 a.m.-noon. They sent out surveys to members about these time slots to see if they accommodated the needs of their busy schedules. Creech said, "The results were an even vote count for each meeting day of the week and times." Winston-Salem officers were "pleasantly surprised" because they were indeed meeting the scheduling needs of the chapter members.
Helping and educating members on how to find a job was also a top-priority last year. Creech said the chapter noticed many of their members had earned Certified Professional Coder (CPC®) certification but had little to no experience in the coding field. To help these members, they held a couple of job and educational fairs. Creech said, "We had chapter meetings to help give guidance, support, and ideas for staying on course with job hunting and keeping up with their knowledge."
The Winston-Salem chapter also worked hard to better prepare students for the CPC® exam. Creech said, "We started holding CPC® review classes a week or two prior to our scheduled exams to give examinees a chance to review closer to their scheduled exam." Just in case Winston-Salem doesn't offer a review class that works for a student's schedule they also "announce exam prep classes offered by other local chapters for members in those areas," according to 2017 New Member Development Ginger Leonard, CPC. That way, if they can't make a prep class in Winston Salem, they have other options. With so many review class options, it's difficult for an examinee not to be prepared.
Let's Hear It for the Officers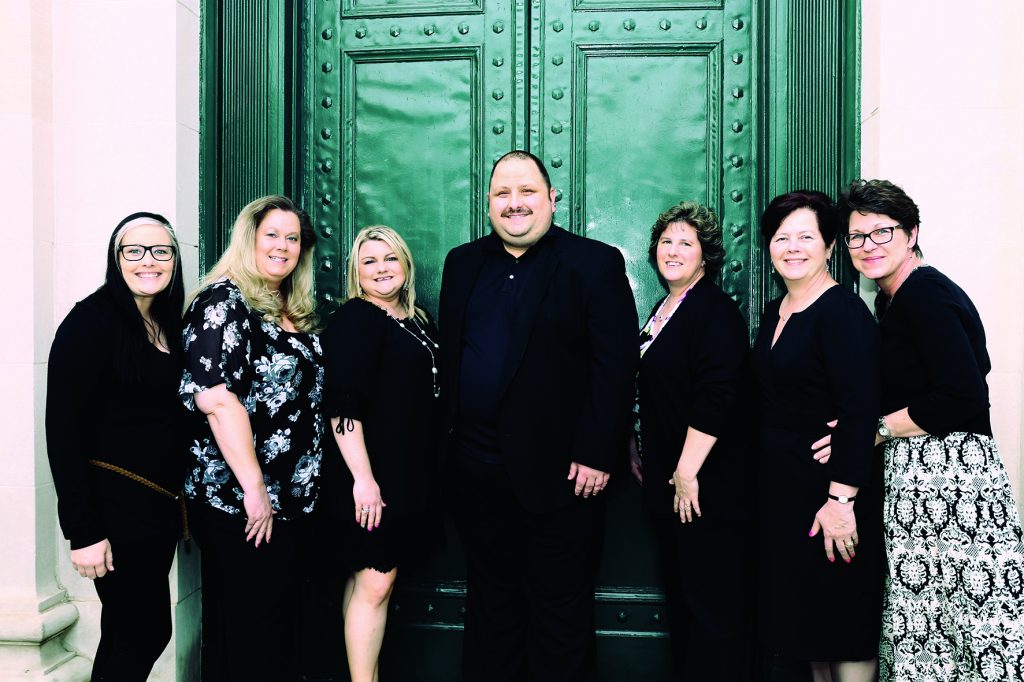 It takes an entire chapter to be successful, and Winston-Salem, N.C., worked as a team to make their chapter radiate with professionalism and dedication. But a special "thank you" goes out to the 2017 local chapter officers who worked tirelessly to help rally their chapter and to be a beacon of positive change through charitable work:
President Amber Ayers, BS, CPC
Vice President Bryan Eagle, CPC, CPC-I
New Member Development Ginger Leonard, CPC
Education Officer Michelle Creech, CPC, CEMC
Secretary Gail Porter Thum, MA, CPC, CPMA
Treasurer Jennifer Olkkola, CPC
The officers are proud of their chapter and its members. Here's what some of them had to say it:
We are ecstatic to have won this amazing award! We really do have such great officers and members!
Amber Ayers, BS, CPC
I believe our chapter members make our chapter unique. We have members from all across the Piedmont Triad area and from many different employers! This offers everyone a great opportunity to network and learn from each other.
Ginger Leonard, CPC
I love being involved and helping and networking with my fellow coders. Our chapter is big and diverse and always willing to step up to help others. I was happy with our involvement in many service projects this year. … I am happy to serve this wonderful group of people. 
Jennifer Olkkola, CPC
Our chapter is truly community focused.
Gail Porter Thum, MA, CPC, CPMA
We are all really excited about receiving this award! … this is a great accomplishment and a testament to the hard work of our chapter officers and members to have achieved such recognition from AAPC! 
Michelle Creech, CPC, CEMC
May MAYnia Helping Seasoned Coders and Enticing New Ones
They incorporated a Job & Educational Fair into May MAYnia. Ayers said it "included participation from local employers as well as schools that offer coding classes. This not only catered to current chapter members, but also introduced AAPC and our chapter to people who are interested in becoming coders." They provided attendees lunch, as well. Creech added that including a Job & Educational Fair into May MAYnia is "a way to help members who are looking for a coding job or for more coding education, … and of course, it's another way to help promote AAPC and bring in new members."
What's Up Next? More Charity and Education
This year the Winston-Salem chapter has a community service project scheduled for each quarter. Ayers said the chapter sent out a survey via Survey Monkey with ideas and let their chapter members vote on which projects to participate in. The first quarter they hosted a "Hospice Drive" where members brought in items from the hospice wish list. The other quarterly projects include volunteering at the Ronald McDonald house of Winston Salem, N.C., doing a Habitat for Humanity build, and then they'll provide canned goods to the Second Harvest Food Bank.
In September, Winston-Salem will host their fifth annual Healthcare Symposium and it'll include an anatomy expo, like the one at HEALTHCON.
Latest posts by Michelle Dick
(see all)
No Responses to "Winston-Salem, N.C., Radiates Positivity and Compassion"