HEALTHCON Hardship Scholarship Quilt WINNER!
May 1, 2018
Comments Off

on HEALTHCON Hardship Scholarship Quilt WINNER!
The Hardship Scholarship Fund was developed and is overseen by the AAPCCA Board of Directors. It is a financial aid program created with the intent of assisting AAPC members with maintaining membership and certification in times of financial difficulty due to an unexpected hardship.
Each year AAPCCA Board member, Jeanne Gershman, donates a beautiful quilt to be raffled at HEALTHCON to complement this fund! This year Jeanne donated a beautiful "Grandmothers Fan" quilt. It was all the buzz at conference this year.
Once again, our members and officers were so generous! Even the entertainment for HEALTHCON, Eclipse 6, Paul Hansen, Kevin Jones, Jake Despain, Dan Kartchner, Shayne Taylor and James Case, that would jump start each general session, donated to our Hardship Scholarship Fund by donating $2 for every CD sold!  We would like to share a little about this group, because they are just as generous as they are talented.
They were named "Best Vocal Group" in Utah's Best of State awards and "Group Recording Artist of the Year" in the Faith Centered Music Association's Pearl Awards.
They were awarded "Best Religious Song" and were the runners-up for "Best Holiday Album" in the Contemporary A Cappella Recording Awards. They've also received three Just Plain Folks Music Awards (the world's largest music awards program, honoring independent musicians in over 85 countries).
The group's tight harmonies, inventive arrangements, and infectious energy set them apart. They have also gained notoriety for their YouTube videos, including 2016's Christmas parody "Hamildolph," which has been viewed millions of times on Facebook and YouTube. You can check them out online at: www.eclipse6.com.
We would like to thank them for their generous donation and uplifting rendition of the "Star Spangled Banner."
Through all donations, we were able to raise approximately $10,000 for the Hardship Scholarship Fund. This year's winner of the quilt is Brian Douglas from Glendale, Arizona. Brian was so grateful, he ended up donating more! Thanks, Brian, and congratulations!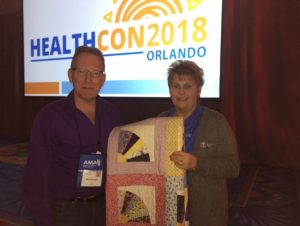 Brian Douglas, pictured with Jeanne Gershman and the Grandmothers Fan Quilt!
Latest posts by Linda Litster
(see all)