Hidradenitis Suppurativa: Diagnosis, Treatment, and Coding
In Coding
May 2, 2018
Comments Off

on Hidradenitis Suppurativa: Diagnosis, Treatment, and Coding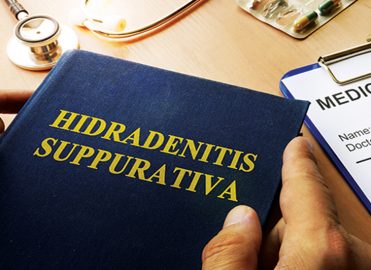 Break out of bad coding habits related to this chronic skin condition.
Hidradenitis suppurativa, also known as Verneuil's disease or acne inversa, is a lesser-known chronic skin condition that can easily be confused with other skin conditions. Familiarity of the signs and symptoms, as well as treatment options, will lead you to correct coding.
Signs and Symptoms Lead to Diagnosis
Hidradenitis suppurativa may first appear as a pimple, cyst, or boil. As the condition worsens, the bumps grow deep into the skin and may become painful. The bumps can rupture, leaking foul-smelling, blood-tinged pus. As the bumps heal, they can cause scarring of the skin, which shows as tunnel-like tracks. Over time, the scars become thick and may cause difficulty moving due to their location on the body.
    The nodules and abscesses generally are located near major skin folds (i.e., armpits, groin) where the apocrine sweat glands are located. This condition most commonly occurs in obese people or smokers. Excess weight exacerbates the disease through movement as skin folds are irritated, which triggers outbreaks. Women are three times more likely to be diagnosed with this condition than men.
    A diagnosis of hidradenitis suppurativa requires the presence of:
Typical lesions: deep painful nodules, abscesses, draining sinuses, scarring, etc.;
Located in axillae, groin, perineal and perianal regions, buttocks, mammary folds; and
Chronic or recurrent in nature.
The appropriate ICD-10-CM code for this condition is L73.2 Hidradenitis suppurativa.
Treatment Options Depend on Severity
A patient with hidradenitis suppurativa should see a dermatologist to receive a proper diagnosis and treatment. Generally, the condition is treated with medication and/or surgical care.
    For mild cases, the physician may recommend antibiotics, compresses, and acne washes. Weight reduction and/or smoking cessation may also be recommended.
    For acute scenarios, a course of antibiotics may be prescribed. Systemic corticosteroids may also be used to control inflammation. If the patient has bumps that have ruptured, they may be referred for wound care and dressings to avoid scarring and tunneling. Vitamins A and D supplements also may be recommended.
    In moderate to severe cases, the provider may recommend one of the following in-office surgical treatments in addition to the care noted above:
Incision and drainage;
Excision; or
Laser surgery.
Documentation Dictates Procedure Coding
To report incision and drainage, look to CPT® codes:
10060     Incision and drainage of abscess (eg, carbuncle, suppurative hidradenitis, cutaneous or subcutaneous abscess, cyst, furuncle, or paronychia); simple or single
10061                  complicated or multiple
Treatment is limited to the skin and subcutaneous tissue. Contents are drained, and pockets may be irrigated. Wounds may be packed or left open to heal.
For excision, select appropriate codes by location. The most common location involved with hidradenitis suppurativa is the axilla. Excision in this area is reported using:
11450     Excision of skin and subcutaneous tissue for hidradenitis, axillary; with simple or intermediate repair
11451                  with complex repair
Axillary in the code descriptors refers to the sweat glands located in the armpit. A provider also may refer to this excision as a Pollock procedure.
Axillary procedures are unilateral. If the provider excises skin on both the left and right axilla, report multiple units of the appropriate code using either lateral modifiers RT Right side and LT Left side, or modifier 50 Bilateral procedure, depending on the payer's preference.
Coding example:
A patient is diagnosed with hidradenitis suppurativa. The physician treats the bump located in the patient's left armpit by excision with a simple repair. It is noted that the subcutaneous tissue is infected, as well. Proper coding is:
L73.2 (to report the hidradenitis suppurativa)
L08.8 Other specified local infections of the skin and subcutaneous tissue (to report the infection of the subcutaneous tissue)
11450-LT (to report the excision procedure on the left arm)
Inguinal refers to the sweat glands in the groin area. Excision from these areas is reported with:
11462     Excision of skin and subcutaneous tissue for hidradenitis; inguinal, with simple or intermediate repair
11463                  with complex repair
Like the axilla codes, the inguinal excision codes are also considered unilateral procedures.
Perianal/Perineal refers to the sweat gland tissue in the perineum and anal areas, while umbilical refers to the area near the navel. For these procedures, refer to:
11470     Excision of skin and subcutaneous tissue for hidradenitis, perianal, perineal, or umbilical, with simple or intermediate repair
11471                  with complex repair
Another option is laser surgery, reported using:
17110     Destruction (eg, laser surgery, electrosurgery, cryosurgery, chemosurgery, surgical curettement), of benign lesions other than skin tags or cutaneous vascular proliferative lesions; up to 14 lesions
17111                  15 or more lesions
The procedure note should describe the size, characteristics, and distribution of the destroyed lesion(s). Although the size of the lesion(s) destroyed is not necessary for appropriate code assignment, there should be clear documentation of the number of lesions destroyed.
Coding example:
The dermatologist documents a total of 12 benign lesions due to hidradenitis suppurativa, removed by laser. The lesions are located in both the left and right axilla areas. Proper coding is:
L32.2 (reports the hidradenitis suppurativa)
17110 (reports the destruction of up to 14 lesions by laser)
As shown here, diagnosis coding for hidradenitis suppurativa and treatment coding relies on clear and concise documentation of the signs and symptoms, location, severity, and complications.
Latest posts by Chelle Johnson
(see all)
No Responses to "Hidradenitis Suppurativa: Diagnosis, Treatment, and Coding"