Colon Polyps: ICD-10 Coding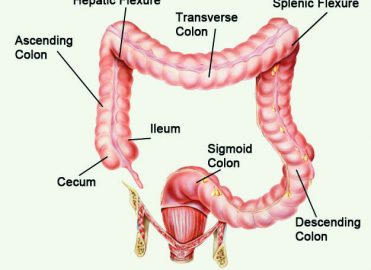 Colorectal cancer typically develops from colon polyps, which are abnormal growths of tissue (neoplasms). Most polyps are benign, but may become cancerous. When selecting an ICD-10 diagnosis code for polyp(s) of the colon, you will need to know the precise location of the polyp(s) and the type of polyp (e.g., benign, inflammatory, etc.), as confirmed by biopsy.
Benign Colon Polyps
Codes for benign adenomatous polyp of the colon are found in the neoplasm chapter of ICD-10-CM, by location:
D12.0 Benign neoplasm of cecum
D12.1 Benign neoplasm of appendix
D12.2 Benign neoplasm of ascending colon
D12.3 Benign neoplasm of transverse colon
D12.4 Benign neoplasm of descending colon
D12.5 Benign neoplasm of sigmoid colon
D12.6 Benign neoplasm of colon, unspecified (Note: This code includes adenomatous polyp of colon and polyposis of colon)
D12.7 Benign neoplasm of rectosigmoid junction
D12.8 Benign neoplasm of the rectum
Example: A 68-year-old, asymptomatic patient undergoes screening colonoscopy. The physician finds and snares a tubular adenoma in the cecum. Because this is a screening, the primary diagnosis is Z12.11 Encounter for screening for malignant neoplasm of colon. Look for "adenoma, tubular" in Volume 2 of the ICD-10 manual, and you are directed to "see also Neoplasm, benign, by site." Withinb the neoplasm entry, search "intestine, large" to locate "cecum." In the "benign" column, find D12.0, which is verified in the Tabular List.
Inflammatory Polyps
Codes for inflammatory colon polyps, found in category K51, include a description of complications:
K51.40 Inflammatory polyps of colon without complications
K51.411 Inflammatory polyps of colon with rectal bleeding
K51.412 Inflammatory polyps of colon with intestinal obstruction
K51.413 Inflammatory polyps of colon with fistula
K51.414 Inflammatory polyps of colon with abscess
K51.418 Inflammatory polyps of colon with other complication
Per ICD-10 guidelines, you should use an additionalcode with category K51 to identify manifestations (e.g., pyoderma gangrenosum).
Other Polyps
Polyps of the colon not documented as adenomatous, benign, or inflammatory are reported using K63.5 Polyp of colon. If a colon polyp is specified as hyperplastic, assign K63.5 even if greater specificity is provided regarding the location, per Coding Clinic for ICD-10-CM and ICD-10-PCS (Second Quarter 2015, pages 14-15).
The ICD-10 code for rectal polyp is K62.1 Rectal polyp.
Example: A 53-year-old-male presents for colonoscopy. There is a family history of colon polyps. The physician documents polyps of the colon, found during the examination. Proper ICD-10 coding requires two codes, in this case: K63.5 and Z83.71 Family history of colonic polyps.
Malignant Neoplasms
For malignant neoplasm(s) of the colon and rectum, refer to ICD-10 categories C18-C20.
Example: A 70-year-old patient with a family history of colon cancer complains of abdominal pain and rectal bleeding. During colonoscopy, the physician finds a mass at the hepatic flexure, which pathology confirms as malignant. The primary diagnosis is cancer of the hepatic flexure. Scan the Neoplasm Table to find "colon" to locate C18.3. The family history of colon cancer is reported Z80.0 Family history of malignant neoplasm of digestive organs.
Latest posts by John Verhovshek
(see all)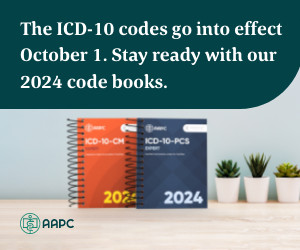 2 Responses to "Colon Polyps: ICD-10 Coding"