Students Asked. We Answered.
June 6, 2018
Comments Off

on Students Asked. We Answered.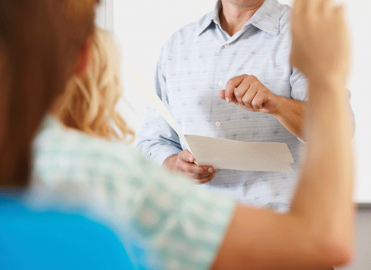 Part 2: The NAB eliminates students' uncertainty about the medical coding profession.
Last month, the AAPC National Advisory Board (NAB) answered questions from students about certifications, resources, and working from home. This month we answer more student questions, with a focus on medical coding work and other career concerns.
What information is critical to healthcare business, but sometimes glossed over?
Colleen Gianatasio, CPC, CPC-P, CPMA, CPC-I, CRC, on professionalism: The importance of professionalism and interpersonal skills is not always given enough attention. We interface with many different departments and people every day. It's important that we always present ourselves in the most professional way possible. Creating strong relationships with colleagues is a good way to build your network. You can rely on these relationships to provide professional references and new job opportunities.
Brian Boyce, BSHS, CPC, CPC-I, CRC, CTPRP, on communication: Knowing how to communicate with people is important. There is a difference between hearing and listening; and not everyone comprehends new information in the same way. In this profession, you need to be able to perceive where a person is coming from and then communicate with that person accordingly.
Michael D. Miscoe, JD, CPC, CPCO, CPMA, CASCC, CCPC, CUC, on competence: Clinical competence is critical. Understanding the how and the why of the services you code is the most important element of being a good coder, biller, auditor, or compliance professional. Hone your research skills. Coding often is determined by payer-specific rules. Find those medical policies and code accordingly.
Do you enjoy your work? Is it all worth it?
Rhonda Buckholtz, CPC, CPMA, CPC-I, CRC, CDEO, CENT, CGSC, COBGC, COPC, CPEDC, CHPSE: I love working in healthcare because it's fast-paced and always improving. Even day-to-day work is never mundane due to the changes and challenges. I've worked in many other fields and this is by far my favorite. There are no limits to what you can accomplish. But if you don't really like change, this is not the career plan for you.
Boyce: Healthcare is a great field for many reasons, but at the top of the list for me are:
I see what others go through firsthand with diagnoses and procedures, and this makes me grateful for what I have in comparison; and
There is always new stuff to learn: new drugs and new procedures, new medical discoveries, etc.
Angelica Stephens, RHIT, CPMA, COSC, CPC, COC, CIMC, CCS-P, AAPC Fellow: I love my job! I look around and ask myself if there's anything else I'd like to do, and the answer is always the same: "No!"
Boyd P. Murayama, MBA, CPC, CPC-I: Healthcare, in my opinion, is the most challenging and rewarding career, but it's not for everyone. You need to be ready and able to tackle some of the most complex situations daily. If you can overcome and manage our complex system, you'll be successful. Remember: We are all in this together and the goal is to provide access and quality healthcare with the patient front and center.
Is the job as daunting as the training?
Caren Lampitoc, COC, CPC, CPB, CPMA, CRC, CPC-I, CPCD: I never felt as though my coding jobs were daunting, but rather an opportunity to learn and grow. I found surgical notes interesting and used them as a platform to gain more anatomy knowledge and to understand how procedures were done. The work is never done, but a great coding/billing team is an awesome machine when it's tuned!
How do you stay motivated when road bumps come along?
Buckholtz: You cannot be an expert in everything: Let that sink in. There are areas that you will barely squeak through, and others in which you will excel. Those that you excel in should give you focus on what specialty is a good fit for you once you get certified.
Miscoe: All career paths have bumps and setbacks. Set objectives for where you want to go and stay focused on those objectives. Do what you must to reach those goals.
What tips can you give a new biller and coder?
Buckholtz: Learn as much as you can about clinical conditions; it will make you much more valuable as an employee. Don't let your learning stop with the books, do research on payer websites, as well.
Boyce: Know when to say, "I don't know, but I can find out." It's those who pretend to know every answer who often don't really know. The mark of a true professional is to know what you don't know.
Stephens: Know your limitations and never stop learning.
Miscoe: Remember that some knowledge only comes from experience. Don't let that frustrate you. Never be satisfied with the level of knowledge you have. Keep learning. By considering myself a perpetual coding student, even in specialties I have worked for years, I have continued to advance my knowledge. Developing that kind of attitude will serve you well.
Was coding hard for you, and how do you remember everything?
Miscoe: Learning any new concept has its difficulties, but with time, you'll remember more, especially in specialties you code all the time. Ultimately, you don't have to remember everything; you only need to remember the analytical process by which you derive the correct answers.
Christina LaRosse, CPC, AAPC Fellow, did not find coding hard to learn, but she admits: You will not remember everything. Start with developing a strong understanding of the basic rules and principles. For example, stay abreast of changes through your specialty society, AAPC, webinars, and seminars. Don't get too comfortable because, just when you think you "got this," it changes!
How can I bridge from a clinical position to a coding position?
Boyce: As a former clinician, I found that coding was somewhat easy to understand because I already had a strong knowledge of clinical issues, diagnoses, and procedures. It's a strong benefit, but it can also be a weakness: I have to remember to take my clinical hat off when coding.
Stephens: If you have clinical background, you've won half of the battle.
Miscoe: Clinical personnel have a much easier path because clinical concepts that influence coding are the most difficult to learn. You'll still be a rookie coder when you obtain your first job, but you'll have a significant edge given your clinical background.
Where is the best place to start your coding career?
Boyce: This varies by person. Many new coders benefit from working in billing or at least working in an office setting, where they can learn the daily processes. Some are ready to jump in with little help, while others need to start out slow.
An externship is a great place to start, according to Ellen Wood, CPC, CMPE: If you can find an externship that give you "real life" experience. Start from the bottom and gain as much experience as you can from any position in a medical field.
LaRosse: Sometimes you need to think outside the box by not focusing on one specialty or medical facility. Look at local healthcare plans, billing companies, etc. Don't dismiss that temporary or part-time position; they often lead into a permanent opportunity.
Am I wasting money on school?
Buckholtz: Only you can decide this. Research the job market in your area. Interview peers for their advice. Your future is what you choose to make it. I chose to volunteer and really work to break into the industry.
Stephens: You have to invest before you can start making money. Like any other career, you need to be patient and never give up. Coders aren't quitters!
LaRosse: Education is never a waste in money. I had a mentor tell me once, "Knowledge is Power! Learning is an investment in you!"
How do I get a job with just the experience of classroom work?
Miscoe: Recognize your limitations, have a professional attitude, a professional appearance, and demonstrate a commitment to learning Be willing to be trained and to do what is necessary to get practical experience any way you can.
As a newly Certified Professional Coder (CPC®), what can I do to make my resume stand out from others with the same credential?
Boyce: Double check your resume for typos. One typo in a resume is a death sentence for someone trying to secure a job about exacting information. Don't put personal items in your resume; keep it professional. Make sure you express your experience and or your passion in your resume.
Gianatasio: Be sure to take time to tailor your resume to each position you apply for. Determine what is most important to that employer and then make sure that your most relevant skills are the first thing they see on your resume. Although a chronological format is the most common, it might be more useful to use a functional or combination format if it highlights your most desirable skills better.
When do we need to query a physician and how do we correctly handle that?
Buckholtz: Learn as much as you can about the clinical condition, so you can have a good conversation with the provider. Physicians are great educators and usually love to explain to you if you ask questions. Don't make it all about the coding; ask them to explain and ask leading questions. Always be respectful and provide context when possible and regulations when needed.
Boyce: Know how to approach providers. I have seen too many coders on a high horse with attitude about coding rules. Take the time to be courteous, show respect, and offer up that you're trying to help the provider.
Stephens: In a nutshell, respect your providers, educate yourself, and you will have no problems.
How do you know when you've covered everything that needs coding for a patient?
Lampitoc: This is the learning curve in the art of coding. Be aware of guidelines and rules. Review parentheticals. Have a resource, perhaps, a seasoned coder you can tap into. If you are coding for a specialty, check to see if there are specialty society publications for coding. Discussing cases with the doctors (if that is possible) and getting their feedback is a great resource, as well.
If you knew what you know now about the healthcare industry, would do have gone into medicine?
Lori A. Cox, MBA, CPC, CPMA, CPC-I, CEMC, CHONC, AAPC Fellow: Absolutely! But you have to like change. If you are a static person and change bothers you, don't go into healthcare.
Is the schooling, fees, applications, etc., all worth it?
Miscoe: Any investment you make in yourself, especially in a discipline you have a passion for, is always worth it. Make it pay off with your dedication. Remember: There are no careers that provide instant financial reward. It takes time. With patience and dedication, a career in this field can be very lucrative.
The Power of the CPC®
The NAB cannot stress enough that, although it may be difficult to spend money prior to entering the work force, you need to invest in your career to be successful. Some students also ask, "Why get certified?" That's easy: Not only do many employers require a certification, but it helps you to stand out as a professional. Certification is an indicator of commitment to your career and continued learning.
To learn more about certification, go to the AAPC website.
---
Angela Clements, CPC, CPC-I, CEMC, CGSC, COSC, CCS, AAPC Fellow, is a physician coding auditor, educator, and consultant at Medkoder. She has ore than 18 years' experience in healthcare. Clements served on the AAPC NAB as the member relations officer from 2015-2018 and served as Region 5 representative from 2013-2015. She is a member of the Covington, La., local chapter. She's a frequent speaker at local medical managers' meetings and local chapters in her region.
Latest posts by Angela Clements
(see all)