5 Questions Every Radiology Coder Should Ask
In Coding
June 6, 2018
Comments Off

on 5 Questions Every Radiology Coder Should Ask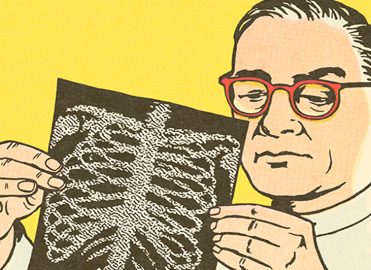 The answers to proper medical coding and reimbursement are not always transparent.
From the referral to the claim submission, there are many opportunities for errors that result in a claim denial, improper payment, or even an audit. To secure proper payment, here is a checklist of five essential questions to ask yourself as you code radiology claims.
1. Have I captured the correct number of views for the code assigned?
Radiologists do not always provide a clear-cut number of views in their dictation. Figuring out how many views were performed can be difficult, especially if you're not familiar with the abbreviations and terminology used to describe these views. Know the most commonly used views and how they apply to the report you're coding.
For example, a radiologist may dictate that anteroposterior, lateral, and oblique views were obtained on a knee. You might assume this translates to three views, without realizing the radiologist took both left and right oblique views, which would make this a four-view study.
It is also imperative to understand the word "images" does not automatically translate to "views." CPT® codes are assigned based on the number of views, not images or films. Radiologists commonly use phrases such as "three images were obtained," which does not necessarily translate into a three-view code. Depending on the patient's size and other factors, more than one X-ray image or film may be needed to complete a single view.
2. Was there contrast or no contrast used?
Sometimes, the answer is "both." Magnetic resonance imaging and computed tomography exams both have codes for exams performed with contrast, without contrast, or with and without contrast. It is important to make sure you select the code based on what the radiology report says was done. The Radiology Guidelines section of the CPT® code book defines a "with contrast" study as one where the contrast is administered by one of the following types of injection:
Intravascular (into a vein or artery)
Intra-articular (into a joint)
Intrathecal (into the spine)
The use of oral or rectal contrast does not meet CPT® criteria for a "with contrast" exam.
3. Does the exam I'm coding have a Local Coverage Determination (LCD) or a National Coverage Determination (NCD)?
The Centers for Medicare & Medicaid Services (CMS) develops NCDs for Medicare coverage of most services and supplies; but for the services and supplies without an NCD, Medicare administrative contractors often develop their own LCDs. All NCDs and LCDs can be viewed on the Medicare Coverage Database. These policies list, in part, the covered radiology exams and procedures and the specific ICD-10 codes that show medical necessity. There are many radiology exams and procedures on these lists, so it's important to review national and local policies to make sure the ICD-10 code you select is listed for the particular exam or procedure you are billing.
4. Have I coded this claim to the highest level of specificity available in ICD-10?
Occasionally, radiologists will give the final impression as one thing, but give a more specific diagnosis in the full body of the note. For example, a radiologist may dictate in the final impression that a fracture of the distal radius was seen, but in the findings or the body of the report, an intra-articular distal right radius fracture is noted. This information changes the ICD-10 code. Don't automatically assume the radiologist's final impression is the final diagnosis. Read the entire report before selecting an ICD-10 code.
5. Does my claim need a modifier?
After determining whether a report requires modifier 26 Professional component, modifier TC Technical component, or neither (indicating a global service that includes both components), check the claim to see if additional modifiers are necessary.
Common modifiers include:
Modifiers LT Left side and RT Right side to indicate laterality
Modifier 59 Distinct procedural service (or X(EPSU) modifiers)
Modifiers 76 Repeat procedure by same physician and 77 Repeat procedure by another physician
Modifier 50 Bilateral procedure
Having convenient access to updated National Correct Coding Initiative (NCCI) edits (published quarterly on CMS's website) will help you to decide whether a modifier is necessary, or even allowed for the particular coding scenario.
Tip: Look at all exams performed by your radiology group for a particular date of service because, sometimes, radiology exams are not all billed on the same claim.
Answering these questions does not guarantee your claims will be paid every time, by every payer, but it will help you to avoid five coding mistakes that commonly cause radiology claims to be denied, audited, or improperly paid.
For more information on radiology coding, read the article "Radiology Changes in CPT® 2018" (www.aapc.com/blog/40420-radiology-changes-in-cpt-2018/) in AAPC's Knowledge Center.
---
Stacy L. Shaw, CPC, CPMA, AAPC Fellow, is a team lead coder at MedKoder, LLC. She has more than 20 years of experience in healthcare, working in the management, coding, auditing, and billing sectors. Shaw is a member of the Cleveland, Ohio, local chapter.
Resources
CMS, Medicare Coverage Database: www.cms.gov/medicare-coverage-database/
CMS, NCCI edits: www.cms.gov/Medicare/Coding/NationalCorrectCodInitEd/index.html
Latest posts by Guest Contributor
(see all)