E/M Documentation by Med Students Rules Clarified
In Billing
June 7, 2018
Comments Off

on E/M Documentation by Med Students Rules Clarified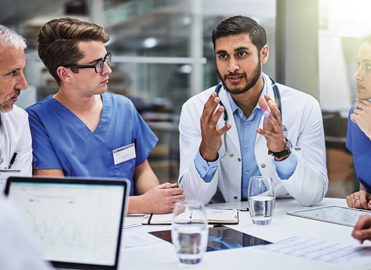 The Centers for Medicare & Medicaid Services (CMS)  issued a MLN Matters article ( MM10412 Revised) on May 31 with a retroactive effective date of January 1, 2018 clarifying documentation requirements when performed by Medical Students in a teaching situation.
Confusion About Provider Participation
There was confusion when this rule was first issued because coders, auditors and providers were not sure what was required in the record to demonstrate that the provider participated in the care of the patient when the medical student performed the documentation. This is different from a Resident Attestation because the rules are subtly different.
CMS modified the Medicare Claims Processing Manual, Chapter 12, Section 100.1.1 to update the policy on documentation for evaluation and management (E/M) services, which allows the teaching physician to verify the medical record in which the student documents. The student can document any and all elements of the E/M service and the teaching physician just has to verify the documentation rather than re-document their activities. The teaching physician must personally perform (or re-perform) the physical exam and medical decision making activities of the E/M service being coded and billed but they just have to verify any student documentation in the medical record. They can add or modify to the student documentation in the medical record. The MLN article makes it clear the teaching physician does not have to re-document what is already documented by the medical student.
Verify in E/M is Key
The word VERIFY stands out in the MLN article. It is the job of the teaching physician to verify the medical student's documentation in addition to personally performing the physical exam and medical decision making. As a result, if I were to compose an "attestation" for medical student documentation, it would be something like:
I verified the medical student's documentation in the medical record. I personally performed a physical exam and medical decision making. I made appropriate changes to the documentation and the assessment and plan based on my verification, exam and medical decision making"  Signed Teaching Physician
The official instruction, CR10412, issued to your MAC regarding this change is available at https://www.cms.gov/Regulations-and-Guidance/Guidance/Transmittals/2018Downloads/R4068CP.pdf
Latest posts by Barbara Cobuzzi
(see all)
No Responses to "E/M Documentation by Med Students Rules Clarified"