How to Get a Medical Coding Job in a Facility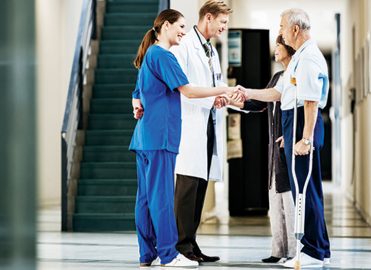 If you want to be a medical coder in a facility, there are a lot of ways to get your foot in the door. Once your toe crosses the threshold, experts say, you may have to take several steps to get to the job you want.
Facility and Health System Jobs are Plentiful
Just short of 32 percent of AAPC members work in facilities, but not all are coders. Many do inpatient coding and outpatient coding, but others are serve as auditors, managers, trainers, information analysts, risk adjustment coders, compliance officers and many other jobs. Some are providers and compliance officers, too. Most facilities want credentialed coder applicants, either with a Certified Professional Coder (CPC), Certified Inpatient Coder (CIC), or Certified Outpatient Coder (COC).
But not all of these members jumped straight into the job they wanted. A good many tell AAPC they worked their way into their positions, starting as  volunteers, interns, clerks, assistants, billers, and in other areas before their job came along. Most are credentialed, and those who weren't credentialed before starting either prepared for their exam on their own or through a facility program.  Ask your colleagues at a local chapter meeting, and they'll advise you take whatever job you can to get to know the facility, learn the needs and expectations of the organization, expose yourself to new experiences, and prove yourself. They'll tell you to network with medical coders and their managers, and jump at any opportunity.
What are Facility Managers Looking For?
We asked Pamela Warren Brooks, MHA, COC, PCS, CPC, AAPC Fellow, coding manager at Wentworth-Douglass Hospital in New Hampshire, what her experience hiring medical coders is.
"What I often find when attempting to hire brand new coders is that many of them do not understand the difference between a facility coder and a professional-fee coder", she told us.  "When discussing 'inpatient' coding, most coders are thinking that this is a coder who codes for hospitalists or other physicians that are working in an inpatient setting.  The two jobs could not be more different.  A seasoned inpatient coder, who abstracts from the documentation of the entire inpatient stay is a valuable commodity and definitely not working in a role that would fit a brand new coder."
Knowing the difference will prevent new coders from becoming discouraged when they learn that they are not qualified for the jobs to which they are applying. "
Many coders who wish to code inpatient find it beneficial to pursue AAPC's Certified Inpatient Coder (CIC). Inpatient coding requires knowledge of Diagnostic Related Groups (DRGs) through which inpatient care is paid, and knowledge of  ICD-10-PCS procedure codes to report inpatient service. Out patient coding in a hospital is dependent on CPT codes, which are reported through Ambulatory Payment Categories (APCs).  All rely on excellent knowledge of ICD-10-CM coding.
But don't let this knowledge discourage you. Brooks explained, "There are  jobs out there.  I have the advantage of being able to hire 'coding assistants', who are typically brand new (certified) coders, with little or no experience.  I bring them on to do a variety of our entry-level lab and diagnostic coding, several charge entry tasks and some basic abstraction.  They work in both the outpatient facility and professional-fee areas."
"In other organizations where this sort of job is not available, I would recommend that any new coders look to find positions in patient access, where the work of pre-authorizing patient services requires knowledge of both procedural and diagnostic coding, or in HIM (medical records), where they would be in close proximity to the coding department.  Essentially, any position within an organization will give a new coder the advantage of having access to those open positions that are posted internally," she said.
If you want to work in a facility,  contact them and find out what they want to see, let them know you're interested and available, and be professional. "I am disappointed when I read that new coders can't find coding work, and then go on to blame themselves for entering a career where they cannot find work.  At some point along the way, it sometimes takes several steps before a "coding job" comes their way.  And now, with the sophistication we see with electronic health records and billing systems, the jobs that require production coders are no longer in existence.  Many individuals who were once coders, working heads-down and abstracting diagnosis and procedure codes, are now working as auditors, educators, information systems analysts, compliance consultants and documentation improvement specialists," Brooks said.


Latest posts by Brad Ericson
(see all)
No Responses to "How to Get a Medical Coding Job in a Facility"