Extinguish Coder and Medical Staff Burnout
July 6, 2018
Comments Off

on Extinguish Coder and Medical Staff Burnout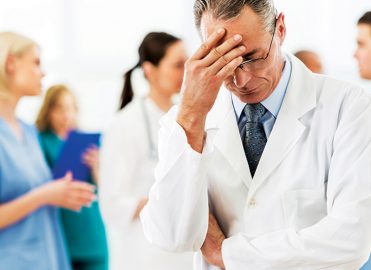 Recognize the symptoms and take precautions to prevent sparks from raging out of control.
According to a Mayo Clinic Proceedings article published in 2015, 54.4 percent of medical providers are burnt out. Although studies have not extensively studied burnout rates among staff members, such as medical coders, auditors, and practice managers, significant burnout rates exist for them, as well.
Identify Burnout
The Maslach Burnout Inventory (MBI), created by Christina Maslach, Ph.D., identifies three subscales for burnout of personnel in healthcare organizations:
Emotional exhaustion
Depersonalization
Low personal accomplishment
Understanding these components may help you to better understand burnout and identify ways to reduce it in yourself or your workplace.
Maslach explains the details of the subsets in her book Burnout: The Cost of Caring as:
Emotional exhaustion occurs when someone "feels emotionally drained from their work." This person "feels real strain from working with people all day." To experience a low burnout frequency pattern, a person would only experience this several times a year, or less.
Depersonalization occurs when a person "becomes more callous toward people since taking the job." This person "worries that the job is hardening him/herself emotionally." Experiencing this once a twice a year, or less, defines low risk.
Receiving personal accomplishment includes "dealing with emotional problems calmly." This person "feels he or she is positively influencing other people's lives through work." A person is at a low risk of burnout if these positive feelings are experienced several times a week or day.
Counteract Burnout
Improving workflow or reducing administrative burden may lessen emotional exhaustion and depersonalization. To help in this area, identify tasks that are replicated by different staff members. For example, if two staff members search for a patient's lab work, does one person continue to look for the results after the other person finds it? Communicating duties and status of accomplishments can help reduce factors that lead to exhaustion.
Depersonalization can often arise due to frustration but can permeate as a mindset. A patient who forgets their health insurance card or medication list may be cruelly labelled as "stupid" or an "idiot." It is important, however, for staff members to remember that patients are often intimidated by the medical environment and overwhelmed when sick or while managing chronic diseases. Understanding the patient's perspective, known as empathy, will help reduce depersonalization.
Personal accomplishment can be bolstered for everyone in the healthcare work environment by rallying for the patient. When a diagnosis is caught early, or a treatment plan is spot on, congratulatory nods to the healthcare team will have a positive impact. This type of attitude can extend to all medical cases, even for patients with no hope of recovery, as long as care is delivered with compassion and healing intention.
Put Burnout in Perspective
From a compliance perspective, it may be worth discussing the MBI sub-components at an upcoming staff meeting. Complaints of feeling emotionally exhausted, depersonalizing patients, and lacking personal accomplishment could uncover emerging issues in the workplace that can be remedied before escalating to high risk.
Encourage your staff to find daily opportunities to reduce the risk of burnout. Look for ways to improve workflow to reduce exhaustion. Think of the patient's perspective and needs when threatened with depersonalization thoughts. On a daily level, be proud of personal accomplishments when doing all you can for your patients to battle disease and promote health.
---
Resources
Maslach Burnout Inventory (MBI): www.mindgarden.com/content/34-physician-burnout-solutions
Patient Advocacy Initiatives free audio download: "Rise of the Patient Advocate-Healthcare in the Digital Age," available at www.PatientAdvocacyInitiatives.org.
Latest posts by Dr. Michael Warner
(see all)