2 More Best Practices to Improve Emergency Diagnosis Coding
July 6, 2018
Comments Off

on 2 More Best Practices to Improve Emergency Diagnosis Coding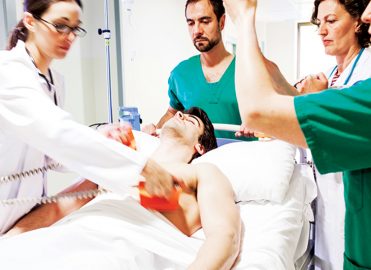 Part 2: Applying appropriate modifiers and assigning medically necessary diagnosis codes aids claim reimbursement.
Delivering quality care while ensuring effective clinical documentation and compliant medical coding is an ongoing challenge in a fast-paced emergency department (ED). This two-part series reviews best practices for optimizing coding compliance and reimbursement of ED claims. Last month, we explored best practices for improving provider documentation and coder education to ensure compliant ED coding. This month, we'll focus on strategies to ensure proper modifier use and diagnosis code selection.
Best Practice No. 1: Know Modifier Requirements
Non-compliance usually results from a lack of knowledge, rather than intent. Modifiers are often misunderstood and, unwittingly, misused.
Modifier 25
In the ED, minor procedures commonly follow an initial evaluation and management (E/M) at the same encounter. When billing for physician services, the decision to perform a minor procedure is considered a routine preoperative service and a separate E/M service may not billed in addition to the procedure. An exception occurs if the provider documents a medically necessary, significant, and distinct service to evaluate the patient's condition and determine the need for further testing and appropriate treatment. This is a typical scenario in the ED, where the provider often has not seen the patient previously and must determine the need for immediate treatment based on the patient's chief complaint, presenting problems, etc.
To report a same-day E/M service with modifier 25 Significant, separately identifiable evaluation and management service by the same physician or other qualified health care professional on the same day of the procedure or other service appended, the documentation must describe a standalone E/M service. In other words, you must be able to pick out all the elements of a billable E/M service from the documentation, apart from documentation of other services or procedures provided during the same encounter. For example, obtaining a patient's blood pressure and temperature, asking how the patient feels, and obtaining written consent would not qualify for modifier 25.
Example
A 25-year-old presents to the ED with anterior thigh abscess; describes the onset to be two days ago. Physical examination reveals 2 x 2 cm abscess with warm dry skin, mild erythema, and tenderness. The patient experiences severe fatigue and headache, as well. Physician decides to perform an incision and drainage of the abscess after informed consent from the patient in addition to performing a through neurological examination and labs ordered to further investigate the reasons for the fatigue and headache.
Anesthesia: 1% lidocaine.
Preparation: Sterile field established, skin prepped with chlorhexidine.
Incision: 2 cm incision was made.
Technique: Fluid collection was manually decompressed.
Drainage: Moderate amount, purulent, bloody.
Irrigation: Minimal, with saline.
Post procedure exam: Circulation, motor, sensory examination intact.
Patient tolerated: Well.
Complications: None.
Follow Up: Primary care physician, in 2 days.
Performed by: Self.
Total time: 20 minutes.
In this case, it's appropriate to report an ED service code (e.g., 9928x) with modifier 25 appended, in addition to 10060 Incision and drainage of abscess (eg, carbuncle, suppurative hidradenitis, cutaneous or subcutaneous abscess, cyst, furuncle, or paronychia); simple or single. Always append modifier 25 to the E/M service code, not the diagnostic/therapeutic/surgical code(s).
Modifiers 76 and 77
When reporting physician services, modifier 76 Repeat procedure or service by same physician or other qualified health care professional and modifier 77 Repeat procedure by another physician or other qualified health care professional often cause confusion due to the similarity of their descriptors.
Modifiers 76 and 77 indicate repeat services by the same or a different physician, respectively. Repeat procedures often are denied when documentation and the assigned diagnoses do not substantiate medical necessity for the repeated procedure. In an ED, modifiers 76 and 77 apply to services such as repeat bedside electrocardiograms (EKGs) interpreted by ED physicians (e.g., 93010 Electrocardiogram, routine ECG with at least 12 leads; interpretation and report only).
Apply modifier 76 or 77 to the second and subsequent tests when repeated with substantial medical necessity documented.
Example
Date of service – May 24, 2018, arrival time: 6:00 a.m.
A 50-year-old male presents to the ED with chest tightness and mild shortness of breath since last night. ED Physician A on duty orders an EKG that reveals the following: Normal sinus rhythm, bradycardia with a rate of 64 bpm, normal conduction, clinical impression – non-specific EKG. The patient is conservatively treated with aspirin and recommended observation for a couple of hours with an order for repeat EKG.
Date of service – May 24, 2018, 8:00 a.m.
The patient does not show clinical signs of progress and the EKG is being repeated by ED Physician B who takes over following a handoff from Physician A. The repeat EKG reveals abnormal sinus rhythm with bradycardia, abnormal conduction, and a clinical impression of probable left bundle branch block. The ED physician recommends a cardiac consultation.
Appropriate coding in this scenario is 93010 for Physician A, and 93010-77 for Physician B.
Modifier 91
Modifier 91 Repeat clinical diagnostic laboratory test is distinct from modifiers 76 and 77, in that it specifically identifies repeat clinical diagnostic laboratory tests on the same day, for the same patient. This modifier is not appropriate when lab tests are repeated to confirm initial results due to testing problems with specimens or equipment, or for any other reason when a normal, one-time, reportable result is all that is required. Guidelines in the Microbiology subsection of CPT® clarify the appropriate use of modifier 91, versus modifier 59 Distinct procedural service, in this situation:
Presumptive identification of microorganisms is defined as identification by colony morphology, growth on selective media, Gram stains, or up to three tests (eg, catalase, oxidase, indole, urease). Definitive identification of microorganisms is defined as an identification to the genus or species level that requires additional tests (eg, biochemical panels, slide cultures). If additional studies involve molecular probes, chromatography, or immunologic techniques, these should be separately coded in addition to definitive identification codes (87140-87158). For multiple specimens/sites use modifier -59. For repeat laboratory tests performed on the same day, use modifier -91.
Modifier GC
EDs with residents must properly apply modifier GC This service has been performed in part by a resident under the direction of a teaching physician to indicate a resident's services were rendered under the direction of a teaching physician. All resident services need an attestation. Per Medicare Learning Network guidelines for teaching physicians, interns, and residents, Medicare pays for services furnished in teaching settings through the Medicare Physician Fee Schedule (MPFS) if the services meet one of these criteria:
They are personally furnished by a physician who is not a resident.
They are furnished by a resident when a teaching physician is physically present during the critical or key portions of the service.
They are furnished by a resident under a primary care exception within an approved Graduate Medical Education program.
The Centers for Medicare & Medicaid Services (CMS) provides examples of teaching physician documentation that does not meet requirements:
"Agree with above" followed by legible countersignature or identity.
"Rounded, Reviewed, Agree" followed by legible countersignature or identity.
"Discussed with resident. Agree" followed by legible countersignature or identity.
"Seen and agree" followed by legible countersignature or identity.
"Patient seen and evaluated" followed by legible countersignature or identity.
Best Practice No. 2: Select Diagnoses to the Highest Documented Specificity
Medical necessity, reflected by a patient's documented diagnosis(es), is required to establish the need for all services and procedures. When selecting diagnosis codes to support medical necessity in the ED, keep these points in mind:
Report the diagnosis listed by the physician in the final assessment and plan (A&P). You may use more specific information available elsewhere in the documentation, as well, but only if that information is not contradictory. For example, you may see "positive strep throat" in the physical exam for a patient presenting to the ED  with a chief complaint of sore throat: but if the final A&P indicates sore throat, only, J02.9 Acute pharyngitis, unspecified is the recommended diagnosis. Code J02.0 Streptococcal pharyngitis is not recommended because the diagnosis wasn't confirmed in the A&P. This is a good case for physician education on diagnosis specificity.
Work-up ordered and relevant past medical history are additional cues to support a "medically necessary" diagnosis.
Do not report findings listed under physical exam unless the provider documents clinical significance.
In an outpatient setting (including the ED), do not code uncertain diagnoses termed such as "probable," "suspected," "questionable," "rule out," or "working diagnosis."
A confirmed diagnosis must establish medical necessity for critical care services, versus "routine" emergency care.
Do not report psychiatry conditions, such as suicidal ideation, as a discharge diagnosis because the patients with such conditions usually are not discharged until the condition is deemed stable.
Always code a diagnosis to the highest degree of specificity (e.g., laterality, anatomical site, etc.).
Do not report related signs and symptoms in addition to a confirmed diagnosis. Report additional signs and symptoms only if they are unrelated to a confirmed diagnosis.
Code chronic diseases that coexist only when they require or affect patient care.
Admit and discharge diagnoses are reported separately on the facility front. The admit diagnosis indicates the reason for the encounter, which is usually the clinical sign/symptom the patient presents with. The discharge diagnosis, in most cases, is the confirmed diagnosis the patient is treated for.
It is appropriate to report the diagnosis that resolved during the ED encounter (e.g., asthma exacerbation resolved with a nebulizer).
Assigning appropriate external causes codes is vital for Workers' Compensation claims. You may assign as many external cause codes to completely describe the information documented, but never use these codes as a principal or first-listed diagnosis.
When assigning ICD-10-CM codes for injury cases, the recommended sequencing is:

Injury code (S and T series codes that indicate fracture, dislocation, sprains, etc.)
Cause of injury/intent (V, W, X, Y series codes that indicate accidents, tripping, slipping, fall, etc.)
Place of occurrence (Y92 Place of occurrence of the external cause series). Do not code a place of occurrence code (Y92.9 – Unspecified place or not applicable) if the place is not stated or is not applicable.
Activity code (Y93 Activity codes to indicate walking, running, climbing, etc.). Do not assign Y93.9 Activity, unspecified if the activity is not stated.
Status code (Y99 External cause status to indicate leisure, work, etc.).
Example
A 42-year-old presents to the ED with a superficial right forearm injury from a dog bite while attempting to rescue the dog from an abandoned barn. The patient is employed at animal control.
The appropriate coding is:
S50.871A      Other superficial bite of right forearm, initial encounter
W54.0XXA Bitten by dog, initial encounter
Y92.71         Barn as the place of occurrence of the external cause
Y93.K9         Activity, other involving animal care
Y99.0            Civilian activity done for income or pay
Best Practices Pay Off
In this two-part series, we've discussed four best practices: educating physicians on documentation requirements and educating coders on how to select ED service levels, certain modifiers, and diagnosis codes. These best practices will set your ED on the path to proper coding and outpatient claims payment.
Read Part 1 of this two-part series, "2 Best Practices to Improve Emergency Coding," in the June issue of Healthcare Business Monthly, available online at AAPC's Knowledge Center (). Get the My AAPC app to put the magazine in the palm of your hand.
---
Gayathri Natarajan, CPC, COC, is the director of coding education, transitions, quality, and compliance at Access Healthcare. She has 14-plus years of experience in leading large-scale medical coding teams across a diverse range of specialties and with in-person provider education. As the director for coding services, Natarajan provides leadership to coding education and training programs, coding compliance, medical coding process automations, and process transition activities at Access Healthcare. She is a member of Chennai, India, AAPC chapter.
Latest posts by Guest Contributor
(see all)