The Far Reach of Medical Coding
July 6, 2018
Comments Off

on The Far Reach of Medical Coding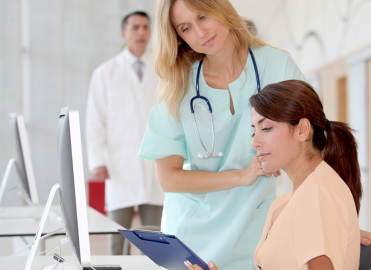 Your medical coding work is more important than you know.
We asked a few experienced medical coders how their work ties to other things in life. This is a rather ambiguous question, to which we received four very different responses.
Sara Boyce, CPC, CPMA, AAPC Associate:
For me, medical coding has made me a better problem solver and has given me the tools to look at issues from different angles — whether that be a financial decision, a difference in opinion, or in helping my son through the struggles of learning. I know that I can now look at these situations and break them down like I would an evaluation and management service or an operative note. What is the root issue right now? What is the intent of this decision? What needs to be accomplished to get there? I'm often told that I think objectively. I fully attribute this to medical coding.
Kimberly Farley, COC, CPC, CIC, CHONC, AAPC Fellow:
Medical coding is important to helping keep medical costs down. Correct coding ensures patients and insurers are billed properly and physicians are paid properly. Correct coding also provides physicians with the information they need to treat their patients. This ensures healthy outcomes for patients, and healthy patients means fewer medical costs. In the days of MACRA, healthier patients and reduced spending really pays off for providers.
Salaries for medical coders are typically very competitive because of this important work we do.
Jenny Berkshire, CPC, CPMA, CEMC, CGIC:
The healthcare industry is structured around codes. Accurate medical coding is the foundation of services provided by all health insurance plan payers. In the Medicaid managed care organization (MCO) industry, we are required to offer plan members state-mandated benefits. We may also enhance benefits to improve the health and wellbeing of our members. These healthcare services and benefits are defined by codes — codes defining the service provided, the diagnosis or condition of the member undergoing the service, the location where the service is performed, the type of professional providing the services, the cost center where the service was provided, and much more. Codes are configured to pay claims accurately and in accordance with the plan benefit. Codes are used to apply utilization management and case management of services and benefits. In order for our members — many with low incomes and high-risk health concerns — to receive valuable diagnostic and preventive services, we must ensure our foundation is structured on sound coding utilizing HIPAA standard code sets. It is essential to follow the standards defining code sets when developing benefits offered to a payer's plan members.
Melissa Kirshner, CPC, CRC, CPC-I, AAPC Fellow:
Being a medical coder impacts everything in my life. Medical coding makes me a good problem-solver and critical thinker. It takes research and understanding of medical conditions to be able to accurately code physician services. It takes knowledge of disease processes and looking beyond the documentation for what is not there to impact the risk adjustment process. Coders need to understand what physicians may not have documented and query to ensure complete and accurate documentation.
Medical coding has also taken me places I never expected to be — from coding, to teaching, to consulting — and it has shaped who I am, both professionally and personally.
There you have it: Four different healthcare business professionals with four different outlooks on how medical coding ties to other aspects of their life.
Latest posts by Renee Dustman
(see all)
AAPC's annual salary survey gives a good understanding of the earning potential within the medical coding profession.
See what actually is going on in the healthcare business job market.