Turn Speaking Jitters into a Dynamite Presentation
July 9, 2018
Comments Off

on Turn Speaking Jitters into a Dynamite Presentation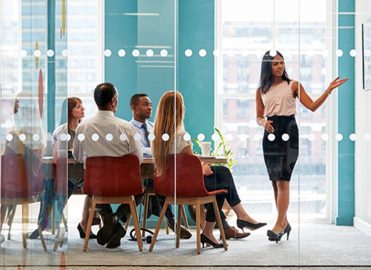 Once you make the leap to leave your comfort zone, use your nervous energy to captivate the audience.
Everybody is nervous presenting in front of peers, especially if it is their first time. For introverts, the thought of standing in front of a crowd may even send chills of fear up their spine or make them feel physically ill. Although speaking triggers real worries, anyone can do it, even the most frightened scaredy cats.
If you are a person who feels like the worries of presenting would consume you, think again. Here is how to overcome your speaking insecurities, backed by some tips from AAPC speaking experts who have had some of the same presentation fears you have.
Take the Focus Off You
Although you are presenting to sharpen your professional career skills and build confidence, the presentation is not about you. Think of it this way, you are there to share information and your local chapter is grateful to have a speaker to learn from. They will welcome your expertise and help you feel comfortable. They want to provide low-cost education to members, while helping you succeed in your presentation.
Here are some ways to keep the pressure off you and to focus on the audience before you start presenting:
Create slides – Have PowerPoint presentation slides that are easy for the audience to read and follow along with.
Create handouts – If you don't like all eyes staring at you, a handout gives the audience something to look at while you talk, to take notes on, jot questions down on, and to refer to if they forgot something you said. It's also a good idea to put your contact information on the handouts in case an attendee has questions after the presentation.
Sweeten up attendees – Buy cookies or another treat. (Tip: If you suffer misophonia from loud crunching, be sure to buy chewy cookies, so you don't get distracted from food noises).
Include diagrams or visuals – If you are presenting anatomy information, consider using displays, labelled posters, or models for visual stimulation.
Leave time for questions – This is less time you need to present and more time for the audience to get information that pertains to their specific needs.
Once you start talking, you'll be surprised at how excited and eager your peers are to listen to you. When you make them feel comfortable and important, your anxiety eases because they are receptive and respectful to what you have to say. Smile, be genuine, and make eye contact, every chance you get. You are the person to set the tone for the presentation; when you have a happy, friendly face, so will your audience.
Use Your Nervous Energy Towards Preparation
Preparation is key to putting your mind at ease. Allow yourself plenty of time to put everything together and do not procrastinate. The quicker you get started on the presentation, the more you will know the material and put your fears to rest.
Here are some ways to keep your jitters at bay:
Every time you get nervous about talking in front of an audience, do something to help prepare. For example, research the material, create a slide or two, practice the presentation, plan what you are going to wear, create visual aids, etc.
Be sure your local chapter officers know how to run the visual and audio equipment, and hand in your presentation slides before the day of the presentation. Consider bringing a laptop with your slides on it, just in case you need a backup.
Practice in front of whoever will listen. Practicing in front of family is ideal because there is no tougher critic than a family member, especially your kids. Your family won't know the material – unless they are a coder – and they will ask a lot of questions. For example, you'll get questions ranging from "What is a continuing education unit?" to "Why do you say 'Ummm' so much?" You'll be able to answer just about anything.
Although practice makes perfect, it may not relieve all your speaking jitters. This is where expert speaking advice comes in handy.
Experts Overcome Their Fear
Even our seasoned speakers had to start somewhere and were nervous during speaking engagements. For example, 2014 Chair of the AAPC Chapter Association Brenda Edwards, CPC, CDEO, CPB, CPMA, CPC-I, CEMC, CRC, AAPC Fellow, remembers the first presentation she gave. It was for her local chapter, and it was their first chapter meeting. She has come a long way and now presents at HEALTHCON, regional conferences, local chapter meetings, workshops, and webinars.
Edwards was most intimidated to speak when she was at a national conference that had over 1,000 attendees in the room. "That was almost half of the entire attendees!" she said. Despite her nerves, she got up there and did her best. Here are three tips Edwards used to help relieve her anxiety:
Walk around the room before the session and talk to the attendees. I try to find something to relate with them and to make sure the audience knows that I am on their level – I am not talking down to them, rather sharing information. I am always open to input from attendees, as long as it doesn't take over the talk.
Keep it casual. I may be a rule breaker, but the more casual, the better; I want attendees to feel comfortable speaking up during my talk. I say that because it not only puts the attendees at ease, but it puts me at ease, as well.
Use humor to lighten the mood. To overcome my fear, I joke around. I sometimes ask the room to laugh really loud so the room next to us hears how much fun we're having, regardless of the subject. I really try to make any talk fun and engaging. (Remember: Always be professional with your humor and sensitive to others).
Edwards also says to keep yourself in check and remember you are there to share your knowledge. "I tell myself that I may not be the know all, but I know where to find answers for questions I can't answer on the spot," she said.
Another seasoned speaker who let go of her presentation butterflies is former AAPC National Advisory Board (NAB) President Jaci Johnson Kipreos, CPC, COC, CPMA, CPC-I, CEMC. She recalls the first time she was nervous to present:
I was so nervous and excited and happy all mixed together. I had just joined the NAB and it was a regional conference. I had spoken at local chapters many times, but for me, this was like a local chapter on steroids. I wanted to do a great job and I wanted to feel like I had really contributed something to the conference and to the attendees.
Here are the three tips Kipreos used to settle those regional conference butterflies:
Know the topic and your audience. I chose a topic I knew well. It was a topic I was comfortable with, and I knew this was a group of my peers.
Put yourself in the shoes of the attendee. I kept remembering what it was like to be an attendee and not a speaker. I was always just appreciative that someone was willing to get up there and speak. This helped me to refocus on those I was educating.
Breathe first and take in the energy. I was nervous for the first five minutes or less, and then the energy in the room just took over and so did my passion for the topic. It was such a great experience because I was fully present in the moment.
Give Yourself Confidence and a Career Boost
Kipreos said presenting has helped her professionally in many ways. For example:
I take on new topics which makes me learn new things.
I stay current with the topics I speak about most often.
It provides a chance to hear questions and scenarios from attendees. This opens up everyone to new experiences and the ability to think out of the box.
It has made me better at listening and better at saying "I don't know, let's find out."
You Have What It Takes
The only thing stopping you from presenting is your own fear of doing something that's out of your comfort zone.
"I remember years back," Edwards said, "I would sit in the audience and dream of being a speaker, never thinking, 'I have what it takes.'" She did have what it takes, and Edwards wants everybody to know, "If I can do it, YOU can do it." And it feels amazing.
If you need encouragement, let Edwards or AAPC know because we are your biggest supporters and are here to help you in all your career endeavors.
Latest posts by Michelle Dick
(see all)