AAPC Tweaks 2019 Code Books to Suit Your Needs
By Brad Ericson
July 9, 2018
Comments Off

on AAPC Tweaks 2019 Code Books to Suit Your Needs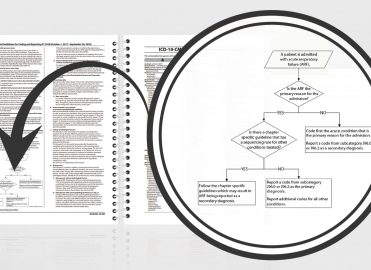 We're making improvements to help you on your exams and in your daily workflow.
You see the ads and emails every year: Each publisher's code books are the best, the most intuitive, and the cheapest. They take federal data and bedazzle it, adding color and appendices they promise will help you.
Get the Same Expertise
AAPC's 2019 code books are truly different. Sure, we've got the latest CPT®, HCPCS Level II, and ICD-10-CM/PCS codes and guidelines. But we've also developed our books to accommodate the needs of beginning coders and examinees, as well as make day-to-day coding easier for everyone.
AAPC educators develop our code books to mesh with our distance learning courses, education texts and workbooks, and other examination prep. And because our educators are credentialed, experienced coders, the books are constructed to make your day-to-day job easier. They understand what you do in a way only fellow coders can.
Enjoy More Features
While still the books you can count on, the 2019 code books reflect feedback members and customers shared with us directly or through focus groups. Thanks to your comments, we continue to improve the indices, organize the tabular sections, beef up the illustrations, and add intuitive ways to make coding more effective and efficient.
Here are some of the things you can look forward to in 2019:
2019 Official Guidelines. AAPC will move the 2019 guidelines to the front of the books for easy access to the latest information.
Quick View Flow Charts in the 2019 Official Guidelines for ICD-10-CM. AAPC is the first to add algorithmic decision trees to the ICD-10-CM Official Guidelines. We think this will help you to interpret complicated guidelines more easily at work or during a certification examination. Honestly, I can't believe no one has done this earlier.
2019 codes, conventions, guidelines, and indices. At this writing, we've learned of hundreds of changes in both ICD-10-CM and PCS, and we expect the same in CPT® and HCPCS Level II.
Tabs for all books. The use of tabs has been proven to facilitate the look-up process. ICD-10-CM owners love their tabs so much, we're adding them to every AAPC code book. Especially during a certification exam, time is of the essence.
New chapters to help you code better. AAPC staff crafted brief chapters to help you fully use your books for the following:
Exam Preparation – Nervous? Wonder how to use your code book best when you take your examination? We'll help you.
Risk Adjustment – If you need to use ICD-10-CM for hierarchical condition categories (HCCs), this chapter will help you best identify and apply the diagnostic and condition codes.
MACRA Guidance – Quality reporting has very specific procedure and diagnosis coding requirements. Our books guide you on coding for clinicians who are participating in the Merit-based Incentive Payment System (MIPS) or an Advanced Alternate Payment Model (APM) in this brief, expert chapter, as well as call out the trigger codes in the tabular.
Exclusive, enhanced online support. We're strengthening our online support pages for our code books so you not only have the latest information, errata, and updates, but also coding and billing tips from AAPC experts and your member peers.
Definitions for tough terms in ICD-10-CM. More than 50 definitions and coding tips are added throughout the tabular to assist with common coding questions.
We Make Using Code Books Easier
When coding at work or in the examination room, you have a lot to do in a short time. AAPC code books still include the intuitive icons, highlighting, and organization that makes finding the right information easier. We've also made the books consistent with AAPC Coder, so you can rest assured both our books and coding look-up tool agree.
Purchasing code books is an annual ritual for most coders. Just be careful not to become complacent. Make sure you are buying codes books made by coders. That's what AAPC code books are, and all who develop them are very proud. If you haven't seen our code books yet, ask a colleague, your instructor, or someone in your local chapter what they think of them. We're confident you'll get rave reviews.
AAPC publishes code books to help you study and work, and they're just one of many resources we offer to members. Go to www.aapc.com for more information about our books and bundles. Call us at (800) 626-2633 or chat online if you'd like to know more.
Latest posts by Brad Ericson
(see all)