Benefit From AAPC Membership
In AAPC News
August 3, 2018
Comments Off

on Benefit From AAPC Membership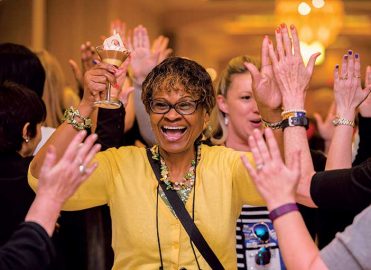 AAPC membership provides healthcare business professionals a multitude of benefits. From the time you decide to become a student to well past the time you retire from a successful career, AAPC is there for you. Here's a rundown.
Access Exclusive Networking Opportunities
AAPC membership allows you to connect with over 200,000 professionals in the healthcare industry, allowing you to strengthen your professional support system with colleagues on a national and local level. Any time AAPC members gather to learn, there's comradery among them. Members face similar challenges every day, and through discussions and open dialogue members can learn from one other and strengthen the organization as a whole.
Over 500 Local Chapters means there's a good chance an AAPC local chapter is near you. Local chapters hold monthly meetings, giving members the opportunity to learn from the pros, make new friends, earn free- and low-cost continuing education units (CEUs), and network with other healthcare professionals.
AAPC's online forums provide a great way to network with other AAPC members across the country. With hundreds of thousands of posts, you can join a discussion by topic, your specialty, or with your local chapter. Forums allow you to ask questions and learn from the expertise and experience of others on coding, billing, compliance, auditing, individual specialties, and more.
AAPC hosts quarterly online workshops on varying topics. Workshops offer in-depth information on critical topics, are authored by industry experts, and are taught by knowledgeable presenters.
AAPC's signature event is HEALTHCON, which features educational breakout sessions; a hands-on anatomy expo taught by physicians; exhibitors; keynote presentations; a showcase of local chapters; and, plenty of opportunities to network and advance your career. Regional conferences offer similar educational opportunities and the chance to network and advance your career, but are closer to home and a smaller events. At all our conferences, you can earn CEUs, network with your peers, and learn from top healthcare industry leaders.
Get Certified and Earn Recognition
Validate your skills by earning one or more AAPC credentials. These credentials represent the gold standard in medical coding, billing, auditing, documentation, compliance and practice management, and are nationally recognized by employers, medical societies, and government organizations.
The benefits of AAPC membership are measurable. Employers seek professionals holding AAPC credentials because they know they are getting employees prepared for the complex profession that is medical coding. According to the 2020 Salary Survey, AAPC certified members make more with every new credential compared to those who are not certified.
Save Thousands with Member Discounts
Exclusive member discounts allow you to earn back the cost of your membership, in no time, and include:
• Savings on all AAPC products, including code books, education, merchandise, and more (members always get the lowest price on AAPC products)
• Discounts on hundreds of national and local brands (shopping, restaurants, travel, etc.)
• Free and low cost continuing educating units (CEUs)
• Discount travel deals 
• Health, life, liability, and accident insurance
Participate in Industry Advocacy
Be part of the largest member association for professionals working in the business of healthcare. AAPC represents our members' voice on important topics that impact our industry. The accomplishments and involvement from our members makes AAPC a trusted industry leader. Participate in surveys and discussions at the local and national levels to recommend best practices and solutions for our complex reimbursement system.
Receive Unmatched Industry Education
AAPC upholds the highest educational standards, and incentivizes members to stay up-to-date on industry changes and maintain their certification.
• Receive four free webinars (and 4 CEUs), a $596 value, on the latest industry topics
• Complementary subscription to Healthcare Business Monthly
• Access to thousands of articles in the online Knowledge Center 
• Free tools to help you in your day-to-day work
AAPC is constantly working to improve the benefits of AAPC membership and the resources that we offer you to ensure the value of your membership.
Latest posts by John Verhovshek
(see all)
AAPC's annual salary survey gives a good understanding of the earning potential within the medical coding profession.
See what actually is going on in the healthcare business job market.