Celebrate 30 Years of Success at AAPC
August 14, 2018
Comments Off

on Celebrate 30 Years of Success at AAPC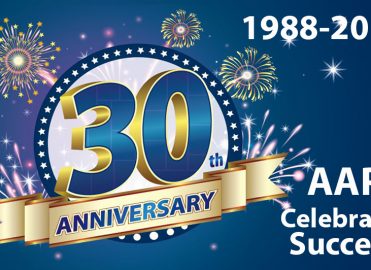 Because AAPC members and staff work as a team, amazing things happen ― 30 years of amazing things!
AAPC members are the lifeblood of this organization. You form local chapters, provide medical coding education and networking opportunities, advise AAPC, form associations and boards, mentor, and hold charity events. You'll do whatever it takes to help a fellow AAPC member.
AAPC's crew works tirelessly behind the scenes to help members stay current with coding changes, regulations, and compliance. They deliver educational and entertaining conferences, ensure Healthcare Business Monthly arrives to members' mailbox or inbox each month, and provide curriculum, webinars, workshops, and testing that is of the highest standards in the industry.
Some members and staff have been with AAPC for more than a decade or two. Over those years, they have passed on their coding knowledge, built a strong network of friends, and made treasured memories. As we celebrate AAPC's 30-year anniversary, let's hear from some members and staff who have stuck by us through thick and thin.
Members Who Have Been with AAPC for More than 20 Years
Jeri Leong, COC, CPC, CPMA, CPC-I, became an AAPC member in 1991 and was certified in 1993. Her background was in nursing and she was managing a pediatric office. Leong said, "I had to learn the practice management side of the business, and soon began to see the need for correct and compliant billing practices." She joined AAPC because she wanted to ensure she had the most up-to-date information. "In those days, the organization was known as the American Academy of 'Procedural' Coders because the emphasis was on CPT® coding," Leong said.
When Leong obtained her first certification, there were only five other AAPC members in Honolulu, and only one other was certified. "Those were extraordinary times in the world of coding, necessitating the need for education, so I started the Honolulu Local Chapter in 1996," Leong said. After that, Leong's enthusiasm to learn and understand coding snowballed:
In 1997, she became an instructor of the PMCC curriculum. This was the first class to complete the PMCC course and sit for the certification exam.
The Honolulu chapter grew tremendously, and it was named 1996 and 1997 "AAPC Chapter of the Year."
In 1996, Leong was invited to join the National Advisory Board (NAB)
In 2003, she was selected as NAB president.
In 2008, she accepted a position on the AAPC Chapter Association (AAPCCA) board of directors and served until 2011.
Leong said, "Each different position provided me with unique opportunities to interact with the AAPC membership and network with local chapters." Leong says she is proud of the Honolulu Local chapter's past 22 years because it has undergone amazing growth and they have dedicated members who lead and inspire every day.
Sheri Bernard, COC, CPC, CDEO, CRC, CPC-I, CCS-P, has been with AAPC since 1994. She remembers when AAPC's member magazine was printed in blue ink on white sheets of paper, stapled together. Bernard joined AAPC because she was new to coding and looking for "community, education, and support." She said, "I found a great network!"
Bernard said she feels AAPC is a very nurturing culture. "No matter who you are, if you are a coder, you fit in at AAPC," she said.
Bernard continues:
The kind of people who become coders are the kind of people I like to be around. They are smart, inquisitive, and can look at something and quickly assess what is missing from the picture. They have great senses of humor! They work hard and take the work very seriously. I have never met a slap-dash, carefree coder at AAPC. We all overthink everything. Also, AAPC is a community that supports the newbies. If knowledge is power, AAPC coders are happy to share their power. I have not found that quality at other coding organizations.
Suzanne Quinton, CPC, CPC-I, COSC, joined AAPC in 1994 and earned her Certified Professional Coder (CPC®) credential in April of the same year when her employers invested in her to take the exam. She was working as a practice manager for a cardiovascular and thoracic surgery clinic, but learned how to code and loved it. AAPC's Marti Johnson asked her to start a Tulsa, Oklahoma, local chapter so Quinton sent a fax to all the medical practices in town announcing their first meeting, which met in a local library, and the ProTulsa Local Chapter was formed. The chapter has grown each year since, and was named the 2017 Chapter of the Year.
Quinton went on to start up her own coding and consulting company, Quinton Coding Consultant, Inc., and is now in her 16th year of business.
Quinton said when she speaks at local chapter meetings she feels her story sounds like a Cinderella tale. "I will always be proud to be a member of AAPC, as I don't think without the organization I would have ever achieved the success to the degree I have," she said.
Linda Martien, COC, CPC, CPMA, AAPC Fellow, has been a member since 1998, and became a local chapter officer shortly thereafter. A few years later, Leong recommended she apply to be on the NAB. She did, and to her surprise she was chosen. A few years later, Martien served on the AAPCCA board for three years, plus one year as chair.
Why has Martien stuck by AAPC so long? "The credentials I've earned and network I've built have allowed me to achieve more success than I ever could have dreamed," she said, crediting AAPC for a very large share of her success.
AAPC Employees in for the Long Haul
Marti Johnson, director of local support at AAPC, was hired in 1994 to start as many local chapters as she could; at that time, there were about 30. "I don't remember even having a title," she said. AAPC was looking for people who wanted to facilitate networking in their areas because members felt it was crucial to have the support. "Coders were hungry to learn more, have difficult questions answered, and become better coders; and anyone who was considered an expert was in demand," said Johnson. Aside from a short stint with the exam and membership teams, Johnson has stuck with local chapters all these years.
"This is a great place to work, we have great co-workers and management, and I have made many friends," she said.
Melanie Mestas is AAPC's director of live events. If you've been to HEALTHCON or a regional conference, you may have seen her running around making sure everything was running smoothly. She began at AAPC as a temp in 1997, collating handouts and putting them in binders for conference. Mestas officially started on AAPC's payroll in January 1999, working the front desk, answering the phone, and helping with continuing education unit (CEUs) processing.
In those days, the office was very small, but in 2000, AAPC moved to the 309 W. 700 S. office: "The best AAPC office EVER!" Mestas said. With that move, she officially transitioned to the CEU department. When AAPC started offering workshops, she became the Workshop Department. By 2002, the workshop team took over the speaker selection portion of conference; and in 2007, AAPC brought the planning of the annual event inhouse and added regional conferences.
Mestas said she has stuck by AAPC for so long because she wanted to see where this "ride was going."
Amy Evans is AAPC's executive assistant. She started in 2000 in the Accounting Department, processing orders. Evans has worked in a few different departments over the years, but she has spent the last 10 years helping with conferences. This year, she started a new adventure, assisting the executive team.
Evans has stuck by AAPC for almost two decades because it is her "work home" and the staff has become family. "So I would say the employees are what I like best at AAPC. We have a strong team that works really well together," she said.
Bevan Erickson is AAPC's CEO. He started at AAPC without a job title and was asked to build a website, help IT, support marketing, and work on product development. After Erickson built our website in 2007, he was asked to be ecommerce director. "After Clare Bailey retired, I took over marketing and I stayed there until becoming the president of member solutions in 2014, and then CEO this year," Erickson said.
What does Erickson like best about AAPC? "The challenge of supporting a fast-growing organization of more than 176,000 members and several hundred thousand other customers and clients," he said. "Growth, opportunity, and challenges" is why he has been with us for so long.
Jamie Johns started in 1998 in the CEU Department, which also handled all study guide orders. "I would sometimes fill in for the receptionist by answering all incoming calls and directing them where they needed to be ― much different than having our current call center," Johns said.
Johns now manages both the CEU Department and Corporate Memberships. "I've loved managing two great departments with a great team," she said. "Corporate memberships are booming and there are great changes ahead for CEUs."
Johns said what is exciting about working for AAPC is how much it evolves. "When I first started, we had two credentials. Now we have over two dozen and are still adding more," she said. The membership base has more than quadrupled and continues to grow. "It's great to see how the industry is growing," she said.
AAPC's editorial staff of the Publishing Department (Brad Ericson, MPC, CPC, COSC; John Verhovshek, MA, CPC; Renee Dustman, BS, AAPC MACRA Proficient; and myself) all have been with AAPC for more than a decade. Ericson, director of publishing, calls us the "Dream Team" because we all bring different strengths and talents to the table, we always have each other's back, and he knows we will do what is necessary to get Healthcare Business Monthly to the printer and in AAPC members' hands on time each month, as well as deliver timely industry news and education on the Knowledge Center. Since this team formed, there have been a few name changes to the magazine: The Coding Edge, The Cutting Edge, and finally Healthcare Business Monthly. The newest member of our team is Graphic Designer Mahfooz Alam.
There are many other employees who have been with AAPC for a decade or more; space limitations prevent us from naming them all, but their contributions are of equal merit.
The reason why staff stay with AAPC is captured best by Mestas. "I believe this is a once in a lifetime experience to work for a company that has brought together so many amazing individuals," she said. "They are not just my co-workers, they are so much more ― they are my best friends and closest family."
Thanks for 30 Years of Memories

We asked longtime members to share their fondest memories. Here are their responses.
Jeri Leong, COC, CPC, CPMA, CPC-I:
The 2003 National Conference in Honolulu (Islands of Coding) was most memorable. It was the year I was inducted as NAB president, but even more memorable than that was the conference opening ceremony. Male Hawaiian dancers provided a welcome chant dressed in traditional "malo." If you were there, I know you remember.
Linda Martien, COC, CPC, CPMA, AAPC Fellow:
I was able to attend the Hawaii National Conference and was sitting alone, waiting for the keynote session to begin. Jeri Leong sat down next to me and we had a conversation. She asked me what I did, and I told her primarily education. And she said, "We need folks like you on the NAB." I was so surprised, saying, "Me? But I'm just a coder!" Jeri's response: "We all started as 'just coders,' Linda. Give it some thought." I did and decided to follow her advice. The rest, they say, is history.
Sheri Bernard, CPC, CRC, CDEO, CCS-P:
I was on the NAB for eight years and then worked at AAPC for three more; so, for 11 years, I was heavily involved in its conferences. There is so much that goes into a conference! I loved being an "insider" during conference, and still get to help on a limited scale because I continue to sit on the speaker selection committee for HEALTHCON.
Suzanne Quinton, CPC, CPC-I, COSC:
My proudest and fondest memory was in 2007 when it was announced at the conference that I had been named Networker of the Year for 2006. I'll never forget that night as it felt like winning an Oscar, walking up to the stage and knowing that I had achieved something very special. Later in the year, I was asked to be on the NAB for Region 5, and I served until 2009. The memories and lifetime friends made during that time are priceless. I learned then, without a doubt, that AAPC was for the members and always strived to meet their needs.
We also asked longtime AAPC employees to share their fondest memories. Here are their responses.
Marti Johnson:
It was back around 1997, I was on a phone call with Georgette Gustin, CPC. She was a great AAPC supporter who eventually ended up starting a local chapter, which propelled her career and she went on to become a sought-after speaker and expert in her field. That day, Georgette told me about this cool new thing she had encountered, called the Internet, and wondered if AAPC would ever use it. I had no idea about it at that time. But fast forward a couple of years, and I remember lining up to use the one station we had in the office, to reply to local chapter questions via the Internet. Eventually, we all got our own email addresses and it was never the same after that!
Jamie Johns:
I've been fortunate to work many of our national conferences. They are a lot of hard work, but I've appreciated the opportunities to meet members who I've come to know through phone and email. I've also traveled to a few places that I wouldn't have gone otherwise ― Hawaii, for example.
Bevan Erickson:
It's very hard to pick one. I've observed or learned of countless instances of members or employees positively benefitting from the selfless efforts of others.
Amy Evans:
There are so many! But one that stands out in my mind was at HEALTHCON 2014 in Nashville, Tennessee. We had a really short period of time to set up the whole conference and we were working through the night to get everything ready to open registration in the morning. After several hours of working, we took a break to rest when our now CEO, Bevan Erickson, suggested/begged us to play "Steal the Bacon." We divided in to two teams and started to play this kids' game in the middle of the night in the convention center. Even though we were all exhausted, tired, and wanted to go to bed, we found a little extra bit of energy and ended up laughing so hard and having a great time. In the end, we pulled everything together for a really successful conference. It was a great bonding experience with staff that we still talk about today.
Melanie Mestas:
Besides the night we played a game of "Steal the Bacon" at Nashville's HEALTHCON, here is another nostalgic one: I was with AAPC when they made the decision to switch the bimonthly, two-color newsletter (AAPC News) to a monthly magazine (Coding Edge). It was very exciting at AAPC and when the magazines arrived from the printer, all the employees gathered in center court to address and stamp the magazine out to the membership. That's right, the membership names and addresses were printed on 5,160 labels, and we used stamps for postage. It took all the staff, and we delivered these postage-stamped magazines to the post office for mail.
Celebrate 30 Years with AAPC!
To thank our members for growing with us over the past 30 years, AAPC has been running promotions on our Facebook page, as well as www.aapc.com.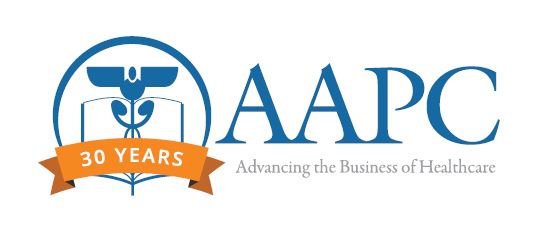 Latest posts by Michelle Dick
(see all)