VALUE JOURNEY: Design A Roadmap for Success
September 11, 2018
Comments Off

on VALUE JOURNEY: Design A Roadmap for Success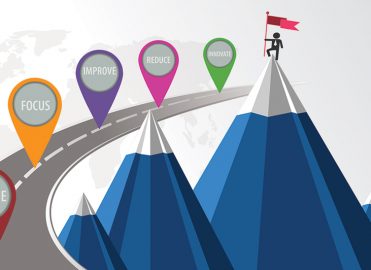 Medical group shows you how to offset fee-for-service revenue loss by effectively using a pay-for-performance model.
The journey toward value in healthcare — increasing your organization's ability to take on risk by elevating quality of care and reducing costs — is not without bumps in the road. Success often depends on how well you navigate relationships with both patients and payers, engage team members in new processes and protocols, and use data to develop targeted interventions for your sickest patients.
Our Experience with Value-based Care
Holston Medical Group (HMG), a regional medical group that serves 200,000 patients in northeast Tennessee and southwest Virginia, began its value-based care journey in 2013. With many of its patients being high-risk or rising-risk, and as reliance on fee-for-service payment models decreased, the only way to offset the loss in fee-for-service revenue was through participation in pay-for-performance models. Since its transition to value-based care, HMG has seen the following success:
Increased the number of patients enrolled in pay-for-value contracts from about 23,000 to nearly 44,000
Increased pay-for-value payments by 44 percent
Increased fee-for-service payments by 7 percent
Significantly reduced readmissions, with a decrease of nearly 7.5 percent through participation in an accountable care organization (ACO) and decreases between 6.8 percent and 12.3 percent under contracts with payers
Decreased emergency department (ED) admission rates, making the group rate lower compared to state and regional averages
Lowered hospital admissions, with admission rates lower than state and regional averages
Achieving these results required integrating value initiatives into everyday operations. There are five key ways HMG found success in navigating the value journey.
1. Changing the Culture
Given the health challenges patients face, meeting elevated standards for quality, cost, and outcomes under value programs first required buy-in from each internal stakeholder — from physicians to front-office staff.
The first step was education, beginning with our medical team. Physicians needed to understand why it was important to make the shift toward value-based payment and processes, as well as how HMG would make this transition.
Leaders held lunch-and-learn sessions on value with HMG's medical staff, informing physicians of the value landscape and the factors accelerating the move. Education was provided for nurses, as well as front-end and back-end staff, via monthly meetings that included a value component. Through these meetings, all staff became aware of quality metrics that would determine success under value-based models, such as vision screenings for patients with diabetes, documentation of body mass index (BMI), and medication adherence among asthma patients.
We showed physicians and staff at all levels how HMG would use technology and real-time data access to better coordinate patient care. For example, in 2013 HMG led the region in participating in the only fully functioning, bi-directional, common medical record system in the state: the OnePartner health information exchange (HIE). This community HIE gives participating providers access to a patient's complete medical records, strengthening care coordination, and communication across the region.
It's a significant step toward less-fragmented, more patient-centric care.
For information on how to change your culture of your practice, using a three-step approach, read the article "Create a Culture of Change in Your Practice" on pages 54-56 of this issue of Healthcare Business Monthly.
2. Continually Focusing on Value Contracts
HMG formed a Value Initiatives Committee that meets bi-weekly to review payer contracts and determine:
The milestones achieved
The timeline for achieving performance goals
The gaps in performance needed to be closed to meet value program requirements
The action steps needed to elevate performance
During monthly provider meetings, HMG shares its progress with all staff. This ensures each staff member feels ownership for achieved results and understands the importance of their role in improving outcomes and reducing costs.
When we began the move toward value-based performance models, we started small, taking on as little risk as possible while we learned from our efforts and refined our approach. We also applied our learnings not only to patients who were covered under value-based contracts, but also to our entire patient population. This work is not easy for a multispecialty group that treats infants through seniors. Often, a new process that is rolled out for our adult population may need to be adjusted before it can be applied to our pediatric population. Sharing learnings as a group helps tailor operational processes to benefit all patients.
3. Improving the Patient Management System
Early on in the value journey, HMG realized the need for all staff to know which patients fall under value-based models of care, from the moment they access care. To do this, we built automatic prompts into our practice management system that alert front-desk staff of patients who are covered by value contracts. With this information at hand, front-desk staff ensure these patients are seen right away. This helps limit the number of patients who access care in higher-cost settings, such as the ED. Adding this functionality significantly improved performance under value models by enhancing our ability to keep care within our practice, where possible.
Instant decision support for physicians and nurses also is key. HMG's community HIE pushes automatic notifications to physicians regarding patients' recent care interactions. This is a game changer for our performance under value contracts. Patients often don't share information that could be important for determining next steps in care, such as a visit to the ED with complaints of chest pain. With automatic alerts, physicians can access data from a patient's recent trip to urgent care or visit to a specialist in just a few clicks. The clinical data received and the one-on-one conversations that occur afterward may lead to adjustments in the patient's chronic care plan.
We also learned the importance of keeping value parameters a priority for physicians and nurses. Pay-for-value parameters change from year to year. It's difficult, if not impossible, to keep up with multiple contracts. To avoid missing important protocols, we use clinical decision support tools that alert our team of critical quality measures and processes at the point of care.
4. Reducing Cost from All Angles
Patient and family member engagement is critical to success under value contracts. For example, in HMG's pediatrics division, we found parents often overuse the ED for treatment of minor illness in children. Before embarking on our value journey, we didn't know the degree to which this was occurring. Now, we're aware of how pervasive this pattern of behavior is, and we work hard not to expand access to pediatric services through extended hours and to educate parents on when to seek urgent care services or emergency treatment. We offer a 24/7 call service with an on-call provider to help patients and family members determine the right approach for the right level of care at the right time.
HMG also uses the information from the community HIE to discuss why patients are relying on the ED for care and to seek lower-cost solutions. We can drill down to social determinants of health that may inhibit access to care in our office, such as lack of transportation, and work with patients to improve access.
Automatic alerts at the point of care also inform physicians when patients haven't filled recent prescriptions. The conversations that result can help prevent serious medical issues from developing such as when a chronic care patient requires financial assistance to afford necessary medications.
The lessons learned during HMG's value journey prompted us to launch an extensivist clinic, which helps patients with complex care needs avoid a trip to the ED and a potential inpatient stay. The goal was to create a care setting for patients to receive specialized interventions over the course of multiple days to stabilize their conditions. The clinic is staffed by hospitalists and nurses with intensive care unit training. It provides treatment for pneumonia, exacerbations of heart failure or chronic obstructive pulmonary disease, refractory cellulitis, sepsis, delirium, renal failure, dehydration, and more. Patients at our clinic receive an increased level of care in a less expensive, less invasive environment.
Among patients who are treated in the extensivist clinic, 80 percent return home and 20 percent are admitted to the hospital. If a patient who is treated in the extensivist clinic does not feel comfortable returning home when the clinic closes at 8 p.m., or if the patient's condition is deteriorating, the patient is admitted. Patients who choose to return home may receive a home visit during the night. They may also return to the clinic for continued treatment the next day.
5. Innovating for Value
Investing in emerging treatment options for the sickest patients is part of HMG's secret sauce for high-value patient care. For example, we apply precision medicine in clinical settings by using pharmacogenetics to determine the most effective drug treatment for an individual based on an analysis of that patient's DNA. These efforts help us better match patients who are sick with medications likely to elicit the best response. Our clinical research department helps patients with challenging care conditions enroll in clinical trials, expanding access to cutting-edge treatment.
Our data use continually informs new approaches to care that could make a difference for our communities. When we saw that admissions for patients with chronic obstructive pulmonary disease were increasing, we hired a pulmonary specialist to better meet the needs of these patients in an in-office setting. Patients' health status improved by 23 percent, and hospital admissions decreased by 13 percent for this specific disease state. It's an approach that not only elevates the quality of care and outcomes, but also reduces costs.
Our physicians have freedom to innovate for greater value. Once a month, the physicians sit down together and discuss ways to continue providing value to patients. They collaborate with their peers about taking patient care to another level, which motivates our physicians. It also significantly improves quality of care and access to care while reducing costs. Besides clinical research and pharmacogenetics work, other physician-led value innovations include home-based, nurse-facing technologies that capture vital healthcare data, such as cardiac and blood pressure data, from patients with complex healthcare needs.
Make the Move Toward Value
As with any journey, getting to a destination begins with first steps, no matter how small. If your provider organization hasn't started navigating the value journey, begin with one contract and focus on learning the ins and outs of that contract. Gain a deep understanding of operational workflows necessary to support strong performance and data insight needed to adjust the approach, where beneficial. When you have a higher level of comfort with one value contract, seek new opportunities to develop value capabilities. The investments will position your organization for success in the future.
For related reading, see "3 Tips to Control Cost." See also the Quality Payment Program blog in the Knowledge Center.
Written by:
Samantha Sizemore is chief operations officer at Holston Medical Group HMG. With over 25 years' experience, her leadership and broad knowledge of operations and clinical background earned recognition in the industry as an expert in provider operations, development, and diagnostic imaging.
Alicia Wright, MD, is medical director and a board-certified pediatrician at HMG. She received her medical degree from the University of Kentucky School of Medicine, Lexington, Ky, and performed residency at Memorial Health University Medical Center, Backus Children's Hospital, Savannah, Ga. Dr. Wright has been a pediatrician for 17 years.
Shelton Hager, MD, CPC, CPMA, is a board-certified family practitioner at HMG. He received his medical degree from East Carolina University School of Medicine, Greenville, N.C., and performed residency at Cabarrus Family Program, Concord, N.C. Dr. Hager has been a primary care provider for 14 years and is a member of the Kingsport, Tenn., local chapter.
---
Resource:
"Hospitalist group branches out into 'extensivist' care." www.holstonmedicalgroup.com/extensivist-clinic-helps-avoids-hospitalization/
Latest posts by Guest Contributor
(see all)