Poisoning, Adverse Effect, and Underdosing in ICD-10-CM
In Coding
October 3, 2018
Comments Off

on Poisoning, Adverse Effect, and Underdosing in ICD-10-CM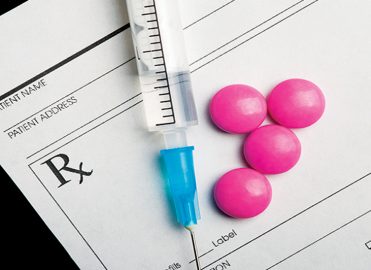 To distinguish among poisoning, adverse effect, or underdosing by drugs, medicinal, and biological substances (T36-T50) when assigning ICD-10-CM diagnostic codes, consider the following definitions:
Poisoning indicates improper use of a medication, to include overdose, wrong substance given or taken in error, or wrong route of administration.
When reporting poisoning by drugs, biological, and biological substances, assign the appropriate poisoning code first, followed by the manifestation code(s). For example, a patient intentionally takes several Amitriptyline in an attempted suicide, which causes a Grand mal seizure. Proper coding is T43.012A Poisoning by tricyclic antidepressants, intentional self-harm, active treatment and G40.409 Grand mal seizure NOS.
An adverse effect occurs when a substance is taken according to direction, and a reaction occurs.
When reporting adverse effects, first, code the nature of the adverse effect, such as:
adverse effect NOS (T88.7)
aspirin gastritis (K29.-)
blood disorders (D56-D76)
contact dermatitis (L23-L25)
dermatitis due to substances taken internally (L27.-)
nephropathy (N14.0-N14.2)
Use additional codes for any manifestations of adverse effects. For example, a patient took an dose of penicillin that was prescribed correctly, but which resulted in projectile vomiting: the first code is T36.0X5A Adverse effect of penicillin, initial encounter, followed by the code R11.12 Projectile vomiting for the adverse effect.
Per ICD-10-CM guidelines, the drug giving rise to the adverse effect should be identified by use of codes from categories T36-T50 with fifth or sixth character 5.
Underdosing refers to taking less of a medication than is prescribed by a provider or a manufacturer's instruction. Assign code(s) for the nature of the underdosing first, followed by the underdosing code: the underdosing codes are never used as a first-reported diagnosis.
For example, a patient presents with intractable epilepsy due to subtherapeutic Dilantin levels. The patient has been noncompliant with medication for religious reasons. Proper coding is G40.919 Epilepsy, unspecified, intractable, without status epilepticus, T42.0x6A Underdosing of hydantoin derivatives, initial encounter, and Z91.128 Patient's intentional underdosing of medication regimen for other reason.
Latest posts by John Verhovshek
(see all)