Code the Shots for Flu Vaccine
October 18, 2018
Comments Off

on Code the Shots for Flu Vaccine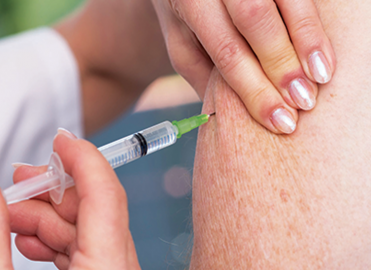 Various flu strains circulate each year. Be sure you can properly report the vaccine.
Influenza can be a serious condition, and the best way to avoid getting the flu is to have an annual flu vaccination. All Medicare patients may receive a covered flu vaccination, once per influenza season, and additional flu shots also may be covered, if medically necessary.
The exact vaccine product administered must be reported to meet the requirements of immunization registries, vaccine distribution programs, and reporting systems. Multiple CPT® codes are provided for a particular vaccine when the schedule (number of doses or timing) differs for two or more products of the same vaccine type (e.g., quadrivalent (IIV4), trivalent (IIV3)), or the vaccine product is available in more than one chemical formulation, dosage, or route of administration, as shown in Table A.
Table A: 2018 Flu Vaccine CPT® Codes
CPT®
Description
90630,
90685-90688
Influenza virus vaccine, quadrivalent (IIV4)
90654-90658
Influenza virus vaccine, trivalent (IIV3)
90660
Influenza virus vaccine, trivalent, live (LAIV3)
90661
Influenza virus vaccine, trivalent (ccIIV3)
90662, 90653, 90666-90668
Influenza virus vaccine (IIV)
90664
Influenza virus vaccine, live (LAIV)
90672
Influenza virus vaccine, quadrivalent, live (LAIV4)
90673
Influenza virus vaccine, trivalent (RIV3)
90674, 90756
Influenza virus vaccine, quadrivalent (ccIIV4)
90682
Influenza virus vaccine, quadrivalent (RIV4)
To report the administration of a flu vaccine, the vaccine product codes must be used in addition to the immunization administration code(s).
For non-Medicare reporting, if the vaccine is administered without counseling, use either 90471-90472 (percutaneous, intradermal, subcutaneous, or intramuscular injections) or 90473-90474 (intranasal or oral: one vaccine (single or combination vaccine/toxoid)).
If the vaccine is administered with counseling, use 90460-90461 (Immunization administration through 18 years of age via any route of administration, with counseling by physician or other qualified healthcare professional).
For Medicare reporting, use G0008 Administration of influenza virus vaccine.
A Separate E/M Usually Isn't Justified
If the vaccine is the only thing addressed at the patient visit, report only the vaccine product and the vaccine administration — do not report a separate evaluation and management (E/M) service.
Here's an example of when it would be appropriate to separately bill an E/M service and a vaccine:
The patient is seen in the office for hypertension and receives an influenza vaccine. The physician reports the appropriate level E/M service code with ICD-10-CM diagnosis code I10 Essential (primary) hypertension, in addition to the flu vaccine and administration codes and ICD-10-CM code Z23 Encounter for immunization. This code indicates the patient is being seen to receive a prophylactic injection. Code Z23 may be used as either a first-listed or secondary code, depending on the main reason of the encounter. In this case, it would be listed second.
Do not report a separate E/M service for vaccine-only visits unless the E/M service meets the criteria for using modifier 25 Significant, separately identifiable evaluation and management service by the same physician or other qualified healthcare professional on the same day of the procedure or other service. (For more information on Modifier 25, read "Know the Right Time to Append E/M Modifiers" on pages 24-25 of the October issue.)
For more information on flu vaccine coding, read "How to Code Flu – from Prevention to Care" in the AAPC Knowledge Center. See also "2018-2019 Flu Vaccine Coding."
---
Jessica Ferrer, BSN, CPC, is ICD-10-CM accredited by AAPC and has more than five years of medical coding experience. She holds a Bachelor of Science of Nursing and has been a medical coding auditor for more than a year, specializing in neurology, nephrology, orthopedic, cardiology, cardiothoracic and vascular, E/M, inpatient, and surgical coding. Ferrer is a member of the Makati, Philippines, local chapter.
Resources:
TIME Health, Here's Why the Flu Is Especially Bad This Year: http://time.com/5105929/why-is-the-flu-so-bad-2018/
Coding for Primary Care, Influenza Immunization Coding 2017-2018: http://codingforprimarycare.com/influenza-immunization-coding-2017-2018/
Latest posts by Guest Contributor
(see all)
No Responses to "Code the Shots for Flu Vaccine"