Practicode Proves Practice Makes Perfect
By Brad Ericson
October 9, 2018
Comments Off

on Practicode Proves Practice Makes Perfect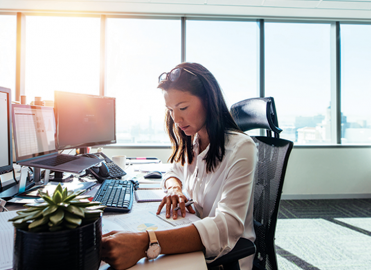 Learn, build confidence, and demonstrate proficiency with AAPC's multi-functional coding scenario tool.
Like learning to play the banjo or master ballet, medical coding requires practice. Whether you're new to coding, need a refresher course, or looking to broaden your skills, AAPC's Practicode lets you practice medical coding to perfection using redacted medical records for a real-world experience.
Practicode Applies to Many
Practicode can be used in multiple ways: Inexperienced coders can use it as part of the apprentice removal process (although, most employers don't consider it actual work experience); experienced coders can use it to learn and apply coding for new specialties, and employers can use it as an assessment tool to evaluate knowledge prior to employment or as an annual review.
"The idea behind Practicode was to provide coders an online scenario-based assessment tool to hone or prove their coding skills across the entire coding spectrum, including CPT®, ICD-10-CM, HCPCS Level II, modifier usage, and linkage assignment," said Shelly Cronin, CPC, CPMA, CPPM, CPC-I, CANPC, CGIC, CGSC, director of AAPC learning. "We also wanted a way to help end the cycle of 'how do I get a job without experience' or 'how do I get experience without a job.'"
Cloud-based Practicode helps coders, instructors, and employers in three unique ways:
Students quickly gain real-world, hands-on medical coding experience; remove up to one year from their apprentice designation requirement; and increase their value to potential employers from an education perspective.
New coders gain confidence knowing they've applied their coding knowledge to cases that prospective employers may give to them. There's a confidence level that comes from being able to say, "I've coded X number of cases on this specialty," Cronin said. That confidence comes through in the interviewing process.
Experienced coders can use Practicode to advance their skill set, such as mastering new specialties and acquiring additional credentials, which can advance a coding career. Some coders simply enjoy the challenge of coding cases for a different specialty.
"We [coders] are an unusual lot," Cronin said. "I liken it [Practicode] to the joy you get when your new coding books arrive."
Cronin is always looking to enhance coders' experience while using Practicode, and monitors users as a means of honing the tool. "Based on the feedback we've received from learners who recently completed the practicum programs," she said, "we'll be revamping rationales to be more specific and changing the ICD-10-CM code entry process." Look for those changes in early 2019.
Practicode Offers Many Uses
Practicode is suitable for individuals to learn medical coding, instructors to teach medical coding, and employers to assess employees' proficiency in medical coding.
Coders
Practicode offers coders a way to apply new skills and code cases they may have never seen. As coders in the field, we tend to become highly specialized in one particular specialty or aspect of coding and lose skills in other areas. Practicode allows you to code cases that pertain to a specialty that you're interested in or would like to pursue, and receive rationale to understand the coding for each case. This continued learning prevents your untapped skills from becoming stagnant.
Instructors
Practicode offers instructors the ability to use the practicums (Certified Professional Coder-Apprentice (CPC-A®) and Certified Outpatient Coder-Apprentice (COC-A™)) as an add-on to their coding courses. It's also a great tool to identify gaps in understanding. Practicode can be completed in three stages – each stage contains a practice module and an assessment – allowing instructors to review and provide additional feedback (beyond the included rationales) and gear further instruction to these identified gaps.
Employers
Employers can ensure their prospective candidates have well-earned experience after they complete 600 cases with AAPC's Practicode Practicum programs, which cover a wide range of clinical cases spanning from evaluation and management services to various surgical procedures. AAPC's Employer Assessments allow employers to use a standardized pre-employment test to identify qualified candidates and overcome hiring challenges.
Anyone who handles hiring coders knows that managing a test that allows for a true cross section of the coding they do is difficult and tedious. Most often, these are paper and pencil tests and they are done in the later portion of the hiring process. AAPC creates and maintains assessments while the online system automatically completes the grading and notifies the administrator when the test is complete, taking the burden off employers. AAPC's Practicode Employer Assessments are available completely online, which allows prospective candidates to take the assessments on demand. Practicode has a variety of employer assessments available and a team of professionals to assist employers every step of the way.
Employers can also use these assessments to analyze existing employees' skills in a standardized way. Some clients even use Practicode Employer Assessments to prove proficiency for their client contract work.
As part of AAPC's implementation process, Cronin said, there is a thorough discovery process to help guide clients to their desired outcome.
Practicode Is Practical
Practicums are $299 for non-members and $249 for members. They can also be purchased by individual modules — the first two modules are $100 each and the third is $99.
No matter how you purchase the practicum, it can still count toward the apprentice removal. Those who purchase the full practicum will have their letter of completion automatically submitted for apprentice removal. If it's purchased in parts, the member needs to call in and request the letter submission for apprentice removal.
Practicums are available in the credential prep courses for CPC® and COC™ at a $100 discount.
AAPC specialty assessments are available for $55 per assessment, and plans are underway to offer bundles.
Employer Assessments have tiered pricing, starting at $55 per assessment. Increasing the volume purchased lowers the price per assessment. Employers should contact AAPC consultants at (844) 825-1679 for purchase assistance, as well as learn details about administrative features available to clients.
The practicums are eligible for Affirm financing with monthly payments.
Find out more about Practicode on the AAPC website.
Latest posts by Brad Ericson
(see all)