Recognize a Good EHR Template
November 1, 2018
Comments Off

on Recognize a Good EHR Template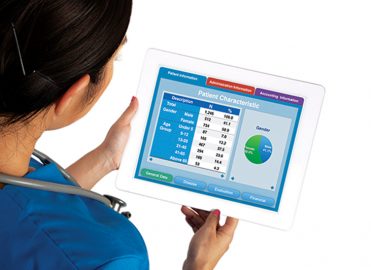 Pick one that helps practitioners improve efficiency and quality of care.
Electronic health record (EHR) templates have deservedly received a bad reputation in medical records. As a result, the Centers for Medicare & Medicaid Services (CMS) has proposed making documentation of the history and examination for evaluation and management services (E/M) an optional task for healthcare providers. Supporting the 2019 CMS proposal, National Coordinator for Health Information Technology Donald Rucker, MD, used the words "clutter" and "anti-matter" to describe the content of health records due to abuse of templates.
Not all templates are bad, however; some can improve documentation efficiency and integrity, while providing meaningful information. Let's look at a template for a patient with diabetes mellitus (DM), for example.
Components of Good Template
Example template:
Diabetes mellitus
Your A1C value is 7.7. Last time, it was 8.2.
Your A1C goal is 7. The American Diabetes Association recommends an A1C target of 7 while the American Association of Clinical Endocrinologists advise a target of 6.5. The American College of Physicians (2018) recommends an A1C level between 7 and 8 to avoid dangers of low sugar levels.
A1C, known as Hemoglobin A1C or Glycosylated Hemoglobin, is a measure of the effects of sugar on the red blood cell. Sugar creates a glycosylation reaction that can be measured. Because red blood cells live up to 120 days, A1C gives a blood glucose/sugar estimate for the past three or so months.
The best way to lower and control your A1C is to be physically active, follow a healthy diet, and when appropriate take medication. …
This template has many positive features that support its function as a means of populating EHRs: It displays a current value, previous value, and the target goal for this patient. The template also includes references that support ongoing monitoring of the chronic disease. To best define the laboratory test, this template highlights the test methodology to link laboratory findings to the patient's clinical presentation. Lastly, the template allows for elaboration of the updated plan of care.
In this case, the patient's A1C level is not controlled. It is improving, however, as noted by reduction to 7.7 from 8.2. This template allows the provider to paint a clear picture of the care plan for the patient and anyone else – from provider to auditor – by including:
Current value
Previous value
Target goal
Test methodology
Update plan
Ways to Optimize Templates
To best employ this type of template, the provider can improve workflow by reviewing medical records prior to the date of service. For this patient with DM, it is worthwhile to note the last A1C value, as well as the new A1C value. Efficiency is lost if the provider has difficulty locating the values during the encounter.
A provider may modify this template to include acknowledging an annual urine microalbumin/creatinine ratio test and retinal eye examinations. In anticipation of influenza season, a modified template could document the delivery of a flu vaccine with supportive medical statements.
This example template contains 797 characters. If this patient is evaluated for DM, hypertension, and elevated cholesterol, three separate templates could address each issue in a similar fashion. Three templates could result in nearly 3,000-character key strokes, however. With an average typing speed of 190 to 200 characters per minute, three templates would take 15 minutes to document in an EHR. Templates that allow the addition of personalized results accomplish the goal much more quickly.
Used Well, Templates Have Value
Abuse of templates, as highlighted by Dr. Rucker in the July 2018 Twitter podcast "CMS Office E/M Proposal," populates EHRs with "noise," referring to a signal-to-noise ratio, making important information difficult to find. Templates are capable of high signal with little noise, however. Our provided example template can be used to populate the medical decision-making component of documentation included in the patient's discharge notes.
Templates must not jeopardize the integrity of the record. The content of a template should never record something that was never done or never discussed. If used properly, templates can save time, reduce provider clerical burden, and add integrity to the health record.
Co-written by:
Mary Wood, CPC, CPC-I, is an AAPC National Advisory Board member and works for Kaiser as a physician documentation educator. She also teaches students to become certified professional coders.
---
Resources
CMS Office E/M Proposal, presentation on Twitter™ @SeemaCMS, July 18, 2018,
https://twitter.com/SeemaCMS
Livechat Typing Speed Test, www.livechatinc.com/typing-speed-test/#/, retrieved Sept. 24, 2018
Latest posts by Dr. Michael Warner
(see all)