Hospice Billing and Reimbursement Essentials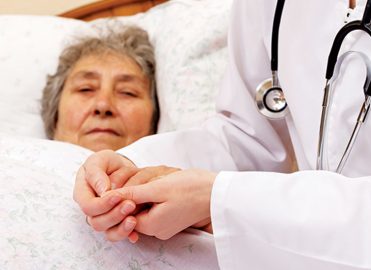 Avoid misconceptions and clarify guidelines to make end-of-life services less intimidating.
Hospice is a Medicare Part A benefit most often provided to terminally-ill patients who wish to remain in their homes. Medicare guidelines for hospice are detailed and can be arduous, however, making billing and reimbursement tricky. An overview of the guidelines and clarification of several misconceptions will help you with claims payment for these services.
Follow the Rules for Hospice Election
Hospice providers are paid a per diem rate by Medicare to cover all daily costs of care for their patients. When hospice is elected, no other providers can bill, except under certain circumstances. For instance, if a hospice approves a patient to see their primary care provider (PCP) for an office visit, hospice (not Medicare) will pay that provider directly for services rendered. To be sure hospice services are reimbursed, you must follow guidelines found in the Medicare Claims Processing Manual, Chapter 11 – Processing Hospice Claims.
Obtain and (Quickly) File a Notice of Election
A patient who chooses the Medicare Hospice Benefit for end-of-life care must sign a valid hospice election statement (Notice of Election (NOE), 81A bill type) with a specific hospice provider of their choice (42 CFR 418, Subpart B, §418.24). The election statement must be completed and signed by the patient or their authorized representative. When billing for hospice services, the NOE may be the most significant factor affecting Medicare reimbursement.
Upon hospice admittance, billers must submit to Medicare an electronic form for the patient, showing the election of the hospice benefit. Providers have a maximum of five days to submit the NOE to (and receive acceptance from) their Medicare Administrative Contractor (MAC). "Provider liable days" apply when the hospice fails to file the NOE within five days. The hospice is responsible for providing all care and services to the patient as detailed in the plan of care without reimbursement from the Medicare Hospice Benefit from effective date of election until the date NOE is filed.
The Centers for Medicare & Medicaid Services (CMS) encourages hospices to establish "contingency plans for situations where administrative staff who normally file the NOEs are on vacation, unavailable due to illness, or are unexpectedly unavailable." CMS is monitoring the timely filing issue and may shorten the time frame in future rulemaking.
There are allowed exceptions to the timely filing of NOE, per CMS. These include:
Fires, floods, earthquakes, or other unusual events that inflict extensive damage to the hospice's ability to operate;
An event that produces a data-filing problem due to a CMS or MAC system issue that's beyond the control of the hospice.
A newly Medicare-certified hospice that's notified of certification after the Medicare certification date or that's awaiting its user identification from its MAC; or
Other circumstances determined by CMS to be beyond the hospice's control.
The hospice must document the circumstance to support a request for an exception, which would waive the consequences of filing the NOE late. Using that documentation, the hospice's MAC will determine if a circumstance encountered by a hospice qualifies for an exception to the consequences for filing an NOE more than five days after the effective date of election.
CMS explains that exceptions to the timely NOE filing requirement are not allowed for "personnel issues; internal IT systems issues that the hospice may experience; the hospice not knowing the requirements; and failure of the hospice to have back-up staff to file the NOE." In these circumstances, the hospice may incur "provider liable" days.
Note: If the Medicare patient is transferred to another hospice (discharge status code 50 or 51), the claim does not terminate the patient's current hospice benefit period. The admitting hospice submits a transfer NOE (type of bill 8XC) after the transfer has occurred and the patient's hospice benefit is not affected. The 8XC is not submitted until after the other provider has finalized their billing. Transferring the hospice benefit requires coordination with the billing department of the initial hospice. Establish a contact with the other hospice to make this transfer flow correctly.
Use NOTR for Discharge, Not Transfer
A notice of termination/revocation (NOTR) is used when a hospice patient is discharged alive from the hospice or if a hospice patient revokes the election of hospice services. Submit the NOTR to the Part A MAC within five days after the effective date of discharge or revocation. Do not use an NOTR when a patient is transferred.
Define Intensity of Care
With the exception of payment for physician services, Medicare payment for hospice care is made at one of four predetermined rates for each day that a Medicare patient is under hospice care:
Level of care 651: Routine home care – The routine home care rate is paid for each day the patient is under hospice care and not receiving another category of hospice care described below.
This rate is paid without regard to the volume or intensity of routine home care services provided on any given day, and it is also paid when the patient is receiving outpatient hospital care for a condition unrelated to the terminal condition.
Level of care 652: Continuous home care (crisis care) – This rate is paid when continuous home care is provided in the patient's home. Continuous home care is not paid during a hospital, skilled nursing facility (SNF), or inpatient hospice facility stay. This rate is paid only during a period of crisis and only as necessary to maintain the terminally ill individual at home.
The continuous home care rate is divided by 24 hours to arrive at an hourly rate. A minimum of eight hours must be provided. Nursing care must be provided for more than half of the period of care and must be provided by either a registered nurse (RN) or licensed practical nurse (LPN) during a 24-hour day, which begins and ends at midnight. This care does not have to be continuous, (i.e., four hours could be provided in the morning and another four hours in the evening), but it must reflect the needs of the patient in crisis.
Parts of an hour are identified through the reporting of time for continuous home care days in 15-minute increments, and these increments are used in calculating the payment rate. Only patient care provided during the period of crisis is reported. Payment is based on the number of 15-minute increments that are billed for 32 or more units. Units should be rounded to the nearest increment.
Homemaker or home health aide (hospice aide) services may be provided to supplement the nursing care. Care by a home health aide and/or homemaker may not be discounted or provided "at no charge" to qualify for continuous home care. The care provided by all members of the interdisciplinary and home health team must be documented in the medical record, regardless of whether that care "counts" as continuous home care.
Level of care 652 is the most difficult to be calculated and reimbursed correctly for commercial and Medicaid payers. Medicare has billing and payment standardized for quicker reimbursement. For more detailed information on Continuous Home Care, see Pub. 100-02, Chapter 9, Section 40.2.1.
Level of care 655: Inpatient respite care – This is the most under-used hospice benefit. When a caregiver becomes overwhelmed and needs a break, or would like to go on vacation, or has an issue that needs to be tended to, this benefit provides peace of mind that their loved one will be cared for in their short absence.
The inpatient respite care rate is paid for each day on which the patient is in an approved inpatient facility and is receiving respite care. Payment for respite care may be made for a maximum of five continuous days, at a time including the date of admission, but not counting the date of discharge. Payment for the sixth and any subsequent days is made at the routine home care rate.
More than one respite period (of no more than five days each) is allowable in a single billing period. If the patient dies under inpatient respite care, the day of death is paid at the inpatient respite care rate. Payment at the respite rate is made when respite care is provided at a Medicare or Medicaid certified hospital, SNF, hospice facility, or non-skilled nursing facility.
Level of care 656: General inpatient care – Payment at the inpatient rate is made when general inpatient care is provided at a Medicare certified hospice facility, hospital, or SNF.
When the patient is discharged deceased, the inpatient rate (general or respite) is paid for the discharge date.
Add-on Service Intensity Payment
A service intensity add-on (SIA) payment is made for social worker visits and nursing visits by an RN, when provided during routine home care (in the home or nursing home) in the last seven days of life. The SIA payment is in addition to the routine home care rate. Chaplain visits and aide visits are not paid under the SIA.
The SIA payment is provided for visits lasting a minimum of 15 minutes and a maximum of four hours, per day (i.e., from 1 unit to a maximum of 16 units combined for both nursing visit time and/or social worker visit time, per day).
The time of a social worker's phone calls is not eligible for an SIA payment. The SIA payment is calculated by multiplying the continuous home care rate (per 15 minutes) by the number of units for the combined visits for the day (payment not to exceed 16 units) and adjusted for geographic differences in wages. Most hospice software calculates these rates automatically, and Medicare usually pays these correctly.
Example:
A patient is admitted to hospice care on June 1 and passes on July 7. Hospice will be eligible for SIA from July 1-7. The entire team documents in their time sheets on their software the time they spent with the patient. Only the social worker and RN time counts for SIA, and their time is calculated in 15-minute increments. If the RN spent one hour each day for the last seven days with the patient and the social worker was with the patient for three total hours in those seven days, hospice is eligible for 10 hours of SIA. If the continuous care rate per 15 minutes is $5, hospice is eligible for $200 in SIA on this patient, minus sequestration (2 percent Medicare cut).
Code Service and Level of Care
Hospices must report a HCPCS Level II code with a level of care revenue code (651, 652, 655, and 656) to identify the service location where that level of care was provided. The following HCPCS level II codes report the type of service location for hospice services:
Q5001    Hospice or home health care provided in patient's home/residence
Q5002    Hospice or home health care provided in assisted living facility
Q5003    Hospice care provided in nursing long term care facility (LTC) or non-skilled nursing facility (NF)
Q5004    Hospice care provided in skilled nursing facility (SNF)
Q5005    Hospice care provided in inpatient hospital
Q5006    Hospice care provided in inpatient hospice facility
Q5007    Hospice care provided in long term care facility
Q5008    Hospice care provided in inpatient psychiatric facility
Q5009    Hospice or home health care provided in place not otherwise specified (NOS)
Q5010    Hospice home care provided in a hospice facility
If care is rendered at multiple locations, identify each location on the claim with a corresponding HCPCS Level II code. For example, routine home care may be provided for a portion of the billing period in the patient's residence, and another portion may be billed for time in an assisted living facility. In this case, report one revenue code 651 with HCPCS Level II code Q5001 and the number of days the routine home care was provided in the residence; and another revenue code 651 with HCPCS Level II code Q5002 and the number of days the routine home care was provided in the assisted living facility.
Identify the Type of Bill and Frequency
The hospice enters one of the following Type of Bill codes:
081x – Hospice (non-hospital based)
082x – Hospice (hospital based)
The fourth digit, designated with the "x" above, reflects the "frequency definition" and is designated as one of the following:
0 – Nonpayment/Zero Claims: Use when no payment from Medicare is anticipated.
1 – Admit Through Discharge Claim: Use for a bill encompassing an entire course of hospice treatment for which the provider expects payment (i.e., no further bills will be submitted for this patient).
2 – Interim – First Claim: Use for the first of an expected series of payment bills for a course of hospice treatment.
3 – Interim – Continuing Claim: Use when a bill for a course of hospice treatment has already been submitted and further bills are expected to be submitted.
4 – Interim – Last Claim: Use for a bill that is the last of a series for a course of treatment. The "Through" date of this bill is the discharge date, transfer date, or date of death.
7 – Replacement of Prior Claim: Use to correct a previously submitted bill. Use this code on the corrected or "new" bill.
8 – Void/Cancel of a Prior Claim: Use to cancel a previously processed claim.
Pay Attention to Hospice Benefit Periods
The Medicare hospice benefit consists of two 90-day benefit periods and an unlimited number of 60-day benefit periods. The benefit periods must be used in that order (90-90-60). Hospice care is considered continuous from one benefit period to another, unless the patient revokes the hospice benefit, or the physician discharges or does not re-certify the patient.
Rarely, the hospice may discharge the patient from the benefit due to patient or hospice staff safety. If a patient revokes or is discharged from hospice care, the remaining days in the benefit period are lost. If the patient meets the hospice coverage requirements, they can re-elect the hospice benefit, and will begin with the next benefit period.
Time Care Coordination Carefully
Medicare allows hospice providers to bill claims within one year of the start date of service on a claim. Hospices are bound by Medicare's rule of sequential billing, meaning claims must be filed monthly and must be filed in date order. For example, the hospice January 2018 claim must be processed before filing the February 2018 claim. The NOE must be processed and in paid status for the first claim to process. Billing issues are likely to occur when multiple hospices are billing for the same patient.
Scenario: Hospice A admits a patient on July 1, 2018. The patient decides to move out of the service area to their son's home and is admitted to Hospice B on July 4, 2018. Hospice A discharges the patient on July 3, 2018, because both hospices cannot bill at the same time for the same patient (unless the benefit is transferred). Hospice A's NOE must be filed within five days (and must clear) before Hospice B can file their NOE.
Hospice B has the same rules for filing NOE as Hospice A; so Hospice B contacts Hospice A to make sure their NOE is filed quickly. Hospice B waits until day five (July 9, 2018) to file their NOE, hoping Hospice A's NOE clears before theirs. If Hospice B's NOE clears before Hospice A's, Hospice B will have to back their NOE out of Medicare's system and refile it when Hospice A's NOE clears. Hospice B can file a late NOE exception to allow for their NOE to clear. Medicare's system will show how Hospice B filed in a timely manner the first time and will allow Hospice B's NOE to clear, and ultimately will allow the claim to pay with modifiers and an explanation attached.
Hospice A must final bill for July 1-3 and have that claim in paid status before Hospice B can file their claim from July 4 forward. As you can see, it's important for both hospices to work together to get their NOEs filed in sequential order so the late NOE filing exception can be avoided.
---
Dispelling Hospice Care Misconceptions
Hospice care is end-of-life care for more than 1.65 million U.S. citizens every year—and that number is growing. Hospice involves an interdisciplinary team of healthcare professionals and trained volunteers who address symptom control, pain management, and emotional and spiritual support expressly tailored to the patient's needs and wishes. The focus is caring, not curing. It is the model of high-quality, compassionate care that helps patients and families live as fully as possible.
I have had three relatives under hospice care. My personal experiences — along with five years' working in hospice coding and billing — have corrected some misconceptions I used to have about hospice. For example, hospice is not "giving up," nor is it a form of euthanasia or physician-assisted suicide. A Gallup poll reveals that 88 percent of adults would prefer to die in their homes, free of pain, surrounded by family and loved ones.
Hospice works to make this happen. For example, National Hospice and Palliative Care Organization research shows that 94 percent of families who had a loved one cared for by hospice rated the care as very good to excellent. The U.S. Department of Health and Human Services has indicated that expanding the reach of hospice care holds enormous potential benefits for those nearing end of life, whether they are in nursing homes, their own homes, or in hospitals.
Another important misconception is that hospice care is limited to six months of service. The Medicare Hospice Benefit does require that a terminally-ill patient have a prognosis of six months or less, but there is not a six-month limit to hospice care services.
Hospice eligibility requirements should not be confused with length of service. A patient in the final phase of life may receive hospice care for as long as necessary when a physician certifies that the patient continues to meet eligibility requirements. Under the Medicare Hospice Benefit, two 90-day periods of care (a total of six months) are followed by an unlimited number of 60-day periods.
Visit NHPCO's Caring Connections at www.caringinfo.org for additional information about hospice and palliative care, advance care planning, caregiving, and more. The National Hospice and Palliative Care Organization also has many resources on their website at nhpco.org. Click on the resources tab to find answers to your questions.
---
Billing for Hospice-related Medications
Hospices should report injectable and non-injectable prescription drugs for the palliation and management of the patient's terminal illness and related conditions on their claims (CMS Transmittal 2864). On the claims, report both injectable and non-injectable prescription drugs on a line-item basis per fill, corresponding with the amount the pharmacy dispensed; however, hospices are not reimbursed for the drugs listed on the claims; they are reimbursed and included in the per day rate.
Transmittal 2864 also explains that when a facility (hospital, skilled nursing facility, non-skilled nursing facility, or hospice inpatient facility) uses a medication management system where each administration of medication is considered a fill for hospice patient care, the hospice should report the monthly total for each drug (i.e., report the total for the period covered by the claim) with the total dispensed. Report also multi-ingredient compound prescription drugs (non-injectable) using revenue code 0250. According to the 837i guidelines in loop 2410, hospice should specify the same prescription number for each ingredient of a compound drug. The hospice should provide the National Drug Code (NDC) for each ingredient in the compound; the NDC qualifier represents the amount/quantity of the dispensed drug, and it should be reported as the unit measurement.
For prescription drugs in a comfort kit/pack, report the NDC of each prescription drug in the package, per the procedures for non-injectable prescriptions. Hospices should report durable medical equipment infusion pumps on a line-item basis for each pump and each medication fill and refill. The claim should reflect the infusion pump's total charge for the period covered by the claim. Infusion pump charges can be made daily, weekly, biweekly, with each medication refill, etc., whatever basis is easiest for its billing systems, as long as the total reflects the charges for the pump during the time of the claim.
---
Find More Hospice Information on our Knowledge Center
Go to AAPC's Knowledge Center to find more articles about hospice coding, billing, and reimbursement such as:
Medicare Now Considers Hospice Care a Post-acute Transfer
Top 20 Principal Hospice Diagnoses for 2017
Hospices Could See a Decrease in their 2018 Payment Update
---
Resources
Medicare Claims Processing Manual, Chapter 11 – Processing Hospice Claims: www.cms.gov/Regulations-and-Guidance/Guidance/Manuals/downloads/clm104c11.pdf
Medicare Benefit Policy Manual, Chapter 9 – Coverage of Hospice Services Under Hospital Insurance, Continuous Home Care, Pub. 100-02, chapter 9, §40.2.1: www.cms.gov/Regulations-and-Guidance/Guidance/Manuals/downloads/bp102c09.pdf
Medicare Claims Processing, Pub. 100-04, Additional Data Reporting Requirements for Hospice Claims, Transmittal 2864, Change Request 8358: www.cms.gov/Regulations-and-Guidance/Guidance/Transmittals/Downloads/R2864CP.pdf
Latest posts by Dianne Estes, CPC, CPB
(see all)
3 Responses to "Hospice Billing and Reimbursement Essentials"