AAPC's Mobile App Can Now Scan Local Chapter Attendance!
November 1, 2018
Comments Off

on AAPC's Mobile App Can Now Scan Local Chapter Attendance!
Marking attendance at chapter meetings just keeps getting easier! Now officers can quickly scan a member's mobile device right at the door, in fact, multiple officers can scan attendees at the same time. Additionally, visiting members from other chapters can be scanned in the same way, and non-member visitors can be entered manually using your mobile device. To top it all off, the CEUs go straight into the member's tracker.
So how does it work? Just follow these steps to prepare for your next meeting!
Watch – See the Attendance Scanner in action in our short training video
Download/Update – Download My AAPC from your app store or apply the latest update
Verify Officer Info – Log into the app and make sure that you see a "Local Chapter Administration" block on the home page for your Chapter (if you don't see the block, please log out and log back in)
Verify Meeting Info – Under the Local Chapter block, make sure that your upcoming meeting shows with options to Mark Attendance manually (blue checkmark) and Scan Attendance (QR code icon)
Notify Members – Send an email to your chapter members letting them know that we have this cool new feature, encourage them to download the app and come to the meeting to see it in action.
Let your chapter members know in advance about this new feature with this verbiage:
We're so excited for our next Chapter meeting and hope that you'll be joining us! Our Chapter will be using one of the latest features in the My AAPC app to make our check-in process more efficient. We now have the ability to scan your Membership Card (in the form of a QR Code) to mark your attendance for the meeting and automatically insert any applicable CEUs into your CEU Tracker, which is now also available in the app! Follow the steps below to check it out:
Download My AAPC (or Update if it's already installed) on your Apple or Android phone or tablet prior to the meeting…search for My AAPC
Log into the app with the same username and password you use to log into your member account on aapc.com
Check your email address in the My Account section to make sure it's up-to-date
Click on your Member ID from the home page (or go to Membership in the menu) and you should see your Membership QR Code to the right of your Membership Card…just slide or click to view
Show your Membership QR Code at the meeting to have your attendance scanned
Study these FAQs so you'll be prepared at your meetings:
Q:  Where do members find their Membership QR Code for me to scan?
A:   The Membership QR Code is next to the Membership Card. To access, have them click on their Member ID from the home page or click on Membership from the navigation menu, then click on or slide the QR code into view.
Q:  I scanned a member's QR code and it said it was unsuccessful. Why?
A:   There are 3 main reasons that a QR code might not be able to be scanned successfully:
The email address on file for the member does not exist or is invalid (they can check and update through the My Account section on the app)
There were glaring lights on the member's device
The member's device was facing them (the code is then upside-down to you)

For reasons 2 & 3, have them turn their phone around and upright as shown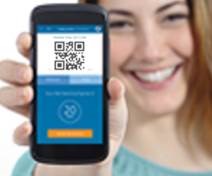 Q:  I scanned a member's QR code and I saw a Successful message multiple times. Will this be an issue?
A:   Because we want you to be able to get through marking attendance efficiently, the Scanner is FAST…it'll grab onto a QR code and will show you a green Successful message, then continues looking for codes to scan until you click the Cancel/Done button, so sometimes it looks like it's scanned someone multiple times. Never fear! Even if their code is scanned multiple times, they only get marked for the meeting once.
Q:  How do I mark attendance through the app for Visitors or members who do not have the app installed?
A:   Use the Mark attendance option (blue checkmark)  for visitors and visiting members (only those who do not have the My AAPC app):
Non-member Visitors – Click Add Visitor and enter First name, Last name and a valid Email address
Member Visitors – Click Add Visitor and enter First name, Last name and Member ID (no email address)
Q:  I have a member whose CEUs did not automatically show in their tracker. Why?
A:  CEUs will not be automatically applied in the following situations (same rules apply currently when marking attendance online through aapc.com)
When the event date is outside of the CEU timeframe
When the member has at least one credential where distribution needs to be applied
When the CEUs for the meeting aren't applicable to the member's credential
Be sure to read your November Hot Sheet to present this to your chapter members at your meeting.
Latest posts by Marti Johnson
(see all)