Navigate Your Path to Career Satisfaction
December 13, 2018
Comments Off

on Navigate Your Path to Career Satisfaction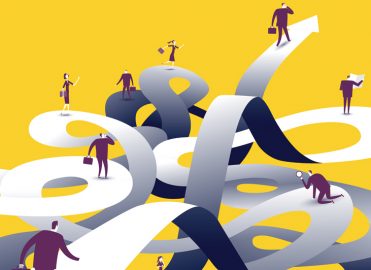 Find your passion and follow it all the way to success.
We all deserve to work in a job we love. Preparing yourself for the journey can make all the difference in achieving career success.
Find Your Passion
Identifying your true passion in the business of healthcare is one of the first steps to realizing your career dreams. This may be a decision you make right after you earn your first coding credential, or it may be an idea that comes to you after years of working as a medical coder. No matter what the stage of your career, it's never too late or too early to think about what brings you the most satisfaction at your job.
To find your passion, ask yourself:
What do I love most about medical coding?
Which section of the CPT® code book interested me most as I prepared for the Certified Professional Coder (CPC®) exam?
Thinking back to previous jobs I've held, what aspects did I like and what didn't I like?
After you've answered these questions, focus your job search and career path to drive results that will allow you to pursue your passion. Make every step count toward the goal of finding a career in your chosen field. This may require more certification, further education, or years of experience that you don't have. Don't let those obstacles cloud your vision. If you can dream it, you can do it.
Maximize Your Job Search Tools
Discovering jobs, companies, and positions that use medical coders can be fascinating. To unlock the opportunities available to you, it's important to use search tools and job listings to your advantage.
We've all used the tried-and-true search keywords "medical coder" to search for open positions in our area. This term sounds like the obvious choice — we are, after all, medical coders! But we're not JUST medical coders; we deal with so much more: the Centers for Medicare & Medicaid Services (CMS) guidelines, HIPAA policies, revenue cycle, claims submission, education, and many other aspects of healthcare. If you use those keywords in your job search, the results will increase exponentially.
The next time you're surfing the Web for job postings, try different search terms and check out the results. For example, what positions have the term "CPT" in the description? By using focused terms and specific aspects of the medical coding process, you'll expose yourself to countless jobs that may have never crossed your mind.
Don't limit your search to coding terms or job search sites. Googling "healthcare nearby" will supply an extensive list of hospitals, physician practices, even healthcare sales organizations. Take the time to explore each result: Go to each company's website and look in the "Careers" section to find jobs they may not have advertised on a large job search site. You never know what you'll find with creative job search terms and a little bit of time.
Get Organized
As the saying goes, "Finding a job is a job in itself." This may sound intimidating, but the job search process doesn't have to be. Preparing for the abundance of information that comes with a job search, and remaining organized, will drive your success through the process.
As you start your job search, stay organized by following key steps:
Keep a list of companies that may have positions available now or in the future.
On this list, make note of the positions you've applied for, received an email in response, or heard back from an employer.
Keep track of dates, contact names, phone numbers, etc.
This reference list will help you to feel in control of your applications and quickly become invaluable. There's so little we can control in the job application process; organizing your progress can have a calming effect.
Sharpen and Finalize Your Resume
Your resume is your first introduction to employers, hiring managers, and recruiters. It's important to present an error-free document that describes yourself and your talents, just as you would do if you were to introduce yourself in person.
Make your resume serve as a snapshot of your certifications, skills, education, and experience. Don't go overboard or write long paragraphs of what you've accomplished and what you have to offer; there will be plenty of time for that during the interview.
Include specific information that will help employers get a sense of your strengths and capabilities. Always include your coding certifications after your name — you earned them, show them off. Include a more detailed list of your certifications and what they represent in the body of the resume.
Your education — even education that isn't coding education — is important to include, as well. Completing (or even enrolling in) education programs shows employers that you have ambition and are willing and ready to learn.
Make a succinct list of your coding-related skills. This list will help employers find you when they perform a search of candidates' resumes for specific skills needed for their listed position.
Finally, list your work experience. Don't be worried if you don't have experience specific to coding and billing. A good hiring manager will see the skills you've gained from other work experience and envision how those skills apply to coding. For instance, a customer service position requires patience, perseverance, the ability to cope under high-pressure situations, and the ability to prioritize and resolve issues. These skills are essential for coders, too. Show off the work you've accomplished and make your resume a true reflection of yourself.
Ensure a Successful Job Interview
You've made it to the next step: You've scheduled a job interview. As intimidating as that might sound, job interviews don't have to be nerve-wracking or scary. Just like it was in any other phase of the job search, preparation is key to success.
Before you go to a job interview, research the company. This is an important step that many people neglect. Having information about the company, their values, their services, and the people who work there allows you to interview feeling prepared and not as if you're talking to a complete stranger.
Confirm the location of your interview and your contact when you arrive. There's nothing more stressful than getting lost or not having a name for the receptionist who asks you who you're there to see.
Arrive at your interview 10 minutes early. There are several reasons behind the 10 minute "rule." If you arrive too early, your interviewer may feel pressed to finish a project or abandon their work to meet you. If you arrive too late, you've already created a bad first impression.
After checking in with reception, sit quietly in the waiting area. Don't check your phone: It is awkward to greet someone and not be able to shake hands until you put your phone away. Leave your phone in the car if you can't resist its lure.
During the interview, listen to your interviewer and take notes on the information they give to you. Always bring a portfolio or notepad to an interview. This minor action, along with taking notes during the interview, can be the difference between getting the job and getting a "Thanks, but no thanks" email. Use the notebook to your advantage:
Make notes for yourself about projects you've completed or items about your background that you don't want to forget.
Write the word "Smile!" in the margins. When you see it, you'll inevitably smile, putting yourself at ease and letting your interviewer see that you're relaxed and enjoying the conversation.
At the end of the interview, if you're asked if you have any questions, always have two or three questions prepared (in case your mind goes blank). For example, you might ask:
What is a typical day like for the person in this position?
Who would I report to?
What are the production and quality expectations?
Asking questions gives you a chance to relax, and lets the interviewer do the talking for a change.
Embarking on a new career is an exciting and fulfilling endeavor. With preparation, self-reflection, confidence, and organization, you can find your dream job. Don't give up!
Latest posts by Annie Barnaby
(see all)
No Responses to "Navigate Your Path to Career Satisfaction"