Don't Miss a Beat when Coding Myocardial Infarction
In Coding
December 1, 2018
Comments Off

on Don't Miss a Beat when Coding Myocardial Infarction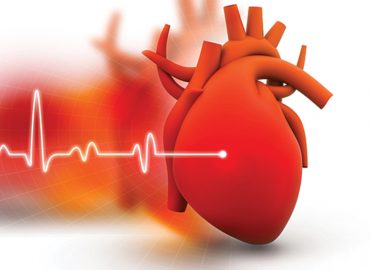 Get a reading on the latest diagnosis coding guidelines for heart disease.
Even after the addition of coding guidelines for acute myocardial infarction (MI) in 2017, many coders remain confused between the different types of MI and the relevant code categories. You may wonder, for example, what differentiates acute MI from subsequent MI. Proper diagnosis coding of MI requires you to know what it is and what causes it. This review will help you comprehend and remember the details of MI coding guidelines.
What Is Myocardial Infarction?
Myocardium means muscle of the heart. Infarction means death of a tissue or necrosis. Acute MI means death of the tissues of the heart muscle.
The heart pumps blood through the body in a cyclic manner by powerful contraction and relaxation of the heart muscle. The heart muscles require oxygen, glucose, and other nutrients to survive and to work. These elements are supplied through the blood that is pumped through the body by the heart muscle (myocardium). The blood vessels supplying the myocardium are known as coronary vessels. Obstruction in the flow of coronary blood vessels may cause a cut in the blood supply to the heart, which may lead to an MI, also known as a heart attack.
The coronary arteries supply the oxygenated blood to the myocardium and the cardiac veins drain the deoxygenated blood. Figure A is a flow chart that illustrates the way major coronary arteries originate from the aorta and then branch off.

The major cause of MI is atherosclerosis — plaque formed in the coronary artery, reducing the lumen of the artery and obstructing blood flow. Plaques can become unstable, rupture, and promote the formation of a blood clot in an artery; this can occur in minutes. Blockage of an artery can lead to tissue death of tissue being supplied by that artery.
There are other causes, as well, which may reduce the blood supply to the myocardium such as spasm of coronary artery, some infections, high fever, and complication of certain procedures (e.g., coronary artery bypass grafting (CABG)).
The major risk factors for MI are smoking, hypertension, diabetes, low high-density lipoprotein (HDL), high low-density lipoproteins (LDL) and high triglycerides, and inadequate physical activity.
Types of MI
MI classification from the Third Universal Definition of Myocardial Infarction is:
Type 1 – Spontaneous MI is related to plaque erosion and/or rupture, fissuring, or dissection.
Type 2 – MI due to ischemia results from increased oxygen demand or decreased supply (e.g., coronary artery spasm, coronary embolism, anemia, arrhythmias, high or low blood pressure).
Type 3 – MI due sudden cardiac death is when no biomarkers are found in the blood.
Type 4:
Type 4a – MI related to percutaneous coronary intervention (PCI).
Type 4b – MI related to stent thrombosis.
Type 4c – MI related to restenosis.
Type 5 – MI related to CABG
Diagnosing MI
The most common symptom of MI is chest pain, which may radiate to the left arm, neck, lower jaw, and back. Other symptoms include shortness of breath, palpitations, lightheadedness, fainting, nausea, and vomiting.
Along with the clinical signs and symptoms, diagnostic tests used to detect MI include:
Electrocardiogram (EKG or ECG) – Changes in electrocardiography, as interpreted by a physician.
Cardiac biomarkers – The injury caused to the heart muscle releases certain substances (biomarkers) into the blood, which may help to diagnose an episode of acute MI. There are many biomarkers released but troponins are preferred. Troponin levels rise within two to three hours of injury to heart muscles. Other biomarkers are creatine phosphokinase (CPK) and myoglobin.
MI can also be classified according to the EKG pattern. As shown in Figure B:
ST segment elevation myocardial infarction (STEMI) – Is where the ST segment of the EKG is elevated in the rhythm pattern. There is 100 percent blockage of the coronary artery and immediate catheterization treatment is required.
Non-ST segment elevation myocardial Infarction (NSTEMI) – Is where the ST segment of the EKG is not elevated. The blockage in coronary artery is severe but not 100 percent. This can be treated by clot/blockage dissolving medicines, but catheterization and stenting may also be required.

Coding acute myocardial infarction
Coding Acute MI
The guidelines for coding of acute MI are found in the ICD-10-CM Guidelines for Coding and Reporting, Chapter 9: Diseases of Circulatory System (I00-I99). The important points, as mentioned in the 2018 ICD-10-CM code book, are:
Type 1 STEMI and NSTEMI:
Subcategories I21.0-I21.2 and code I21.3 ST elevation (STEMI) myocardial infarction of unspecified site are used for STEMI.
Code I21.4 Non-ST elevation (NSTEMI) myocardial infarction is used for NSTEMI and non-transmural MIs.
If a type 1 NSTEMI evolves to a STEMI, assign the STEMI code. If a type 1 STEMI converts to a NSTEMI due to thrombolytic therapy, it is still coded as STEMI.
For unspecified acute MI, code I21.9 Acute myocardial infarction, unspecified.
Subsequent Acute MI:
Use a code from category I22 Subsequent ST elevation (STEMI) and non-ST elevation (NSTEMI) myocardial infarction when a patient who has suffered a type 1 or unspecified acute MI has a new acute MI within the four-week time frame of the initial acute MI.
Use a code from category I22 in conjunction with a code from category I21 Acute myocardial infarction.
The sequencing of the I22 and I21 codes depends on the circumstances of the encounter.
Do not assign code I22 for subsequent MIs other than type 1 or unspecified. For subsequent type 2 acute MI assign only code I21.A1 Myocardial infarction type 2. For subsequent type 4 or type 5 acute MI, assign only code I21.A9 Other myocardial infarction type.
Other types of MI:
Type 1 MI are assigned to codes I21.0-I21.4.
Type 2 MI, due to demand ischemia or secondary to ischemic balance, is assigned to code I21.A1 with a code for the underlying cause.
Sequencing of type 2 acute MI or the underlying cause is dependent on the circumstances of admission. When a type 2 acute MI code is described as NSTEMI or STEMI, only assign code I21.A1.
Codes I21.01-I21.4 should only be assigned for type 1 acute MIs.
Acute MIs type 3, 4a, 4b, 4c, and 5 are assigned to code I21.A9.
Figure C may help for better understanding.

The Code Also and Code First notes in the ICD-10-CM code book should be followed related to complications, and for coding of post-procedural MI during or following cardiac surgery.
---
Sujit Sharma, CPC, is a graduate in alternative system of medicine with a diploma in international business operations. He has more than nine years of outpatient coding, auditing, and training experience. Sharma is assistant manager for Coding Compliance and Audit with R1RCM Global Pvt. Ltd., a U.S.-based leading RCM company. Sharma is a published author of the short story (medical fiction), "Carcinosin: The Fiction" and "Theory of Systematic Randomization" on Amazon kindle. He is a member of the Hyderabad Telangana, India, local chapter.
Latest posts by Sujit Sharma, CPC
(see all)