Get to Know the Nuances of Skilled Nursing Facility Consolidated Billing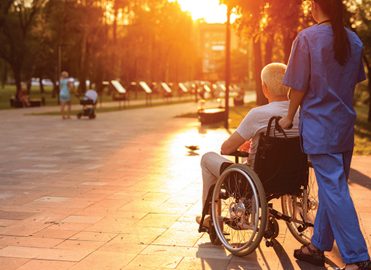 Adhere to the Medicare requirements and bundling rules for SNF coverage payment.
If you don't work in a skilled nursing facility (SNF), you may not understand how SNF consolidated billing (CB) affects you. The way you answer the following two questions may help you to see the connection:
Have you ever had a Medicare patient come to your office from a nursing facility?
Have you ever had Medicare recoup their payment due to patient residing in a SNF?
If you answered yes to either question, you need to know about SNF consolidated billing.
Recognize Skilled Care
Before delving into Medicare billing rules and jargon, let's consider what a SNF is and how it differs from a nursing home. For example:
Skilled care is provided by nurses, licensed practical nurses, physical therapists, occupational therapists, speech-language pathologists, and audiologists; and
SNF residents are patients admitted to a Medicare-participating SNF.
There are strict requirements for SNF coverage. The patient must:
Be eligible for Medicare Part A;
Require daily skilled services;
Have had at least three consecutive days of inpatient hospital care for a related illness or injury; and
Be admitted to the SNF within 30 days of hospital discharge.
Nursing homes can have skilled care within their establishment; and patients can be residents of a nursing home, but not require skilled care.
Years ago, SNFs had the option to furnish the services or transport the patient to a physician for care. This "outsourcing" method created several billing and liability issues, including duplicate billing.
In the Balanced Budget Act of 1997, Congress mandated that payment for the majority of services provided to beneficiaries in a Medicare-covered SNF be included in a bundled prospective payment made through the Part A Medicare Administrative Contractor (MAC). A Part A-covered SNF stay covers a patient's medical services and room and board; a Part B non-covered SNF stay (when Part A benefits are exhausted) does not cover a patient's room and board, but does cover certain medical services, if provided and medically necessary.
Payment for the majority of services to patients in a Medicare-covered Part A SNF stay, including most services provided by entities other than the SNF, are included in a bundled prospective payment through a MAC to the SNF. The SNF must bill these bundled services to the MAC in a consolidated bill. For services subject to CB and provided by entities other than the SNF, the entity looks to the SNF for payment, and cannot (legally) bill Medicare separately for those services.
Know How SNF Patients Affect Your Billing
SNFs bill Part A. You bill Part B. Are your services bundled with theirs?
The answer is: Yes.
Example: Medicare patient Peggy is admitted to the hospital for a hip fracture. She is unable to go home and perform daily functions after her inpatient stay at the hospital, so she needs to be admitted to a SNF for rehabilitation. Peggy is being treated for her breast cancer by her primary oncologist. The SNF transports Peggy to the oncologist for treatment. The oncologist reviews labs and decides to proceed with the recommended treatment.
In this scenario, Peggy needs to be seen by her oncologist, but she is also covered under a Part A SNF stay. If her oncologist were to bill Medicare, any charges that are subject to SNF CB rules would be denied.
Know What to Bill and What Not to Bill
Here's the good news: There is a list of services that are billable through Medicare Part B even for patients covered under a Part A SNF stay. There are four files located on the Annual Part B MAC Update webpage:
File 1 – Part A Stay – Physician Services
File 2 – Part A Stay – Professional Components of Services to be Submitted with a 26 Modifier
File 3 – Part A Stay – Ambulance
File 4 – Part B Stay Only – Therapy Services
Each file provides a listing of CPT® and HCPCS Level II codes updated annually (make sure to verify the year against the  date of service). The services represented by these codes are not subject to SNF CB for Medicare beneficiaries in a SNF Part A-covered stay and should instead be submitted to the Part B MAC for payment consideration. If a code is not on the list, it's not billable.
In our example, best practice would be to coordinate the care with the SNF prior to the patient coming into the office. Usually, the SNF arranges the appointment with the nurse; if the nurse communicates this to your billing department, you may be able to save time and money.
If your front desk staff notifies the billing department when a patient is transported from a SNF, then someone could call to verify SNF coverage. If you are aware the patient is in a Part A-covered SNF, then alert the SNF about the charges the patient (like Peggy) will incur. The SNF appreciates the right to refuse to have the oncologist treat the patient, and instead may wish that labs and smaller injectables be performed at their facility. If the SNF verbally agrees to the expense, you may bill the charges to the SNF.
When billing a SNF, use a form letter (see the link to a sample form letter in the Resources section) stating that your practice has been advised that "Peggy" was a patient at the facility at the time services were rendered by your practice, and that you wish to bill the facility for the services on the enclosed claim(s), in accordance with the SNF CB Prospective Payment System. Adjust all the codes to the Medicare allowable rate, so the facility is aware of the amount it needs to render to your practice.
Bill the Part B-covered services as usual and bill the SNF Part A services on a CMS-1450 (UB-04).
To provide further understanding, let's recap Peggy's scenario:
Peggy checks in with Mary at the front desk. Peggy was transported by the SNF and has paperwork from them, indicating she is in a Medicare Part A SNF stay. Mary alerts billing of Peggy's arrival and skilled care status.
Peggy is due for labs, chemotherapy, and hydration today. Billing calls the SNF to address the plan of care of the patient and to notify the administration of services provided under the CB rules.
The SNF agrees Peggy must have her chemotherapy and accepts the terms of the treatment and payment for services included in CB.
You bill the SNF for the services included under CB rules and receive payment in a timely fashion.
Consider Every Option
What if you didn't know the patient was in a SNF? Perhaps Peggy was transported by her daughter and no one at the SNF was alerted.
Unfortunately, this is a common scenario, and one of two things could happen:
Medicare could deny the charges. On your remittance advice, you will see Remittance Advice Remark Code (RARC) CO-109: Claim not covered by this payer/contractor. You must send the claim to the correct payer/contractor with Claim Adjustment Reason Code (CARC) N538: The facility is responsible for payment to outside providers who furnish these services/supplies/drugs to its patients/residents. You will have to bill the SNF for the services rendered, and hope they pay without a verbal agreement.
Medicare could recoup the money from the physician's office once they have received a bill from the SNF and it's posted to the Common Working File (CWF). This would trigger a review by your account receivables (A/R) staff to find out why Medicare is recouping payments and possibly bill those services included in CB to the SNF.
Remember when billing Part B services provided to a Part A SNF patient to:
Verify whether the Medicare beneficiary's residence is a home, nursing home, or an SNF.
Work with the staff of the SNF to verify patient information (Part A stay?) and establish an agreement that outlines payment.
Make billing staff aware of the excluded and included services for the SNF CB.
Watch your remittance advice for denials or recoupments.
Hopefully, you can avoid delays in payment, costly recoupments, and unpaid claims related to CB. The No. 1 thing you need to remember is to communicate — within your practice, with your patient, and most importantly with the SNF.

---
Resources
Consolidated Billing Claims Processing Instructions:
www.cms.gov/Medicare/Medicare-Fee-for-Service-Payment/SNFPPS/Downloads/flowchart.pdf
Medicare Learning Network, SNF Billing Reference booklet: www.cms.gov/Outreach-and-Education/Medicare-Learning-Network-LN/MLNProducts/MLN-Publications-Items/CMS1244978.html?DLPage=1&DLEntries=10&DLFilter=snf&DLSort=0&DLSortDir=descending
SNF Consolidated Billing at CMS.gov:
www.cms.gov/Medicare/Billing/SNFConsolidatedBilling/index.html
Annual Part B MAC Update:
www.cms.gov/Medicare/Billing/SNFConsolidatedBilling/2018-Part-B-MAC-Update.html
Refer to the CMS web page "Best Practices Guidelines," for sample forms:
www.cms.gov/Medicare/Medicare-Fee-for-Service-Payment/SNFPPS/BestPractices.html
MLN Booklet, SNF Billing Reference: www.cms.gov/Outreach-and-Education/Medicare-Learning-Network-MLN/MLNProducts/Downloads/SNFSpellIllnesschrt.pdf
Latest posts by Stephanie Thebarge
(see all)
One Response to "Get to Know the Nuances of Skilled Nursing Facility Consolidated Billing"