Improve Healthcare Through a Personalized Patient Experience
December 1, 2018
Comments Off

on Improve Healthcare Through a Personalized Patient Experience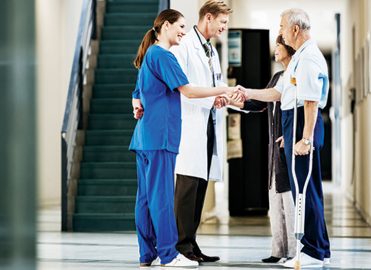 With a personal, patient-centered practice, you can
provide complete, quality and efficient care for your patients.
The patient experience encompasses the entire range of interactions that patients have with a healthcare system. Understanding patient experience is key to moving toward patient-centered care and complete healthcare quality.
Factor into the Patient Experience
The patient experience encompasses several key components:
Effectiveness:

Your practice is effective when it allows patients to access care efficiently, and in a timely manner. For example, consider the turnaround time for return phone calls and look at ways your practice can help patients navigate the healthcare system.

Culture of Safety:

Create an environment that promotes a culture of safety in your organization. Safety culture is the attitude, beliefs, perceptions, and values that employees share in relation to safety in the workplace.

Responsiveness:

This applies to individual preferences, such as catering to patients' needs and values. For example, think about your office hours: Patients should be able to access care at times convenient to them. Consider having hours early in the day, in the evenings, or on weekends.

Clear Communication:

This includes creating guides to define the expectations of the patient and care team. For example, you might assign a navigator to a disease-based team to assist the patient in accessing appointments, as well as informative guides that list all the services your practice offers.

A Patient Committee:

Create a committee of current and former patients to discuss initiatives and process improvements. The committee discusses their experiences and what should be improved or remain the same.
Make It Personal
Making it personal is about making the patient feel valued, respected, and cared for. It's about making them feel that their well-being matters. Patients will value an experience that:
Provides easy appointment scheduling. Access to care and an easy scheduling process matter to patients, as does a quick response to phone calls. If the provider's schedule does not have a quick turnaround time, inform the provider; they may be able to add time to see the patient.
Clearly communicates between the physicians, clinical team, and the patient. Communication huddles should occur at the beginning of the session and should include all team members, including the front desk.
Offers timely appointments with a quick turnaround time. It's critical to inform patients about delays. If a provider is running late, contact your patients throughout the day to inform them. The front desk should communicate to patients about delays every 15 minutes.
Accounts for patient preferences. Consider providing multiple locations with different hours. Evening and Saturday hours add convenience for patients.
You can take some simple steps to personalize the healthcare experience for your patients:
Personal details matter: Take the time to acknowledge birthdays, special occasions, and holidays. When staff remember specific details about a patient (such as asking them about their children, their job or hobbies, or a favorite pet), it makes them feel appreciated and special.
Employees should seek to establish a dialogue with patients and display empathy at all times. Pay attention to patient demographics and participate in active listening.
Using a patient's name is personal and respectful, but try to use the patient's preferred name. For instance, a patient named "Joseph" may like to be called "Joey."
Always meet and greet: Encourage face-to-face interaction in your office, welcome the patient, and inform them of pertinent information.
Use all possible channels for engagement. A smile and eye contact goes a long way.
Look Beyond Appointments and Procedures
The patient experience encompasses more than appointments with physicians for whatever ails them. It can also include:
Outreach programs, including community health screenings such as breast screenings and men's health education.
Nutritional education and seminars.
Concierge service (e.g., having a navigator to assist with treatment).
An integrative medicine program, which focuses on incorporating the three pillars of a healthy lifestyle — nutrition, physical activity, and emotional health — into the patient's care plan.
Complementary medicine programs for emotional healing, ranging from healing gardens to cooking sessions. This program enhances the quality of life and wellness of individuals living with, through, and beyond a cancer diagnosis, for example. Such a program uses scientific-based therapies that focus on mind, body, and spirit, while supporting mainstream medical care.
Explore Complimentary Medicine
While traditional medicine and healthcare treat the illness, complementary medicine therapies help promote wellness in the whole person. It empowers participants by providing them with an opportunity to take a positive, active role in their care and treatment. For example, complementary therapies in our practice are designed to lessen the pain, stress, and anxiety associated with cancer. Therapies provide patients assistance with handling the side effects of traditional treatments such as radiation and chemotherapy.
Complementary medicine programs may include laughter workshops, therapeutic massage and reflexology, mindfulness, guided imagery and meditation, Qi Gong, creative arts for healing, horticultural healing, and chair yoga.
Use Data to Measure Satisfaction
The patient experience is measured through outcomes data and survey results. Institutions are part of this process and results are acquired and distributed to review and improve upon. Most institutions use Hospital Consumer Assessment of Healthcare Providers and Systems (CAHPS) or Press Ganey. Areas surveyed often include:
Overall assessment
Likelihood of recommending
Overall rating of care
Staff worked together to provide care
Personal issues
Concerns for privacy
Sensitivity to patient needs
Response to concerns/complaints
Registration
Ease of scheduling appointment
Ease of the registration
Helpfulness of registration person
Informed about delays
Waiting time in registration, and test or treatment areas
Explanations given by staff
Friendliness of staff
Skill of techs/therapists/nurses
Staff concern/questions worries
To achieve positive survey results, the question "What Do Patients Want?" factors into discussion. Generally, according to National Association of Healthcare Access Management's (NAHAM) "Customer Service to Patient Experience: The Cultural Shift" patients desire:
Confidence: This is the belief that patients can trust the practice or facility's physicians and clinical team to deliver on its promises.
Integrity: This reflects the belief that the hospital always treats patients fairly and satisfactorily resolves problems that occur.
Pride: This is the degree to which a patient feels good about using the hospital and about how using the hospital reflects on them.
Passion: The belief that the practice or facility is irreplaceable and an integral part of patients' lives.
Overcome Challenges
There are many challenges to overcome when trying to provide a personalized patient experience, such as:
Poor quality
Cost of healthcare
Access
Morale
To understand how to give the best personalized experience, every employee must experience care the way your patients do. Encourage every employee to think about their purpose, not just their functions. Teams must stop giving cues of indifference and uncaring. The way in which we deliver care is just as important as the service itself.
Teach your employees how to handle a patient or family member's complaint and create a blame-free environment. Empower staff to manage up, and not to blame other departments for issues that a patient may incur. "Sorry" may be the hardest word to say, but everyone needs to learn when to say it. Have sessions regarding empathy using role playing for staff (for example, Ted Talks).
Examine your patient flow or perform daily team meetings to isolate problem areas and to anticipate patient needs. Understand that improving patient satisfaction is about systems, just as much as smiles.
---
Resources
NAHAM, Customer Service to Patient Experience: The Cultural Shift: https://cdn.ymaws.com/www.naham.org/resource/resmgr/2016_NE_Presentations/Customer_Service_to_Patient_.pdf
TED Talks, TED Conferences, LLC: www.ted.com/talks
Latest posts by MariaRita Genovese
(see all)