An Outpatient Coder's Basic Crash Course in ICD-10-PCS
In Coding
December 17, 2018
Comments Off

on An Outpatient Coder's Basic Crash Course in ICD-10-PCS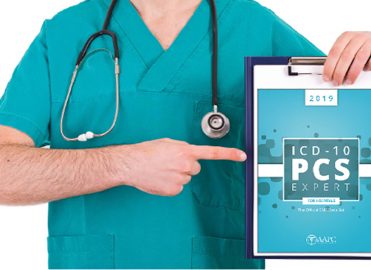 This open and expandable procedural code set is nothing to be intimidated by.
When outpatient coders talk about ICD-10, they typically mean the ICD-10-CM (diagnosis) code set. But there's another ICD-10 code set: ICD-10-PCS. If you're unfamiliar, here's an introduction.
PCS Describes Inpatient Procedures
The ICD-10-PCS code set is used to code inpatient procedures; PCS stands for Procedure Coding System. The code set was funded by the Centers for Medicare & Medicaid Services (CMS) and released for trial in the spring of 1998.
ICD-10-PCS builds on Volume 3 of ICD-9 —formerly used to report inpatient procedures, prior to adoption of ICD-10 — to enhance four major attributes. The first three of these attributes are based on code format:
Completeness: Unique codes are not based on body parts or different approaches within a body system.
Expandability: New codes are easily incorporated as unique codes.
Multiaxial: Independent characters may be used to expand an individual axis.
But it's the forth attribute, standardized terminology, that really sets ICD-10-PCS apart from other code sets.
In ICD-9-CM Volume 3, the same term often had multiple meanings, depending on the context (the CPT® code set suffers a similar problem). This confusion is eliminated in ICD-10-PCS: Terminology is consistent throughout the code set. When using ICD-10-PCS, there is no guesswork or ambiguity.
How to Build an ICD-10-PCS Code
Each character in ICD-10-PCS "builds" on the previous character. The first character describes the section. Think of this as the area of medicine that best describes the procedure — for example, Medical and Surgical (0) is a commonly used section. Other sections include Obstetrics (1) and Mental Health (G). Additional characters follow and expand on the code definition, as such:
Character 1 = Section
Character 2 = Body System
Character 3 = Root Operation
Character 4 = Body Part
Character 5 = Approach
Character 6 = Device
Character 7 = Qualifier
Approximately 30 root operation terms are defined. When choosing PCS root operations, the relevant factor is the outcome of the procedure. For example, ICD-10-PCS defines a bypass as:
Bypass: Altering the route of passage of the contents of a tubular body part
Consider also how ICD-10-PCS defines detachment versus removal:
Detachment: Cutting off all or part of the upper or lower extremities
Removal: Taking out or off a device from a body part
Following these definitions, a below-the-knee amputation is a detachment, not a removal. A removal must involve a device (e.g., a halo device).
Each section (character 1) lists the root operations (character 3) that apply within that specific section (not all root operations are relevant in every section). There is no need to memorize the root operations because they are always listed in your code book or encoder.
The fourth character of an ICD-10-PCS code (body part) is directly related to the second character (body system) in which the procedure was done. For example, if you are in the Medical and Surgical section (0), Heart and Great Vessels body system (2), and coding an Excision root operation (B), you will not find Mediastinum as a possible body part (described using the fourth character) because it is not part of the heart or great vessels. Mitral Valve (G) is an option because it is part of the Heart and Great Vessels body system. ICD-10-PCS removes the guesswork by eliminating inappropriate options.
The fifth character tells the approach. This character also relates to the previous character choices. For example, an excision on the Mitral Valve (G) offers Open (O), Percutaneous (3), or Percutaneous Endoscopic (4).
The sixth characters often describes a device. A device must remain in place after the procedure is done. If the device is removed before the completion of the procedure, or using a device is not an option with a given procedure, the correct option is No Device (Z). The ICD-10-PCS Official Guidelines for Coding and Reporting, section B6.1b, state, "Materials such as sutures, ligatures, radiological markers and temporary post-operative wound drains are considered integral to the performance of a procedure and are not coded as devices."
The seventh, final character of an ICD-10-PCS code is the Qualifier. This character allows room for code expansion, if necessary. Example characters are Diagnostic (X) or No Qualifier (Z). Terms often used as qualifiers in the Medical and Surgical (0) section are:
Allogeneic – Taken from different individuals of the same species. Two or more individuals are said to be allogeneic to one another when the genes at one or more loci are not identical.
Synogeneic – Genetically identical or closely related to allow tissue transplant; immunologically compatible (one identical twin to another).
Zooplastic – The surgical transplantation of living tissue to the human body from an animal.
Is PCS the Future?
Unlike CPT®, the ICD-10-PCS code set is open and expandable; for example, there's no need for "re sequenced" codes, as in CPT®. ICD-10-PCS allows for a high degree of specificity; and with practice, it's faster to use than CPT®. There is even a possibility that ICD-10-PCS could eventually replace CPT® for outpatient procedure coding, which would give us a single code set for use in both inpatient and outpatient settings.

Resources
---
Development of the ICD-10 Procedure Coding System (ICD-10-PCS): www.cms.gov/Medicare/Coding/ICD10/downloads/pcs_final_report2012.pdf
Dictionary.com, Zooplasty definition: www.dictionary.com/browse/zooplastic
ICD-10-PCS Official Guidelines for Coding and Reporting: www.cms.gov/Medicare/Coding/ICD10/2019-ICD-10-PCS.html
Latest posts by Alicia Scott, CPC, CRC, CPC-I
(see all)