Maintain Your Credentials with Free CEUs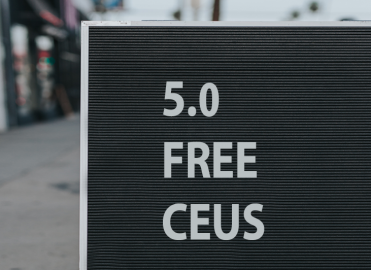 AAPC credentialed members are obligated to stay current in their profession. To ensure our members keep up with the latest medical coding updates, compliance rules, and government regulations, we require them to earn continuing education units (CEUs). For example, one certification, such as our Certified Professional Coder (CPC®) credential, requires the holder to earn 36 CEUs every two years — that equates to anywhere between 18 and 72 hours of continued education.
Please see our CEU Information page for requirements, policies, and other important details about maintaining certification.
Earning Free CEUs
AAPC supports its members in maintaining a distinctive edge in their healthcare business career by providing a wide variety of topics and subject matter delivered live or on demand, in classrooms or online. You can search on our website for available CEU-approved training. Employers often assist their credentialed employees with the cost of earning CEUs, and we offer several opportunities to earn CEUs for free. To make continued learning even more useful and affordable, we award CEUs for training offered by other AAPC-approved vendors.
The Centers for Medicare & Medicaid Services (CMS) is one such vendor. AAPC awards CEUs for many of the agency's free training options (e.g., web-based training (WBT), national calls, and webcasts). AAPC CEUs are based on the length of the training, as shown in Table A.
Note: CMS-sponsored events are not eligible for specialty-required CEUs.
Table A: CEUs are based on credit hours.
Length of Training / Contact Hours
Index Number
associated with training
CEU
offered for training
Less than 30 minutes
CMS06140727A
0.5
30 to 60 minutes
CMS06140728A
1.0
60 to 90 minutes
CMS06140729A
1.5
90 to 120 minutes
CMS06140730A
2.0
Medicare Learning Management System
The MLN Learning Management System gives you free 24/7 access to WBT training. Here's how:
Create an account or (if you already have an account) log into the MLN LMS system.
Click Agree to their terms.
On the Home page, enter the keywords "Contact Hours" in the Search Catalog field to see all courses that meet the requirements for AAPC CEU credit (although, you might want to confirm the classes you're interested in with AAPC, just to be certain you'll receive credit).
Earn free CEUs by completing courses offered by CMS MLN.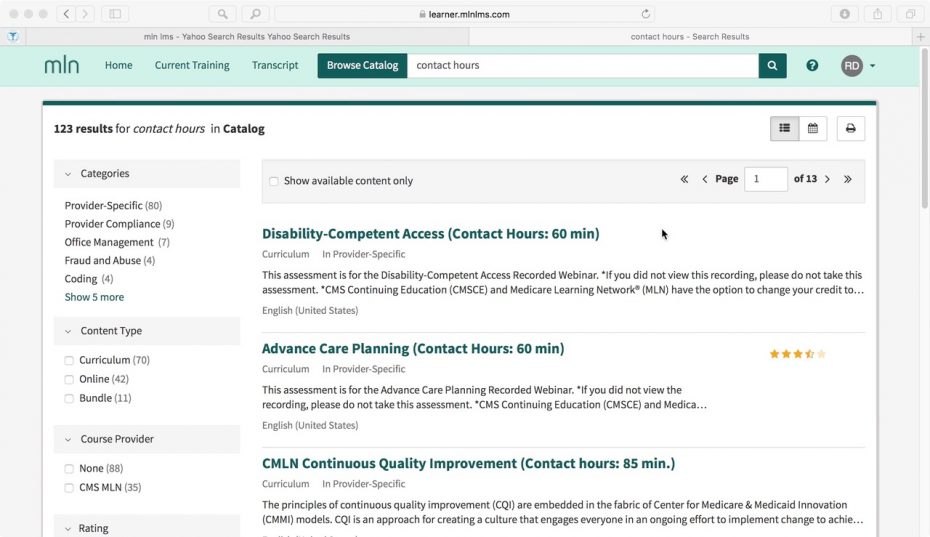 Categories include: Provider-Specific, Provider-Compliance, Office Management, Fraud and Abuse, Coding, Durable Medical Equipment, Payment Policy, Home Health, Evaluation and Management, and Provider-Supplier Enrollment.
Coding courses, for example, include:
Certificate of Medical Necessity (November 2018) – Contact hours: 50 minutes
Diagnosis Coding: Using the ICD-10-CM (January 2018) – Contact hours: 64 minutes
Health Insurance Portability and Accountability Act (HIPAA) EDI Standards (March 2016) – Contact hours: 60 minutes (This was marked "temporarily unavailable" at the time of this writing.)
Procedure Coding: Using the ICD-10-PCS (January 2018) – Contact hours: 63 minutes
Take all four courses and that equates to 5 CEUs at no cost to you — other than 4 hours of your time, well spent.
Use the Current Training page to access classes you are working on or have completed and the Transcript page to review credit hours, download certificates of completion, and more.
If you have questions about how to use the MLN LMS, please contact CMS by sending an email to MLN@cms.hhs.gov. Be sure to include your full name, the email address you used when you registered, and a description of the issue or your question. AAPC is not affiliated with CMS, so we cannot offer you technical support for their website.
Tip: Certified members can use our CEU Tracker to easily manage and submit their CEUs to us.
More CEU Options
Check our website for more approved CEU offerings and approved CEU vendors. And don't forget to think outside the box when looking for ways to earn CUEs! For example, according to AAPC Local Chapter Director Marti Johnson:
CEUs can be approved for a chapter meeting where the speaker presents virtually. As long as there is a screen for all attendees to see the speaker, and the speaker is presenting live, the meeting will be awarded CEUs. In fact, the AAPC Chapter Association is currently working on gathering a list of speakers who would be willing to present virtually at local chapter meetings.
All training must be pre-approved by AAPC before CEUs can be given.
Latest posts by Renee Dustman
(see all)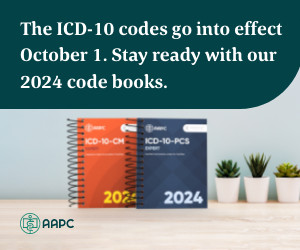 15 Responses to "Maintain Your Credentials with Free CEUs"