ICD-10 Adds Codes to Report Cyberbullying
January 2, 2019
Comments Off

on ICD-10 Adds Codes to Report Cyberbullying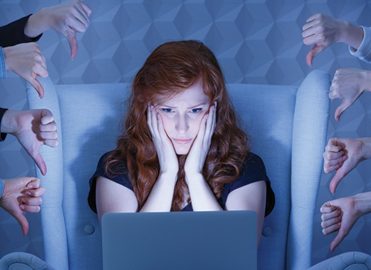 Define, identify, and code this new form of bullying.
ICD-10-CM code revisions effective Oct. 1, 2018, acknowledge a new reality: psychological abuse inflicted through social media.
T74.3      Psychological abuse, confirmed
Added: Bullying and intimidation, confirmed
Added: Intimidation through social media confirmed
A collaborative effort within a medical office can capture valuable information for the patient record, assuring the best chance for a patient suffering from bullying and intimidation to receive proper medical care.
Define Cyberbullying
Cyberbullying comes in all forms, including email, Twitter, texts, video gaming, Instagram, etc. Because it doesn't require face-to-face contact, it can happen 24 hours a day, seven days a week and reach its victims at work, home, or school.
The World Health Organization defines bullying (including cyberbullying) as:
… unwanted aggressive behavior by another child or group of children who are neither siblings nor in a romantic relationship with the victim. It involves repeated physical, psychological or social harm, and often takes place in schools and other settings where children gather, and online.
The National Institute of Health (NIH) similarly defines bullying, in general, as:
Bullying is when a person or group repeatedly tries to harm someone who is weaker or who they think is weaker. Sometimes it involves direct attacks such as hitting, name calling, teasing or taunting. Sometimes it is indirect, such as spreading rumors or trying to make others reject someone.
Often people dismiss bullying among kids as a normal part of growing up. But bullying is harmful. It can lead children and teenagers to feel tense and afraid. It may lead them to avoid school. In severe cases, teens who are bullied may feel they need to take drastic measures or react violently. Others even consider suicide. For some, the effects of bullying last a lifetime.
Childhelp.org says that when a child, preteen, or teen is cyberbullied, they may be "tormented, threatened, harassed, humiliated, embarrassed or otherwise targeted by another child, preteen or teen using the Internet, interactive and digital technologies or mobile phones."
According to Childhelp.org, signs and symptoms that may indicate a child is a victim of cyberbullying are:
Unexpectedly stops using their computer or cell phone
Appears nervous or jumpy when they receive an instant message or email
Seems uneasy about going to school or outside in general
Is angry, depressed, or frustrated after using the computer or cell phone
Avoids discussions about what they are doing on the computer or cell phone
Is abnormally withdrawn from usual friends and family members
Translate Documentation to ICD-10
Much of the information documented in the patient record can be told through coding. The specificity of ICD-10 codes allows us to give a complete and accurate account of a patient's disorders, symptoms, and circumstances. Everyone involved with the medical record should be familiar with how much of the documentation can be translated with ICD-10 and how important this is toward the overall care of the patient.
It is important to get the patient involved, as much as possible, with the history portion to explain the reason(s) behind the visit. Updated screening tools and questionnaires, such as the PHQ-9 depression screening and the PHQ-9 modified for teens, may help to identify abuse. Practices should ensure the results of all screening and questionnaire forms are reviewed by the provider and discussed with the patient. Sometimes, the patient's response may not come out on paper, but when asked again by the healthcare provider, the patient might be ready to "open up" and discuss this sensitive matter.
Alert the Provider's Team to Code Changes
Part of a medical coder's job is to keep abreast of code changes and inform providers in a meeting, email, newsletter, or other acceptable communication. We all have a valuable role to play in the health and well-being of patients. Translating each patient record using accurate and up-to-date ICD-10-CM codes is crucial to this effort.
Julie Pisacane, CPMA, CPPM, CRC, CEMC, CRHC, CCA, is a professional billing compliance specialist of internal audit, compliance, and enterprise risk management at NYU Langone Health. She is a member of the Nassau Central, N.Y., local chapter.
---
Resources
The American Academy of Child and Adolescent Psychiatry (AACAP) offers PHQ-9 screening tools at: www.aacap.org/App_Themes/AACAP/docs/member_resources/toolbox_for_clinical_practice_and_outcomes/symptoms/GLAD-PC_PHQ-9.pdf
The National Council on Alcoholism and Drug Dependence-New Jersey offers a related tool at: www.ncaddnj.org/file.axd?file=2014%2f8%2fAnnual+adolescent+screening+form+-.pdf
World Health Organization, "Violence Against Children:"
www.who.int/mediacentre/factsheets/violence-against-children/en/
NIH, "Bullying:" https://medlineplus.gov/bullying.html
ChildHelp.Org, "Signs and Symptoms of Teen Bullying and Abuse:" www.childhelp.org/story-resource-center/signs-symptoms-teen-bullying-abuse/
Latest posts by Guest Contributor
(see all)