Stay in Touch with Telemedicine
January 5, 2019
Comments Off

on Stay in Touch with Telemedicine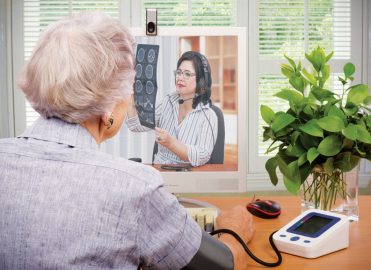 This up-and-coming healthcare delivery method is gaining in popularity. Don't get left behind.
Telemedicine is gaining wider acceptance among providers and payers, but many coders are unsure how to report these services. Just when we think we have it figured out, the technology and rules change. With a proper introduction, however, we are better equipped for the future of healthcare.
Top Telemedicine Medical Specialties
Telemedicine uses telecommunication to facilitate provision of clinical healthcare from a distance. As technology advances, so does the widespread affordability and accessibility of telemedicine tools. Video chat applications, such as Skype and Facetime, via a computer or mobile device, open the door to these services.
Telemedicine is used in many medical fields throughout the ambulatory and hospital settings. Due to a shortage of care, limited access to specialists in some areas, and remote locations of patients (rural and sparsely populated areas), telemedicine is incredibly useful to healthcare providers trying to expand patient access to quality care. Common telemedicine specialties include teleradiology, telepsychiatry, teledermatology, teleloncology, telenephrology, teleobstetrics, telepathology, and telerehabilitation.
Telemedicine Pros and Cons
Every new technology offers new hope, but rarely does it come without some glitches. Your organization should consider the pros and cons of telemedicine prior to integrating its use into practice. For example:
Pros
More convenient, accessible to patients
Saves healthcare costs
Extends access to consults from specialists
Cons
Requires technical training and equipment, which will need updating periodically
May reduce in-person interactions with doctors
Keeping up with federal and state regulations and payer policy changes is challenging
Learn What You need to Know About Coverage
For Medicare patients, only specific providers may report telemedicine services. These include physicians, nurse practitioners, physician assistance, nurse midwives, clinical nurse specialists, clinical psychologists, clinical social workers, and registered dietitians.
Medicare specifies which CPT® and HCPCS Level II telemedicine codes are covered in the Centers of Medicare & Medicaid Services' (CMS) Telehealth Services, February 2018 MLN Booklet (see Resource section). This list is subject to change yearly, so periodic checks for the most up-to-date codes is a must.
When billing for telehealth services, use Medicare's new place of service (POS) code 02 to describe services furnished via telehealth. This new POS code became effective Jan. 1, 2017. For distant site services billed under critical access hospital (CAH) method II on institutional claims, append modifier GT Via interactive audio and video telecommunications systems.
Telemedicine and Medicaid
Medicaid programs are state-run and subject to state law on telemedicine practice. That means telemedicine reimbursement through Medicaid depends on what the policy is in your state. Contact your state Medicaid program to get the most up-to-date billable CPT® codes and policies.
Other pertinent questions to ask the payer:
What healthcare services are covered?
Who are eligible providers?
Is cross-state medical licensing allowed?
Is a pre-existing relationship with the patient required?
What are the applicable CPT® codes?
What type of fee is reimbursed (transmission, facility, or both)?
Build a Relationship with Your Private Payers
When dealing with private (non-government) payers, contact the insurance carrier and work to develop a relationship with a representative for your area. Ask questions regarding the policies and reimbursement requirements; and create an information tool (from the updates your received) to share with your staff.
The days of physicians making their monthly rounds from town to town are dwindling Today, quality healthcare is available via a computer or mobile phone. There's much to learn about this new healthcare delivery method; stay tuned as it changes the way we do business.
---
Myra J. Simmons, CPC, CPC-I, COBGC, CGSC, OHCC, ICDCTCM, is coding compliance training manager at the University of Maryland Community Medical Group (work information) and of Simmons Medical Coding Compliance Consultants, her private business and coding school. She is a member of the Alexandria, Va., local chapter.
---
Resource
Medicare Learning Network, Telehealth Services, MLN Booklet, February 2018: www.cms.gov/Outreach-and-Education/Medicare-Learning-Network-MLN/MLNProducts/MLN-Publications-Items/CMS1243327.html
Latest posts by Guest Contributor
(see all)