Message From Your Region 4 Representatives | January 2019
In AAPC News
January 24, 2019
Comments Off

on Message From Your Region 4 Representatives | January 2019
Be the Go-To Person

Do you want to be the person that everyone goes to for answers?  Here are some tips and resources for being that "go-to person". First, don't believe everything you read. I'm sure your parents or a wise teacher has said this to you at some point. Always use an authoritative source.  ALWAYS.  A blog or forum post answer that does not reference an authoritative source
could be wrong
or based on a different Medicare Administrative Carrier (MAC) or even a specific commercial insurance policy.
Know what is authoritative.  Start with the code set you are researching.  For ICD-10-CM and PCS there are
official guidelines
, most publishers include them in the manual.  You can also refer the
American Hospital Association (AHA) Coding Clinic
for ICD-10-CM/PCS.
Second, make sure you have the current version of the source. This is especially true with
The Centers for Medicare & Medicaid Manuals,
they are frequently updated. I do not recommend using the version or portion of the manuals found when you Google your question. Always go to the manuals themselves and you also have to check The Centers for Medicare & Medicaid,
Medicare Learning Network (MLN) Articles
page for recent updates. A great way to keep apprised of new rules CMS is publishing is to sign up for the MLN email updates.
Another example where you would need the correct version, your colleague asks you about billing two codes together for a date of service three months ago. The
National Correct Coding Initiative (NCCI)
is updated on a quarterly basis; therefore, you need to check the NCCI for that date of service. This valuable reference also has a thirteen chapter Policy Manual that gives additional coding guidance.
Finally, the
American Medical Association (AMA)
publishes a couple of newsletters and several reference books that are supplemental to the CPT manual. The AMA Professional CPT has symbols notated under many code entries referencing the various resources as applicable.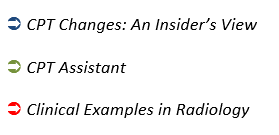 The standard CPT manual does not contain these references.
There are many professional organizations that have opinions as to how the code sets should be utilized.  While informative, an association, college, or organization is not an authoritative source.
Sharing your knowledge will only make you a better team member.
Latest posts by Alex McKinley
(see all)
No Responses to "Message From Your Region 4 Representatives | January 2019"