How to Find a Coding Job in the Digital Age
January 25, 2019
Comments Off

on How to Find a Coding Job in the Digital Age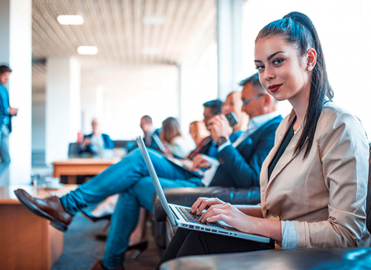 Remember the days when finding a job literally meant searching the Help Wanted section of the newspaper? Maybe you don't, and I'm dating myself. That's the way it was done back in the day, though. The job listings took up several pages in the paper (no kidding). If a listing looked good, the protocol was to type or print your resume, mail it to the potential employer via the U.S. Post Office, and wait for someone to call you on that thing attached to the wall: the telephone.
Thank goodness for the digital revolution.
With computers, smartphones, the World Wide Web, and social media, the sky is the limit (for now). You can work for anyone, anywhere. All you need is an online presence and some marketable skills.
Market Yourself Online: Get LinkedIn
People always say, "No one is going to knock on your door and give you a job." That may be true, but with the right online presence, they just might ping you.
A popular place to start building an online presence is on LinkedIn. Through this online networking platform, you can market yourself, the company claims, "to the world's largest professional audience."
I won't sugarcoat it: Marketing yourself online is a job, in and of itself. Do not expect to become an overnight sensation. The secret is to work at it in small, manageable tasks.
Step 1: Build your profile.
Building a LinkedIn profile involves adding a professional picture of yourself, a headline (current position), summary (experience), media (videos, images, etc.), experience (chronological resume), work examples (portfolio), and education.
You can generate more LinkedIn views, and maximize your chances of being discovered for the right career opportunities, by adding your certifications to your profile.
Adding your certifications to LinkedIn is easy:
Click on the certification from the links located here to be taken to the LinkedIn home page.
Log in to your LinkedIn account.
Click "Add to Profile" to confirm your certification and add it to your LinkedIn profile.
Note that LinkedIn no longer automatically generates network notifications for updates made to your profile. You will need to send out a notification to announce the latest AAPC credential you earned.
Step 2: Create a custom URL.
Long, complicated URL addresses are hard to remember. Creating a customized URL that is identifiable and easy to remember will optimize account viewings.
Step 3: Customize your account settings.
To ensure your privacy and optimize the ability for the right people to locate you, spend some time customizing your account settings. This is where you can specify your notification and email preferences.
Step 4: Manage your invitations.
Best practice is to use LinkedIn for professional communications only. To facilitate this, you can limit invitation requests from yahoos and other undesirables by requiring members to know your email address.
Step 5: Change "Connect" to a "Follow" button.
If your goal is to go viral, however, you'll reach a larger audience by allowing others to follow your activity. You can check your follower count on your dashboard.
Don't Rest on Your Laurels
Once you've completed your online profile, don't expect the job offers to start pouring in. These things take time. People have to find you, which begins with networking. With each connection you make, you're that much closer to finding the opportunity of a lifetime.
Latest posts by Renee Dustman
(see all)