Advance Beneficiary Notice Use in the SNF
In Billing
January 31, 2019
Comments Off

on Advance Beneficiary Notice Use in the SNF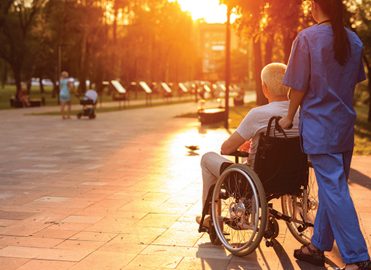 The Centers for Medicare & Medicaid Services (CMS) revised its Skilled Nursing Facility Advance Beneficiary Notice of Non-coverage (SNF ABN), last spring, and at the same time discontinued five Skilled Nursing Facility (SNF) Denial Letters. Here are the details, in case you missed them.
An Updated Advanced Beneficiary Notice
MLN Matters MM10567 Revised, effective April 30, 2018, announced a revised SNF ABN, Form CMS-10055.
An Advance Beneficiary Notice of Noncoverage (often called simply an Advance Beneficiary Notice, or ABN) is a standard form that informs a Medicare beneficiary that a recommended procedure or service may not covered by Medicare. The form explains why the procedure or service may not be covered, and allows the provider to bill the patient for payment if Medicare denies payment.
The ABN provides the patient with three options:
Option 1: Agree to the care and accept financial responsibility if Medicare doesn't pay. The SNF will bill Medicare for the service, but cannot collect money for Part A services until Medicare makes an official payment decision on the claim.
Option 2: Agree to the care and pay out of pocket. The SNF does not submit a claim to Medicare.
Option 3: Choose not to have the care.
The SNF ABN is to be completed in the same way as the Part B Advance Beneficiary Notice of Non-coverage (ABN, Form CMS-R-131). You can learn more about the rules of using an ABN in the AAPC Knowledge Center. Step by step instructions to complete the SNF ABN, as well as a CMS-approved copy of the Form CMS-10055, may be found on the CMS website.
When an ABN Isn't Needed
Per the Medicare Claims Processing Manual Chapter 30, section 70 "Skilled Nursing Facility Advance Beneficiary Notice of Non-coverage (SNF ABN),"
SNFs need not issue a SNF ABN to transfer financial liability to the beneficiary:
If the extended care item or service is not a Medicare benefit (e.g., personal comfort items excluded under §1862(a)(6)).
If a beneficiary is being furnished post-hospital extended care services while a resident in a SNF and payment is expected to be denied for an otherwise Medicare covered benefit because it does not meet a technical benefit requirement (e.g., SNF stay not preceded by the required prior three- day hospital stay or the beneficiary is exhausting his/her 100 benefit days).
If Medicare is expected to deny payment for Part B covered medical and other health services which the SNF furnishes, either directly or under arrangements with others, to an inpatient of the SNF, where payment for these services cannot be made under Part A (e.g., the beneficiary has exhausted his/her allowed days of inpatient SNF coverage under Part A in his/her current spell of illness or was determined to be receiving a non-covered level of care).
If the SNF will not furnish the extended care items or services. A SNF must not give a beneficiary a SNF ABN and then refuse to furnish extended care items or services even though the beneficiary elects to receive these items or services by selecting Option 1, as this is equivalent to the prohibited practice of the SNF pre-selecting Option 2 (not to receive items or services) on a SNF ABN. This rule also applies when the beneficiary agrees with the triggering event (i.e., terminating therapy) and the beneficiary will not be receiving the extended care items or services.
NOTE: This rule is not applicable in the situation where the beneficiary elects to receive extended care items or services but refuses to sign the SNF ABN attesting to being personally and fully responsible for payment, in which case, the SNF may then consider not furnishing the specified items or services.
For Medicare Advantage (Part C) enrollees nor for non-Medicare patients because it is to be used solely for individuals enrolled in the Medicare FFS program (Parts A and B).
When extended care items or services are reduced or terminated in accordance with a physician's order, where a physician does not order the items or services at issue, or where the physician agrees in writing with the SNF's, the UR entity's, the QIO's, or the Medicare contractor's assessment that the extended care items or services are not necessary.
For swing-bed determinations. The Preadmission/Admission HINN (HINN 1) should be given.
Denial Letters Discontinued
With the revision of the SNF advanced beneficiary notice, CMS has discontinued five SNF Denial Letters:
the Intermediary Determination of Noncoverage
the UR Committee Determination of Admission
the UR Committee Determination on Continued Stay
the SNF Determination on Admission and the SNF Determination on Continued Stay
the Notice of Exclusion from Medicare Benefits (NEMB-SNF), Form CMS-20014
Latest posts by John Verhovshek
(see all)