Scribes Are Benefit, Study Finds
By Brad Ericson
February 5, 2019
Comments Off

on Scribes Are Benefit, Study Finds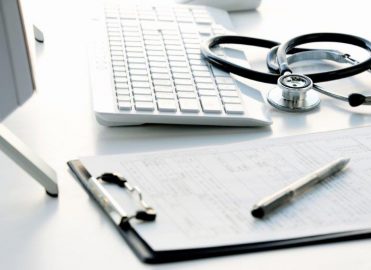 Scribes not only improved physicians' productivity by 15.9 percent in a recent study but shortened patients' average stay by 19 minutes.
Scribes Introduced to Five EDs
The British Medical Journal paper "Impact of Scribes on Emergency Medicine Doctors' Productivity and Patient Throughput: Multicentre Randomised Trial" outlined an experiment at five Australian emergency departments (ED).  The researchers trained 12 scribes and assigned them to help 88 physicians. The scribes documented consultations, completed electronic health records , arranged tests and appointments, printed discharge paperwork, and other tasks.
Researchers determined the patients tolerated the scribes well while 85 percent of physicians preferring to work with scribes. Primary consultations improved from .98 to 1.11 patients per hour per doctor.
The researchers noted that the greatest gains were achieved by placing scribes with senior doctors at triage.  Fewest gains were in sub-acute, fast track situations, such as sore-throat visits. A cost-benefit evaluation determined the productivity and throughput gains made the addition of the scribes financially advantageous, even after factoring in the cost of training the scribes.
How Safe is It to Use Scribes?
The scribes followed senior physicians with either a laptop or a computer on a stand. During 300 patient visits, there were 16 incidents. The largest number (7/16) were patient identification issues. Other errors included the scribe's failing to hit Send on an order or failing to update patient's name in the EHR file.
The research, though, indicates that in many of the errors, the scribe stepped in to correct the physicians' errors, such as ordering and X-ray for the wrong arm, identifying trauma documentation missed by the physician, and stopping duplicate tests. Scribes also prevent hospital errors, such as patients being tested without proper identity checks or rooms failing to be prepared before the patient was seen; these were included in the 16 errors.
What Does this Mean for Scribes in USA?
While the study was done in Australia, the researchers recommend additional research be done and that scribing be adopted on that continent.  They cite other studies suggesting that scribes don't increase productivity in certain settings. The Australian group found productivity changes varied according to the role of the physician. The study also found that length of stay for the patients in the study declined.





Latest posts by Brad Ericson
(see all)
AAPC's annual salary survey gives a good understanding of the earning potential within the medical coding profession.
See what actually is going on in the healthcare business job market.