Prepare for the Complexities of Inpatient Trauma Center Coding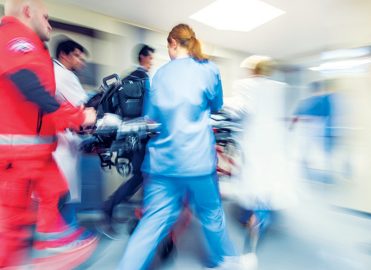 Know what to expect when extreme circumstances alter standard treatment approaches.
A trauma center is a hospital equipped and staffed to provide care for patients suffering from major traumatic injuries such as falls, motor vehicle collisions, or gunshot wounds. Usually, multiple physicians and mid-level providers — any of whom may document in the patient record — will be involved in the care. Trauma center medical coders must be well trained to handle reporting of complex, labor-intensive injuries, surgeries, and treatments. Here are the basics you should know about these medical services.
Trauma Center Designations
Trauma categories vary by state. For example, a trauma center may be designated as either adult or pediatric. And there are five levels of trauma centers, with level 1 being a comprehensive regional resource and a tertiary care facility that has the capability to provide total care for every aspect of injury, from prevention to rehabilitation. The levels are determined by the resources available at that center, with verification of resources as recommended by American College of Surgeons.
The Golden Hour Can Mean Life or Death
The golden hour (also called golden time) is the time after a traumatic injury, when "the highest likelihood that prompt medical and surgical treatment will prevent death." Golden hour usually refers to the principle of rapid intervention in trauma cases, rather than meaning a critical one-hour period, as the name implies. "It is well established that the person's chances of survival are greatest if they receive care within a short period of time after a severe injury; however, there is no evidence to suggest that survival rates drop off after 60 minutes," according to Wikipedia.
Mechanism of Injury Matters
Common injuries seen in a trauma center include gunshot wounds, stabbings, fractures, traumatic brain injuries, internal blunt force trauma, traumatic amputations, near drowning, severe burns, animal attacks, sports injuries, motor vehicle accidents, falls from high places, industrial and farm accidents, and aircraft crashes.
The mechanism of the injury is a factor in the need for trauma center management. For example, according to the Centers for Disease Control and Prevention's (CDC) Guidelines for Field Triage of Injured Patients, the following circumstances may call for trauma care, even if the patient's injuries do not initially seem life-threatening:
Automobile versus pedestrian/bicyclist thrown, run over, or with significant (> 20 mph) impact
Ejection (partial or complete) from a vehicle
Motorcycle crash > 20 mph
Falls:

Adults: > 20 feet (one story = 10 feet)
Children: > 10 feet, or two to three times the height of child

Prolonged extrication and/or rollover vehicle crashes
Patients needing the highest level of care include:
All penetrating injuries to head, neck, torso, and extremities proximal to elbow or knee
Chest wall instability or deformity (e.g., flail chest)
Two or more proximal long bone fractures
Crushed, degloved, mangled, or pulseless extremity
Amputation proximal to wrist or ankle
Pelvic fractures
Open or depressed skull fractures
Paralysis
Many trauma victims require inpatient admission, multiple surgeries, intensive care, lengthy stays, rehabilitation, and home care. The presence of additional medical comorbidities increases the intensity of management and additional resources.
Transport Is a Crucial Component of Trauma Care
Cases of severe trauma, especially internal bleeding, require surgical intervention. Complications, such as shock, may occur if the patient is not managed appropriately and expeditiously. It becomes a priority to transport patients with severe trauma as fast as possible to specialists  found at a hospital trauma center for treatment. Because some injuries cause rapid deterioration, the lag time between injury and treatment should be kept to a minimum.
Most trauma patients arrive by medical transport, either from the scene of the injury or from a referring hospital without resources to manage the injuries. This may include neighboring states if the designated trauma center is the nearest facility with necessary resources. Arrival may be by ground or air transport.
Other transport considerations for trauma patients include:
Transfers that require crossing state lines may be accompanied by law enforcement who will escort the ambulance to the destination.
Patients arriving from another hospital will have documents from the originating hospital, including demographic information, nature of injuries, any diagnostic lab and/or imaging results, and documentation of procedures performed.
Physicians who initiate a critical transfer will notify the receiving center in advance of the transfer.
When multiple patients are transported, triage will determine the most critical status.
Staff Is Called to Action for Trauma Patients
Many trauma patients will require immediate surgery. In addition to preparation by surgery, anesthesia, and recovery staff, preparation may require type and crossmatch of blood products, intraoperative imaging, respiratory staff, cardiopulmonary bypass, and other support interventions.
A trauma surgeon quickly assesses the patient, orders necessary diagnostics initiate interventions, and notifies any other specialty provider who needs to assess the patient. The patient may require intubation, if not already administered by the transferring hospital or ambulance personnel.
In addition to the trauma center record, a flow sheet is prepared, listing all efforts and the date/time of the occurrence. The flow sheet includes all drugs, fluids, orders for diagnostic and therapeutic studies, and other activities necessary to sustain the patient. Women who are pregnant require additional consideration. Patients who are on blood thinners or have bleeding disorders and have sustained head injuries are at high risk for rapid deterioration.
If multiple trauma victims arrive in a short time, special circumstances determine the necessary approaches to management. For example, if two surgery suites are routinely ready for use, multiple victims may require nine or 10 additional suites to be prepared. Off-duty trauma surgeons and ancillary staff, as well as management, security, pharmacy, and central supply staff, are required to support the additional demands. Nursing administration must determine available beds and handle other preparations, as necessary. Time required to close surgical wounds must be factored in, as well. In extreme circumstances, some surgical wounds may be delayed for secondary closure to accommodate the emergent need.
Your Role
Trauma center coding is demanding, complex, and time-consuming. You must be well-trained and able to handle the most complex and extreme injuries without intimidation.
It isn't unusual for critical patients to have 25 to 30 diagnoses and require 20-plus procedures during the admission. The medical record, which may include entries by multiple providers, may include photographs prior to and during surgery, and is often graphic in detail. Trauma patients may have comorbidities that affect their management, which also must be reported. And you must be able to identify reportable services throughout the trauma record.
Watch for indicators of variant activities as the cases are coded and be mindful that extreme circumstances will often alter the standard approaches. Medical record completion — particularly surgery reports — may be delayed longer than usual.
---
Elements of a Level 1 Trauma Center
To be classified as a Level 1 trauma center, it:
Has 24-hour in-house coverage by general surgeons, as well as prompt availability of care in orthopedic surgery, neurosurgery, anesthesiology, emergency medicine, radiology, internal medicine, plastic surgery, oral/maxillofacial surgery, pediatric, and critical care.
Is a referral resource from nearby communities.
Provides leadership in prevention and public education to surrounding communities.
Provides continuing education of the trauma team members.
Incorporates a comprehensive quality assessment program.
Operates an organized teaching and research effort involving new innovations in trauma care.
Has a program for substance abuse screening and patient prevention.
Meets minimum requirement for annual volume of severely injured patients.
Has elements of a Level II trauma center.
Is able to initiate definitive care for all injured patients.
May have referrals for tertiary care needs such as cardiac surgery, hemodialysis, and microvascular surgery.
Provides trauma prevention and continuing education programs for staff.
---
Resources
Wikipedia, Golden hour (medicine): https://en.wikipedia.org/wiki/Golden_hour_(medicine)
CDC, Guidelines for Field Triage of Injured Patients: www.cdc.gov/mmwr/preview/mmwrhtml/rr6101a1.htm
Latest posts by Dorothy Steed, COC, CPMA, CPCO, CEMC, CPC-I
(see all)
2 Responses to "Prepare for the Complexities of Inpatient Trauma Center Coding"