I Am AAPC: Monique L. Good, CPC, CPPM, CRC, CMC
February 6, 2019
Comments Off

on I Am AAPC: Monique L. Good, CPC, CPPM, CRC, CMC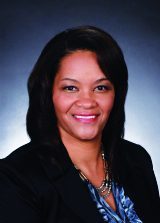 My career began as a certified nurse assistant working in a nursing home at the young age of 16. There, I found my passion for helping others. That passion continued when I transitioned into revenue cycle, and it's still here today. Every aspect of the revenue cycle process has been enjoyable and has brought me to the place I am now.
With over 30 years of experience, I have worked every position — from front desk check-in to surgical counselor to accounts receivables follow up — for a diverse range of specialties such as intraoperative neuromonitoring, optometry, ophthalmology, bariatrics, pediatrics, podiatry, outpatient/inpatient surgery, and emergency room. Learning every position and how valuable each is to the entire revenue cycle process is why I love it so much.
The Value of AAPC Credentials
Although I received my Certified Medical Coder credential through another organization, I quickly realized I needed to obtain a certification through a more prominent and nationally recognized organization such as AAPC. I obtained my Certified Professional Coder (CPC®) credential from AAPC in May of 2018 and four months later, I obtained my Certified Physician Practice Manager (CPPM®) credential. I passed the AAPC Certified Risk Adjustment Coder (CRC™) exam in December 2018, which makes three AAPC certifications that I have attained in the past seven months!
Experience Comes Full Circle
My current position as a senior consultant of the Health Care Performance Advisory Services division allows me to use my many years of experience. I provide physicians with professional audit and coding services; perform billing compliance audits on medical documentation and CMS-1500 claims; perform charge capture and revenue cycle reviews; and provide physician and staff education on coding, billing, and regulatory compliance issues.
Reach for the Stars
My journey continues, as I am working toward the AAPC Fellow recognition and moving up within my present company. The sky is the limit! I am so grateful for AAPC and the recognition that comes with being a part of such a prestigious organization.
#IamAAPC
Latest posts by Guest Contributor
(see all)