2019 OPPS Reflects More Site-of-service Payment Equalization
In Coding
February 27, 2019
Comments Off

on 2019 OPPS Reflects More Site-of-service Payment Equalization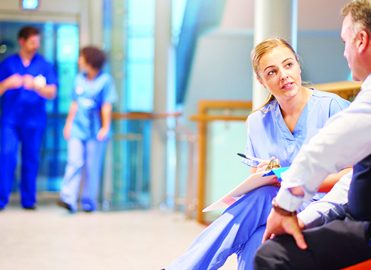 Meet outpatient quality reporting requirements or prepare for a payment reduction.
Using Hospital Outpatient Prospective Payment System (OPPS) methodology, the Centers for Medicare & Medicaid Services (CMS) based 2019 OPPS payments on 2017 claims data submitted by hospital providers, resulting in an estimated 1.35 percent increase. Hospitals that fail to meet the hospital outpatient quality reporting (OQR) requirements will continue to incur a 2.0 percent payment reduction. Claims data reflecting modifier PN Non-excepted service provided at an off-campus, outpatient provider-based department of the hospital is available for the first time and was excluded from the rate-setting, as these claims are reimbursed under the Medicare Physician Fee Schedule (MPFS) methodology.
CMS adopted a policy to maintain the rural adjustment for certain sole community hospitals and essential access community hospitals until data indicates this adjustment is no longer needed. The payment adjustment for specific cancer hospitals continues, as well.
Let's see what else CMS has in store for us this year.
New Comprehensive APCs for 2019
Three new comprehensive ambulatory payment classifications (C-APCs) were established: level 3 ear, nose, and throat (ENT) procedures and two vascular procedure C-APCs. This brings the total number of C-APCs to 65.
Some procedures assigned to a New Technology APC have very low volumes (less than 100 claims) due to being new technology/procedures. Beginning in 2019, payment for these low-volume procedures will no longer be packaged into a C-APC when reported on a claim with a primary procedure (status indicator J1). Packaging of the low-volume procedures has diluted the data available for establishing the actual cost for the service, which in turn negatively affects CMS' ability to assign the New Technology service to a regular APC. In addition, CMS broadens the time period of claims data that may be used to four years to increase the number of claims included in rate-setting for these services and to prevent wide payment swings.
Inpatient-only List Continues
Four procedures were removed from the inpatient-only list, identified by CPT® codes 31241, 01402, 00670, and 0266T. One procedure was added to the list: C9606 Percutaneous transluminal revascularization of acute total/subtotal occlusion during acute myocardial infarction, coronary artery or coronary artery bypass graft, any combination of drug-eluting intracoronary stent, atherectomy and angioplasty, including aspiration thrombectomy when performed, single vessel.
Devices and Drugs
Seven devices were submitted for pass-through consideration. Only one, the remede® System transvenous neurostimulator, met the criteria and was approved for pass-through status for 2019. The description for HCPCS Level II code C1889 was revised to "Implantable/insertable device, not otherwise classified" for reporting devices that do not have an applicable device HCPCS Level II code. This revision removes the restriction of using this code only for a device-intensive procedure.
The packaging threshold for drugs increased to $125. Pass-through payment expired for 23 drugs as of Dec. 31, 2018 (Table 37). Twenty drugs will receive separate payment and three will be packaged. Sixty drugs and biologicals have pass-through status for 2019; but watch the quarterly OPPS updates because pass-through status is assessed on a quarterly basis to assure three full years of payment. Four drugs whose pass-through status ended in 2017 have had payment extended from Oct. 2, 2018, through Sept. 30, 2020 (Table 30). For these specific items, payment will be the greater of ASP + 6 percent or the payment rate in place on Dec. 31, 2017.
Separate payment and pass-through payment continue at ASP + 6 percent. If ASP data is not available, payment is made based on wholesale acquisition cost (WAC) + 3 percent.
Non-opioid Pain Management Treatments
In response to the recommendations from the Trump administration's Commission on Combating Drug Addiction and the Opioid Crisis, and CMS' initiatives to affect this crisis, CMS is reversing their packaging policy for non-opioid pain management therapies in ambulatory surgery centers (ASC), but NOT in hospital outpatient departments (HOPD). Current policy packages the payment for drugs used as supplies for a surgical procedure into the payment for the procedure. Exparel was U.S. Food and Drug Administration (FDA)-approved for relieving post-operative pain at the surgical site and was granted pass-through status when new to the market. Claims data reflect that when the pass-through payment for Exparel expired, usage in the ASC decreased significantly, but continued to increase in HOPDs. The data also reflects that payments to HOPDs are adequate to cover the procedure and the Exparel because the incidence of use continues to increase and there are no barriers to access for Medicare patients. CMS surmises that because ASCs provide more limited range of services, and receive 55 percent of OPPS payments, the usage dropped because there are pain management options with less cost. For 2019, Exparel and other non-opioid medications will be separately reimbursed to ASCs to incentivize their use.
Extension of Site Neutral Payment Policy
Off-campus provider-based hospital departments (PBDs) existing prior to November 2015 are "excepted" PBDs and are paid under the standard OPPS methodology and identified by modifier PO Services, procedures, and/or surgeries furnished at excepted off-campus provider-based outpatient departments. CMS states there have been "unnecessary increases in the volume of covered OP department services," and attributes this increase to the higher payment provided under the OPPS. To mitigate this increase, the site-neutral payment methodology now extends to clinic visits (HCPCS Level II code G0463 Hospital outpatient clinic visit for assessment and management of a patient) provided in excepted off-campus PBDs. This change will be phased in over two years, with a 30 percent OPPS payment reduction applied for 2019. Services provided in a non-excepted PBD are identified by modifier PN and are reimbursed at 60 percent of the OPPS rate, comparable to the payment rate for services provided in a physician's office.
The concept of site-neutral reimbursement has also been extended to payment for drugs purchased under the 340B program when provided in a non-excepted PBD. Modifier JG Drug or biological acquired with 340B drug pricing program discount must be reported on the line item for each separately paid drug, which are reimbursed at ASP -22.5 percent unless the drug is assigned pass-through status or is a vaccine. Critical access hospital (CAHs), rural sole community hospitals, children's hospitals, and PPS-exempt cancer hospitals are excluded from the payment adjustment, but must report informational modifier TB Drug or biological acquired with 340B drug pricing program discount, reported for informational purposes for drugs purchased under 340B.
CMS continues to monitor changes in billing patterns and utilization of services in excepted off-campus PBDs to determine if expansion of services is occurring. CMS has not determined the exact methodology to prevent expansion of services in off-campus provider-based departments, but is considering either limiting services to those provided as of Nov. 2, 2015, (the date of the Bipartisan Budget Act) or capping payments under the OPPS at the amount reimbursed prior to the Bipartisan Budget Act implementation. Any services provided after the cap is met would be reimbursed under the MPFS. CMS will continue to consider additional methodologies in future rule-making.
New modifier ER Items and services furnished by a provider-based off-campus emergency department was established for collecting data regarding outpatient hospital services furnished in an off-campus provider-based emergency department. CAHs are exempt from this requirement. CMS notes that this was an announcement of the modifier and its application and not a proposal for public comment.
That's Not All Folks!
We've only looked at the highlights of the OPPS changes for 2019; there are many nuances. Review the OPPS and MPFS final rules for complete details on changes that affect your specific healthcare organization.
---
Medicare Physician Fee Schedule Items that Apply to Hospitals
Appropriate Use Criteria
This program is in the implementation stages. Mandatory reporting begins Jan. 1, 2020, with an education and operational testing period in which the information must be reported, but payment is not affected. Independent diagnostic testing facilities were added to the list of reporting providers. In addition, the Centers for Medicare & Medicaid Services (CMS) clarified in the 2019 Medicare Physician Fee Schedule (MPFS) final rule that the appropriate use criteria consultation information must be provided on the furnishing professional and facility claims to incorporate both the professional and technical components of the service. CMS finalized that this reporting will be accomplished with HCPCS Level II G codes and modifiers, and any concerns expressed regarding technical issues and claims processing will be addressed during implementation.
Payment for Outpatient Therapy Services Furnished by Therapy Assistants
CMS has established two new modifiers for the reporting of a physical therapy assistant (PTA) or occupational therapy assistant (OTA):
Modifier CQ Outpatient physical therapy services furnished in whole or in part by a physical therapy assistant
Modifier CO Outpatient occupational therapy services furnished in whole or in part by an occupational therapy assistant
These payment modifiers are to be reported in addition to therapy modifiers GP Services delivered under an outpatient physical therapy plan of care and GO Services delivered under an outpatient occupational therapy plan of care to indicate that a therapy assistant provided the service. These modifiers will be tied to a payment reduction beginning in 2022.
CMS has also finalized a "de minimis standard:" A service is provided by a PTA or OTA when more than 10 percent of the service is furnished by the assistant. Specific examples of scenarios and types of services for application of the de minimis standard and modifiers will be included in 2020 rulemaking.
Good News! The requirements for reporting functional limitation G codes and severity modifiers were removed beginning Jan. 1, 2019. The codes will remain active until 2020 to allow time for provider and private insurer billing systems and policies to be updated.
---
Resources
CMS Hospital Outpatient Regulations and Notices: www.cms.gov/Medicare/Medicare-Fee-for-Service-Payment/HospitalOutpatientPPS/Hospital-Outpatient-Regulations-and-Notices.html
Medicare CY 2019 OPPS Final Rule Claims Accounting: https://www.cms.gov/Medicare/Medicare-Fee-for-Service-Payment/HospitalOutpatientPPS/Downloads/CMS-1695-FC-2019-OPPS-FR-Claims-Accounting.pdf
CMS MPFS Final Rule for 2019: https://www.cms.gov/Medicare/Medicare-Fee-for-Service-Payment/PhysicianFeeSched/PFS-Federal-Regulation-Notices-Items/CMS-1693-F.html
Latest posts by Denise Williams
(see all)