Make the Connection "With" Causal Relationships
In Coding
February 27, 2019
Comments Off

on Make the Connection "With" Causal Relationships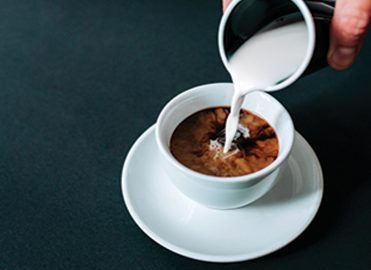 When diagnoses are linked by "with," ICD-10-CM presumes a causal relationship, but should you?
There are 11 possible definitions of the word "with," according to Merriam-Webster's dictionary. In ICD-10-CM, "with" has a single, specific meaning that must be applied with care. This may create a challenge when coding causal relationships because you are taught to report only the conditions stated in the clinical documentation.
When "With" Assumes a Causal Relationship
ICD-10-CM guidelines, Section I. A.15, says, "The classification presumes a causal relationship between the two conditions linked by these terms [i.e., "with"] in the Alphabetic Index or Tabular List." In other words, you may presume a relationship between two conditions if those conditions are linked within the ICD-10-CM Alphabetic Index or Tabular List — even if documentation does not explicitly state that the two conditions are related.
For example, diabetes mellitus is a common condition subject to the "with" convention within the Alphabetic Index and Tabular List. If documentation says …
Type 2 diabetes mellitus
Chronic kidney disease stage 3,
… the two conditions are coded together, as if they are related, using E11.22 Type 2 diabetes mellitus with diabetic chronic kidney disease and N18.3 Chronic kidney disease, stage 3 (moderate).
Do not forget to add the stage of the chronic kidney disease, which is prompted in the tabular list with the "use additional code" note, as shown in Figure 1.


Know the Exceptions
There are some exceptions to the "with" convention:
If the documentation indicates two conditions are not related to one another, the two conditions are not coded together (e.g., type 2 diabetes mellitus unrelated to chronic kidney disease stage 3 or hypertension unrelated to chronic kidney disease).
If another guideline specifically requires a documented linkage between the two conditions, do not link the diagnoses (e.g., "Acute organ dysfunction that is not clearly associated with the sepsis.").
If a term (condition) is not listed under the Alphabetic Index or Tabular List, it's not appropriate to code the conditions as related unless the clinician's documentation clearly indicates the two are related. This may come into play when reporting "not elsewhere classifiable" (NEC) diagnoses (e.g., kidney complication NEC or ophthalmic complication NEC, as shown in Figure 2). Unless documentation states an NEC condition is related, you may not report an NEC diagnosis "with" another diagnosis.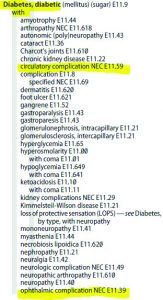 For example, when reporting diabetes, a variety of conditions are subject to the "with" convention, including cataract, chronic kidney disease, foot ulcer, and others. But if documentation indicates the patient is diabetic and has glaucoma, the correct coding is E11.39 Type 2 diabetes mellitus with other diabetic ophthalmic complication and H40.9 Unspecified glaucoma. Even though there is a "code additional" note stating, "Use additional code to identify manifestation, such as diabetic glaucoma (H40-H42)," it is inappropriate to use the NEC diagnosis code E11.39 because glaucoma is not a term found in this list, and documentation does not link the two together.
Some conditions automatically can be associated with one another based on the "with" convention, just like "coffee and cream" or a "burger and fries;" however, there are times when "tea and cream" or "burger and soup" may not go together until it is verified and supported. In these cases, review the documentation to be sure there is indeed a relationship based on the ICD-10-CM conventions and guidelines.
---
Jodi Lawrence, MBA, RHIA, CPC, CDEO, CPMA, CRC, CPC-I, CCA, CRCR, is a coding instructor with Aurora Health Care. She is responsible for creating and presenting coding-related education to coding team members within the physician coding department. Lawrence is a member of the Milwaukee, Wisc., local chapter.

Resources
Merriam Webster's Dictionary: www.merriam-webster.com/dictionary/with
2019 ICD-10-CM Professional for Physicians
CDC, ICD-10-CM Official Guidelines for Coding and Reporting, 2019: www.cdc.gov/nchs/icd/data/10cmguidelines-FY2019-final.pdf
Latest posts by Guest Contributor
(see all)
No Responses to "Make the Connection "With" Causal Relationships"