Audit to Promote Revenue Integrity
In Audit
March 4, 2019
Comments Off

on Audit to Promote Revenue Integrity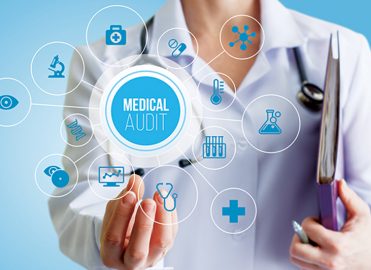 Follow this step-by-step guide to coding and documentation compliance.
It's always better for a facility to find compliance issues before a government agency or payer does (who may respond by levying penalties and fines). Pre- or post-bill audits help facilities uncover minor concerns before they become major compliance issues, thereby promoting revenue integrity. Here's how to conduct an internal coding and documentation audit in your outpatient facility.
What Is an Audit?
An audit is an independent and objective review to determine accuracy and efficiency relative to regulations, policies, procedures, or other criteria. Audits can be performed by internal staff or external experts. Almost anything can be audited (financial statements, business operations, payroll, expense reporting, etc.), but the focus of this article is on auditing the completeness and accuracy of coding and documentation in patient medical records.
The general goal of coding and documentation audits is to evaluate quality in both areas. This type of audit can be designed many ways, depending on the objectives, and may be conducted either prospectively (pre-bill) or retrospectively (post-bill).
Why Audits Are Important
Audits offer many benefits to facilities. For example, they:
Provide a degree of assurance that coding quality meets expectations and complies with laws and regulations
Ensure claims are submitted with accurate coding data
Evaluate medical record documentation to ensure it supports coding
Determine the need for focused coder and physician education and training
Most organizations prefer to identify issues internally, versus waiting for the government to find problems; this allows for remediation prior to government intervention. The Centers for Medicare & Medicaid Services (CMS) and the Office of Inspector General (OIG) recommend coding compliance audits; and in some cases, they may be required.
What to Audit
Planning is one of the most important steps to a successful audit. Take the time to assess potential areas of risk and thoughtfully outline the audit objective(s). The objective of an audit determines the scope and answers the question: "What is the overarching goal of this audit?"
Audits may be designed to assess a medical coder's accuracy, overall facility accuracy, service line quality, revenue opportunities, etc. Other ideas to consider when planning audits include:
Results of past internal or external audits
Known areas of concern or weakness
New service lines or procedures
High-dollar and high-volume procedures, departments, and service lines
OIG work plan topics and recovery audit contractor-approved issues
Newly-hired coder accuracy during an initial employment period
For more accurate results, a narrow scope is recommended (e.g., Medicare outpatient heart catheterization lab interventions for the past six months, new coder accuracy for the first 90 days of employment, etc.).
Where to Start
After the audit scope and objectives are defined, use those parameters to identify the universe of accounts that could potentially be reviewed based on that scope. For example, if the audit objective is to evaluate the accuracy of a new coder for her first 90 days of employment, the universe includes all accounts coded by that person for the specified time period.
After the universe has been identified and a report of those accounts has been obtained, determine how many accounts out of that universe will be reviewed for this audit. Preferably, all accounts in the universe can be reviewed, possibly via electronic or automated audit techniques that filter the database for outliers or exceptions, which can then be reviewed manually as needed. Depending on the audit objective and on the number of accounts in the universe, it is not always feasible to audit 100 percent of the accounts. In those cases, select a sample of accounts to review.
Determine Sample Size
The sample size depends on many factors. Sometimes a sample size of 10 is adequate, especially for initial probe audits to establish baselines or to probe for issues. Sometimes, a statistically valid sample is necessary, such as when issues are identified in an initial probe sample of 10 charts.
The concept of statistically valid samples indicates that a sample should be a good representation of the entire population. Naturally, this becomes more difficult as the population size increases. Because most coders and auditors are not professional statisticians, the OIG provides recommendations on their website, on the Provider Self-Disclosure Protocol page (see the Resources section at the end of this article for more information). They also offer free downloadable software that calculates sample size for you. Using the OIG recommended inputs and software, a sufficient sample size is about 30 claims. For self-disclosing issues to the OIG, a minimum sample size of 100 is required.
Select a Sample of Accounts
When the sample size is decided, select a random sample of accounts to have an independent, objective audit. There are several ways to select a random sample. For example:
OIG offers a free download of RAT-STATS software. The user inputs the population file and parameters, and the software selects a random sample.
ActiveData – Analytics For Excel can pull random samples using criteria entered by the user. Not everyone has access to licenses for ActiveData, as this is not free software.
Using Excel, number each account in the population, and either:

Select every five or 10 accounts (accounts No. 5, 15, 25, 35, 45 or No. 10, 20, 30, 40, 50); or
Use free websites to select random numbers to use (for example, www.Random.org has a random integer generator).
After the accounts to be audited are selected, place them in a separate file that includes only the sample accounts you'll use to generate an audit spreadsheet/checklist. This spreadsheet will become the main audit tool, with the addition of relevant columns (see example in Table 1).
Table 1: Sample Audit Tool
| | | |
| --- | --- | --- |
| Patient Identifier | Date of Service | * Codes Billed |
| 1 | 1/1/2018 | 12345 |
| 2 | 2/2/2018 | 23456-59 and 78901 |
| 3 | 3/3/2018 | 65432-50 |
| 4 | 4/4/2018 | 98765 and 45678 |
* Fictitious codes
Perform the Audit
To begin the heart of the audit, locate the billed claim for each account in the sample (for retrospective audits) or view the coding and abstracting for each account in the sample (for prospective audits). Review supporting documentation in the medical record for each account and compare documentation to the billed codes to ensure the codes are complete, accurate, and supported by documentation (also verify that each coded procedure has a valid order and final report, where appropriate). Record the results of each audited account on the audit spreadsheet or checklist. The audit spreadsheet may include data elements and information similar to Table 2 (Note: Codes and payment amounts are fictitious.).
After the spreadsheet is complete, summarize the results, as appropriate, based on the audit scope (by coder, by facility, by service line, etc.). For our initial example of newly-hired coders, the results would be summarized for each new coder and accuracy rates calculated. Depending on the audit scope, you may wish to consider revenue-impacting versus non-revenue-impacting errors. It is often more powerful to express results with a corresponding financial impact (e.g., "Coding inaccuracies cost an estimated $250,000 in reimbursement."). Errors which do not have a financial impact may be reported separately, or excluded, depending on the overall objective of the audit.
Table 2: Sample Audit Tool
| | | | | | | | | | |
| --- | --- | --- | --- | --- | --- | --- | --- | --- | --- |
| Account | Date of Service | * Codes Billed | Valid Order? | Final Report? | Codes Audited | Payment for Codes Billed | Expected Payment for Codes Audited | Expected Payment Variance | Audit Comments |
| 1 | 1/1/2018 | 12345 |  N |  Y | |  $ 100 |  $ – |  $ (100) | No order is found. |
| 2 | 2/2/2018 | 23456-59 & 78901 |  Y |  Y | 23456 |  $ 250 |  $ 200 |  $ (50) | 78901 is bundled; modifier 59 is not supported by documentation. |
| 3 | 3/3/2018 | 65432-50 |  Y |  Y | 32654 |  $ 300 |  $ 225 |  $ (75) | 32654 is more appropriate based on documentation. |
| 4 | 4/4/2018 | 98765 & 45678 |  Y |  Y | 98765 and 34567 |  $ 500 |  $ 650 |  $ 150 | 34567 is more appropriate based on documentation. |
* Fictitious codes
Present the Audit Findings
Above all, always present audit results professionally and objectively. New auditors may find it uncomfortable reporting less than stellar audit results; sticking to the facts and remaining objective and independent are keys to success. Whenever possible, review results in person, especially for high error rates. Start by presenting the audit spreadsheet or checklist in a summarized format.
Additional best practices include:
Introduce the audit results by emphasizing strengths and following up on those with opportunities for improvement. Speaking in positive terms may soften the blow of negative audit results.
Remind the auditee that the goal of these audits is to identify improvement opportunities before they become major compliance issues, and that all staff members must strive to minimize risk to the organization.
Review each account in the sample with the coder and physician and explain any variances, allowing for discussion and questions.
Provide open and honest feedback and ask clarifying questions where appropriate.
Next Steps
If trends are noted, work with the auditee or management to initiate corrective action plans such as training and education, as needed. Follow up after the training with monitoring and subsequent audits of similar accounts until improvement is realized. Remember to make corrections to all accounts with variances and rebill per payer guidelines, if necessary (For prospective/pre-bill audits, release the claims for billing after corrections are made.). When the corrective action plans have resulted in improvements, then it's time to start planning the next audit.
---
Amy Lee Smith, MBA, CPMA, CPC, COC, CIA, CRMA, CHFP, has over 12 years of experience in healthcare audit, focusing primarily on revenue cycle compliance audit work. She also has over 12 years of work experience in healthcare finance operations. Smith has authored several articles for national professional journals and has presented at local, state, and national conferences. She is a member of the Newport News, Va., local chapter.
Resources
OIG, Provider Self-Disclosure Protocol:
https://oig.hhs.gov/compliance/self-disclosure-info/protocol.asp
OIG, RAT-STATS: https://oig.hhs.gov/compliance/rat-stats/index.asp
ActiveData – Analytics For Excel: www.informationactive.com/ia.cgi?f=home-en
Healthicity™ Auditing Software and Services: www.healthicity.com/solutions/auditing
Latest posts by Guest Contributor
(see all)