Two-midnight Rule: Factors to Consider when Admitting a Patient
In Billing
March 5, 2019
Comments Off

on Two-midnight Rule: Factors to Consider when Admitting a Patient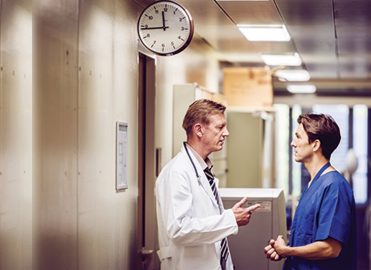 Meet Medicare requirements when a provider expects a patient to be admitted for an inpatient stay of at least two midnights.
If you report hospital inpatient services for Medicare patients, you need to know about the two-midnight rule. If you haven't heard of it, or could use a reminder, here are the facts.
Cost Containment Matters
The Centers for Medicare & Medicaid Services (CMS) instituted the two-midnight rule, in part, to reduce what it considers to be medically unnecessary inpatient admissions — thereby, reducing costs, as well.
Not all care provided in a hospital requires inpatient admission. Generally, if a procedure can be performed safely and effectively on an outpatient basis, doing so is preferred. One reason for this is because the cost of providing inpatient hospital care is comparatively higher for a given service. The higher cost of inpatient care is reflected in different Medicare payment rates for inpatient (Part A) and outpatient (Part B) hospital services. Whether services are provided on an inpatient or outpatient basis also affects patient cost sharing.
The two-midnight rule was effective beginning Oct. 1, 2013. Per CMS' "Fact Sheet: Two-Midnight Rule," the original rule established:
Inpatient admissions would generally be payable under Part A if the admitting practitioner expected the patient to require a hospital stay that crossed two midnights and the medical record supported that reasonable expectation.
Medicare Part A payment was generally not appropriate for hospital stays expected to last less than two midnights. Cases involving a procedure identified on the inpatient-only list or that were identified as "rare and unusual exception" to the two-midnight benchmark by CMS were exceptions to this general rule and were deemed to be appropriate for Medicare Part A payment.
To summarize: A hospital inpatient admission is reasonable and necessary (and eligible for Medicare Part A payment) only if the admitting provider expects the patient to require hospital care that spans at least two midnights. With some exceptions (see The Rule Isn't Absolute, below), if the provider anticipates a patient will be able to leave the hospital safely prior to that time, an inpatient admission is not supported (and will not be reimbursed by Medicare) and observation or other outpatient status is more appropriate.
On the flip side, it's generally not appropriate to hold a patient in observation status for an extended time (e.g., three or more days). In such cases, inpatient admission may better meet the patient's medical needs.
For example, if the provider treats a patient and expects she will be able to leave the hospital the following day, an inpatient admission likely isn't medically necessary, per the two-midnight rule (the patient is staying in the hospital past one midnight, only). But if the provider treats the patient on Monday and believes the patient will require continued care until at least Wednesday, an inpatient admission is appropriate because the patient will stay in the hospital past two midnights (Monday/Tuesday and Tuesday/Wednesday).
The Rule Isn't Absolute
The two-midnight rule has always allowed for exceptions. And as part of the 2016 Hospital Outpatient Prospective Payment System (OPPS) final rule (following extensive feedback from providers and other stakeholders), CMS revised the two-midnight rule to allow flexibility "for determining when an admission that does not meet the benchmark should nonetheless be payable under Part A on a case-by-case basis."
As outlined in the CMS Fact Sheet:
For stays for which the physician expects the patient to need less than two midnights of hospital care (and the procedure is not on the inpatient-only list or otherwise listed as a national exception), an inpatient admission may be payable under Medicare Part A on a case-by-case basis based on the judgment of the admitting physician. The documentation in the medical record must support that an inpatient admission is necessary and is subject to medical review.
In other words, there are two exceptions to the two-midnight rule:
The provider performs a procedure that is on CMS' "inpatient only" list.
In this case, the length of the hospital stay isn't a factor because inpatient admission is mandatory if the provider is to receive Medicare payment for an "inpatient only" procedure. The list of inpatient-only procedures is revised annually and is included within the OPPS final rule each year.
The provider decides, based on their expertise and the patient's circumstance, that an inpatient admission is medically necessary, even though the patient is not expected to remain an inpatient across two midnights.
This means that if the provider believes the patient's condition requires inpatient care and a supporting explanation is provided in the documentation, the length of the inpatient stay doesn't matter. But CMS stresses, "It would be unlikely for a beneficiary to require inpatient hospital admission for a minor surgical procedure or other treatment in the hospital that is expected to keep him or her in the hospital for a period of time that is only for a few hours and does not span at least overnight."
Meet the Expectation of a Two-midnight Stay
CMS says the requirements of the two-midnight rule are met as long as the admitting provider expects the patient to remain an inpatient across at least two midnights (and documentation supports the provider's conclusion). Per the CMS Fact Sheet, "This includes stays in which the physician's expectation is supported, but the length of the actual stay was less than two midnights due to unforeseen circumstances such as unexpected patient death, transfer, clinical improvement or departure against medical advice."
---
Resources
CMS, Fact Sheet: Two-Midnight Rule at www.cms.gov/newsroom/fact-sheets/fact-sheet-two-midnight-rule-0
Medicare Program: Changes to Hospital Outpatient Prospective Payment and Ambulatory Surgical Center Payment Systems and Quality Reporting Programs Final Rule, 2019: https://s3.amazonaws.com/public-inspection.federalregister.gov/2018-24243.pdf
Latest posts by John Verhovshek
(see all)