How Value-based Care Can Improve Everyone's Outcome
March 5, 2019
Comments Off

on How Value-based Care Can Improve Everyone's Outcome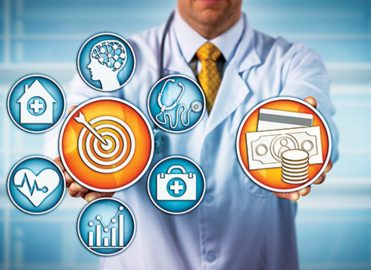 Achieve better clinical outcomes, higher rankings, accurate reimbursement, and improved patient health.
If you work for a healthcare provider organization, you've probably heard of value-based care — perhaps, your organization is already in a value-based reimbursement contract. The transition from fee for service to value-based care means an increased focus on office and administrative efficiency. On the patient care side, we will see more patient-centered and team-based care that, ideally, will result in improved patient health outcomes.
Collaboration is Key
For value-based care to succeed, stakeholders must collaborate on several key metrics such as targeting health education opportunities, identifying sicker patients who would benefit from proactive case management, and predicting their future healthcare resource needs.
Quality data must be shared to help contain the cost of care and to improve the health of populations. The increased transparency among patients, providers, and payers will change the way data is captured and used. For example:
Payers can share actionable data to be used at the point of patient care.
Providers must confirm their systems are capturing all relevant information accurately and share it with the health plans so they can design better care management strategies.
Patient and member portals allow information to be accessed in real time.
This improved communication is needed to ensure that patients are receiving preventive care and care for chronic conditions. Improved data exchange allows the targeting of patients throughout the care continuum. In turn, this allows patients to receive the right care, in the right place, at the right time.
Accurate claims data — through the correct use of CPT®, HCPCS Level II, and ICD-10-CM codes — helps to identify patients with a potential gap in care. Accurate coding enhances communication between providers and payers. When health plans share all available claims data with providers, they have the complete information available for their patients. This allows providers to determine if their patients are using services and seeing specialists as ordered.
With increased information available on patient portals, patients can better and more quickly identify incorrect or inaccurate information and be part of the process to ensure accurate data is shared.
Risk Adjustment and HEDIS Play a Big Role
Risk adjustment and quality programs, such as Healthcare Effectiveness Data Information Set (HEDIS), play an important role in value-based care:
Risk adjustment is a form of predictive modeling to assess the relative risk that a patient will incur medical expenses above or below the average over a defined time. Inaccurate risk adjustment coding results in the possibility of reduced payment under certain performance-based payment models. It can also create missed opportunities if patients are not identified for care management and disease intervention programs.
HEDIS is used by more than 90 percent of America's health plans to measure performance on important dimensions of care and service. It allows consumers to accurately compare health plans.
Both risk adjustment and HEDIS rely on complete and accurate documentation and coding. The programs are connected: Certain diagnosis codes captured in risk adjustment will trigger a quality metric that is measured by HEDIS. To illustrate, let's look at an example of diabetes.
Example: Diabetes is a risk adjusted diagnosis. When a patient is identified with diabetes, the health plan is responsible to ensure the patient receives an annual diabetic eye exam and kidney attention because diabetes can affect these body systems. The plan also must be sure these patients have their blood pressure under control and get an A1c — a blood test commonly referred to as glycated hemoglobin, glycosylated hemoglobin, hemoglobin A1C and HbA1c, used to diagnose type 1 and type 2 diabetes and to determine how well diagnosed diabetics are managing their diabetes. Incorrectly labeling a patient as diabetic has a negative impact on the HEDIS scores because these tests are not appropriate for patients who don't have diabetes.
Reap the Rewards
You can prepare for value-based care by learning about your office workflows, processes, and infrastructures. Be sure communication remains open between all parties responsible for documenting and coding diagnoses and procedures. Payers and providers who collaborate to improve the quality of patient care through accurate, complete documentation and coding create a positive outcome for everyone: Providers are rewarded for reducing unnecessary costs and improving their patients' health outcomes, health plans receive higher rankings, and most importantly, patients are well cared for.
Latest posts by Colleen Gianatasio
(see all)