20 New HCPCS Level II Codes for April
By Brad Ericson
In Billing
March 26, 2019
Comments Off

on 20 New HCPCS Level II Codes for April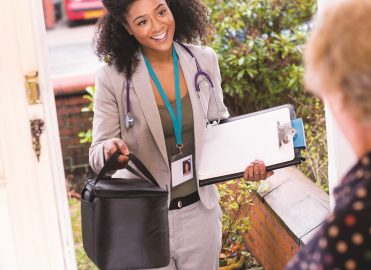 Medical coders who code pass-through drugs or home health have 21 new HCPCS Level II codes to use, effective April 1, 2019.
The new codes include drugs for migraines, to initiate blood-clotting in patients on certain coagulants, chronic and hairy cell leukemia, and folic acid for chemotherapy patients.
The home health codes help facilitate the Centers for Medicare & Medicaid Services (CMS) Center for Medicare and Medicaid Innovation (CMMI) Pioneer ACO initiative.
New HCPCS Level II Codes
| | |
| --- | --- |
| HCPCS | Long Description |
| C9040 | Injection, fremanezumab-vfrm, 1mg |
| C9041 | Injection, coagulation factor Xa (recombinant), inactivated (Andexxa), 10 mg |
| C9042 | Injection, Bendamustine HCl (Belrapzo), 1 mg |
| C9043 | Injection, Levoleucovorin, 1 mg |
| C9044 | Injection, Levoleucovorin 1 mg |
| C9045 | Injection, Moxetumomab pasudotox-tdfk, 0.01 mg |
| C9046 | Cocaine hydrochloride nasal solution for topical administration, 1 mg |
| C9141 | Injection, factor viii, (antihemophilic factor, recombinant), PEGylated-aucl (jivi), 1 i.u. |
|  G2001 | Brief (20 minutes) in-home visit for a new patient post-discharge. For use only in a Medicare-approved CMMI model. (Services must be furnished within a beneficiary's home, domiciliary, rest home, assisted living and/or nursing facility within 90 days following discharge from an inpatient facility and no more than 9 times.) |
| G2002 | Limited (30 minutes) in-home visit for a new patient post-discharge. For use only in a Medicare-approved CMMI model. (Services must be furnished within a beneficiary's home, domiciliary, rest home, assisted living and/or nursing facility within 90 days following discharge from an inpatient facility and no more than 9 times.) |
|  G2003 | Moderate (45 minutes) in-home visit for a new patient post-discharge. For use only in a Medicare-approved CMMI model. (Services must be furnished within a beneficiary's home, domiciliary, rest home, assisted living and/or nursing facility within 90 days following discharge from an inpatient facility and no more than 9 times.) |
|  G2004 | Comprehensive (60 minutes) in-home visit for a new patient post-discharge. For use only in a Medicare-approved CMMI model. (Services must be furnished within a beneficiary's home, domiciliary, rest home, assisted living and/or nursing facility within 90 days following discharge from an inpatient facility and no more than 9 times.) |
|  G2005 | Extensive (75 minutes) in-home visit for a new patient post-discharge. For use only in a Medicare-approved CMMI model. (Services must be furnished within a beneficiary's home, domiciliary, rest home, assisted living and/or nursing facility within 90 days following discharge from an inpatient facility and no more than 9 times.) |
|  G2006 | Brief (20 minutes) in-home visit for an existing patient post-discharge. For use only in a Medicare-approved CMMI model. (Services must be furnished within a beneficiary's home, domiciliary, rest home, assisted living and/or nursing facility within 90 days following discharge from an inpatient facility and no more than 9 times.) |
|  G2007 | Limited (30 minutes) in-home visit for an existing patient post-discharge. For use only in a Medicare-approved CMMI model. (Services must be furnished within a beneficiary's home, domiciliary, rest home, assisted living and/or nursing facility within 90 days following discharge from an inpatient facility and no more than 9 times.) |
| G2008 | Moderate (45 minutes) in-home visit for an existing patient post-discharge. For use only in a Medicare-approved CMMI model. (Services must be furnished within a beneficiary's home, domiciliary, rest home, assisted living and/or nursing facility within 90 days following discharge from an inpatient facility and no more than 9 times.) |
| G2009 | Comprehensive (60 minutes) in-home visit for an existing patient post-discharge. For use only in a Medicare-approved CMMI model. (Services must be furnished within a beneficiary's home, domiciliary, rest home, assisted living and/or nursing facility within 90 days following discharge from an inpatient facility and no more than 9 times.) |
|  G2013 | Extensive (75 minutes) in-home visit for an existing patient post-discharge. For use only in a Medicare-approved CMMI model. (Services must be furnished within a beneficiary's home, domiciliary, rest home, assisted living and/or nursing facility within 90 days following discharge from an inpatient facility and no more than 9 times.) |
| G2014 | Limited (30 minutes) care plan oversight. For use only in a Medicare-approved CMMI model. (Services must be furnished within a beneficiary's home, domiciliary, rest home, assisted living and/or nursing facility within 90 days following discharge from an inpatient facility and no more than 9 times.) |
| G2015 | Comprehensive (60 mins) home care plan oversight. For use only in a Medicare-approved CMMI model. (Services must be furnished within a beneficiary's home, domiciliary, rest home, assisted living and/or nursing facility within 90 days following discharge from an inpatient facility.) |
Latest posts by Brad Ericson
(see all)
No Responses to "20 New HCPCS Level II Codes for April"