Too Many Medical Coding Books, Not Enough Space
April 1, 2019
Comments Off

on Too Many Medical Coding Books, Not Enough Space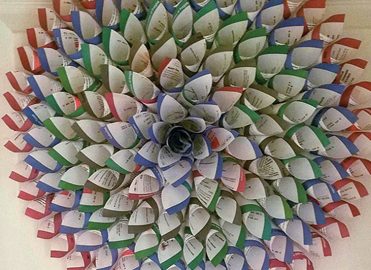 Do you toss last year's coding books, keep them, or reuse them to create a one-of-a-kind masterpiece?
Every year you invest in a new set of code books. After a few years in this field, you've accumulated enough CPT®, ICD-10, and HCPCS Level II books to fill up an entire row of shelf space. What do you do with all those accumulating tomes? We posted this question on the AAPC Facebook page to see what other coding professionals do.
Coders Love Their Books
Many Facebook respondents said they keep all their books and make more room on the shelf. That way, they are handy when a payer challenges a claim from the previous year. Some members said they get rid of last year's books, but the majority said they keep their coding books for two or three years, and then:
Recycle them.
Donate them to local libraries, hospitals, colleges, or medical, or coding schools.
Use them as packing paper for stored boxes or for shipping gifts.
Sell them online on websites such as bookholders.com.
Give them to other coders who need them.
Store them in crates under their desk.
Box them up and put them in the attic or a closet.
Some members even transfer notes in their books from year to year.
Other members, such as Barbara J. Cobuzzi, MBA, CPC, CENTC, COC, CPC-P, CPC-I, CPCO, AAPC Fellow, still have their books from the ̓90s, and Barbara Fontaine, CPC, has kept hers for almost that long. "In my office," Fontaine said, "we order between 38 and 40 [books] every year. When the new ones come, I recycle all but one master copy." Fontaine has the last 18 years of "master copy" books tucked away. "We also offer them to students for study before we recycle," she said.
Reasons for Keeping Them
Many members, especially auditors and consultants, hold onto their coding books for several years. Bonnie Masser, CPC, said, "If you audit, definitely keep a few years' worth!" Maryann Palmeter, CPC, CPCO, CENTC, AAPC Fellow, said, "In compliance, we keep the current year, plus the previous five years on hand in the department, and keep another five years in offsite storage. One never knows when they may come in handy for a government audit."
Joyce Covington, CPC, CRC, said, "Being an HCC coder, I only keep them for three years, tops. I don't need them beyond that. Then, I donate [them] to the local library at the local medical coding school for training materials."
Chandra Stephenson, COC, CPC, CPCO, CDEO, CIC, CPB, CPMA, CPPM, CRC, CPC-I, CANPC, CCC, CEMC, CFPC, CGSC, CIMC, COBGC, COSC, CCS, AAPC Fellow, holds on to her books, as well. According to Stephenson:
I keep them on my bookshelf. And yes, I've had to refer to them! I worked on worker's compensation claims in California at one point, and at that time the codes required were more than five years older than the current codes used by other payers. I've also used them to identify when certain changes occurred.
Old code books have even been used in court. Cobuzzi said, "I testified in expert witness where the payer applied a current definition to a code used four years earlier, and the description was significantly different."
Save Shelf Space with a Scanner
Jennifer Connell, COC, CPC, CPC-P, CPCO, CPB, CPMA, CPPM, CPC-I, CENTC, saves space on the shelf by storing them on the computer. "I unbind mine and scan them as a PDF, then recycle them. This way, I have the old books and my notes for audits without using up precious bookshelf space. I have 10+ years of coding books." Because this is time-consuming, Connell suggests "It helps if you use a document scanner. It goes much faster." She can scan all her code books in about two hours. (For copyright reasons, do not share those scans.)
Being Creative Raises Money for Charity
The "Most Creative Award" goes to Lynda Wetter, CPC, CPMA, CEMC, CGSC, AAPC Fellow. She makes decorative wreaths out of her old code books and raffles them off for the AAPC Hardship Scholarship fund. Pinterest has nothing on her work.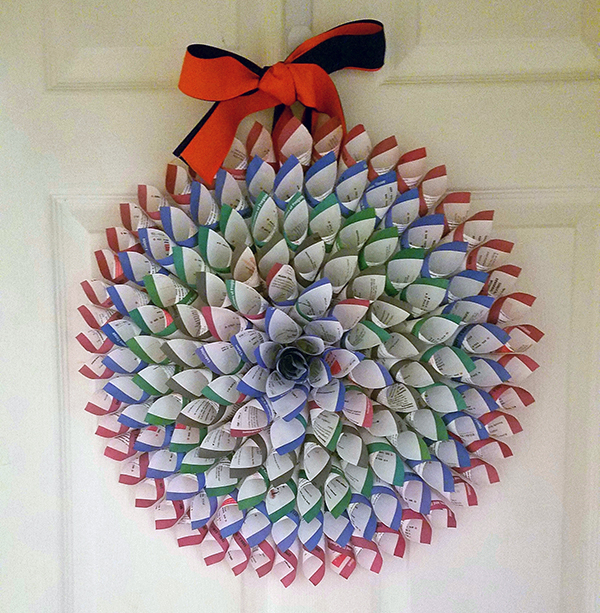 Lynda Wetter's, CPC, CPMA, CEMC, CGSC, AAPC Fellow handmade code book wreaths raise money for the AAPC Hardship Scholarship Fund.
This article originally featured on page 10 of the April 2018 edition of AAPC's Healthcare Business Monthly magazine.
Latest posts by Michelle Dick
(see all)